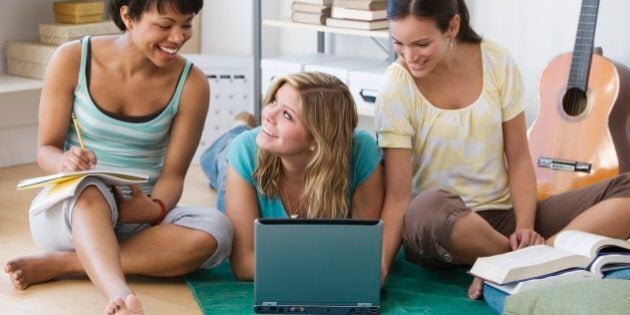 Some of you might be settling into your new dorms and getting to know your (hopefully) cool new roommates. Others might be starting back at high school and beginning to think about university applications. Either way, university residence (a.k.a. "res") is an important topic -- it can make a real impact on your first-year experience. UniversityHub has surveyed over 1,000 Canadian university students to see how their residences stacked up. Let's see if yours made the top 10.
No matter which residence you live in at St. FX, there are options for every personality and interest. O'Regan Hall and O'Riley Hall opened in 2013 and include double beds, private washrooms, TVs, mini fridges and even microwaves. This is as close as it gets to a five-star accommodation on any Canadian university campus. MacIsaac Hall and Burke might be slightly older residences, but they are also known for their excellent tradition and a livelier atmosphere.
Western offers three styles of residence -- traditional, suite-style and hybrid-style. Traditional
(e.g. Saugeen-Maitland Hall) offers single and double rooms with shared washrooms on each floor and a fun vibe. For suite-style, Elgin Hall and Essex Hall provide single rooms with shared common areas to cook some of your own meals. Want the best of both worlds? Ontario Hall, Western's newest residence, is an example of hybrid-style.
Newer residences such as Leggett Hall, which opened in 2003, offer single rooms with extra-long beds
and shared washrooms. Most known for its liveliness and colourful history, Victoria Hall (named after Queen Victoria), is the largest residence that's considered the campus hub. Shaped like a giant "X," it's also home to The Lazy Scholar café and has laundry facilities on site so you barely have to leave, which is a plus in the colder months. You typically can't go wrong at Queen's -- just try to avoid West Campus.
Most students in first year are making their new home in Totem Park and Place Vanier, which have shared and single rooms, common areas for socializing and plenty of quieter spaces for hitting the books. Some first-year students will also have the advantage of living in residences such as Marine Drive 5 and Fairview Crescent with upper-year students, which is an added bonus for getting advice.
WLU's Waterloo campus has a solid mix of apartment-style and dorm style residences in 15 different buildings. A top choice for first-year students is the King St. Residence, which is the university's newest dorm-style building. This co-ed living quarters has mostly single rooms, shared washrooms and decent-sized common areas. There's also King's Court Residence, which is a 14-storey apartment complex that is home to nearly 400 students in three-, four-, or five-bedroom apartment configurations.
Just as diverse as its undergraduate student community, McGill offers a home that's right for everyone.
Centrally located Carrefour Sherbrooke, or C4 as it's known, is a renovated hotel that has large double
rooms, ensuite bathrooms, study spaces, a gym and its own cafeteria. C4 accommodates approximately
300 students, so if you're looking for a bigger home, some of the larger and newer options include La Citadelle and New Residence. La Citadelle is practically a castle in residence form and New Residence has amenities like private bathrooms and a cafeteria.
Located in Sherbrooke, Quebec, Bishop's is a smaller university that's big on camaraderie. With only six residences to choose from, the campus automatically has a more communal feel. Norton and Pollack are the largest residences, and are connected by a breezeway on the second floor, which makes visiting your new friends easier than ever.
Are you a math whiz or committed to your daily yoga practice? Dal has academic and themed clusters in many of its buildings so you can live with people who share similar interests. Located behind the Student Union Building, Risley Hall is one of the largest and newest residences that nearly 500 students move into each year. Its single rooms are a huge appeal and provide a private sanctuary to recharge those batteries after a long night out.
Like UBC, the majority of Acadia's residences provide a mix of undergraduate students, making it easy to meet friends across different years and faculties. Cutten House, the school's largest residence, was
renovated in 2012 and makes a friendly new home to settle in to. If you're searching for a quieter place to call home, Chase Court could be a good fit.
Don't let Mount Allison University's small town vibe deceive you -- its campus and residences are chock full of personality, charm and a strong sense of community. Ranging in size from 80 to 250 residents per
building, there are lots of options to choose from. Windsor House is the largest residence on campus, known for its community feel that will make attending school in a small town feel like you've never left home.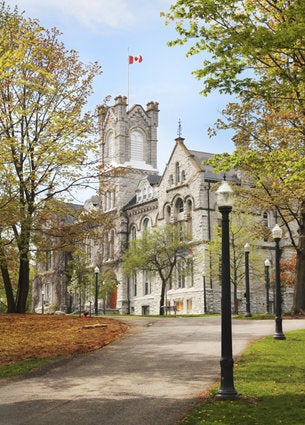 Canadian Universities That Rank Among the World's Best, According to QS