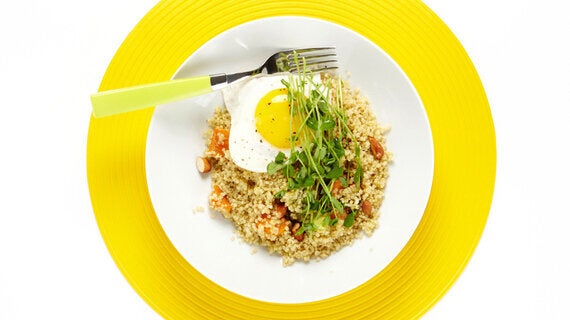 Now that Halloween is behind us and the colder weather has settled in, it's the perfect time to dig in to some healthier eats to boost your immune system (and pace yourself before the holiday party invitations start arriving.) Mealtime is a great opportunity to stock up on your vitamins and nutrients. So we've put together a list of recipes that will help you get a healthy boost while enjoying a delicious meal or snack.
They say breakfast is the most important meal of the day so make the most of it with this protein-and fruit-packed Blueberry Banana Smoothie. Loaded with fruit and yogurt and sweetened with honey, it's the perfect breakfast blend.
To curb afternoon sweet cravings and fill up on healthy greens instead, try a super healthy Green Tea Energy Smoothie. This delicious combination of green tea, spinach, avocado, bananas and apples will help you get your glow on!
If you're ready to put down the burger and fries, but a salad is just not going to satisfy you-warm up to this healthy and hearty Roasted Sweet Potato Quinoa Bowl. This dish is a creative combination of protein-packed quinoa with roasted sweet potato. Avocado is drizzled with a maple dressing, topped with roasted almonds, an egg and leafy sprouts. It tastes so good you'll forget how good it is for you!
Nothing wards off a winter cold like a good bowl of chicken soup. Just ask Grandma! This simple recipe for Traditional Chicken Soup delivers a pot full of fresh vegetables, herbs, chicken, and tender matzo balls. Perfect to serve steaming hot, or pop in the freezer and pull out when the sniffles hit.
Be sure to check out the rest of our recipes below!
Follow HuffPost Canada Blogs on Facebook