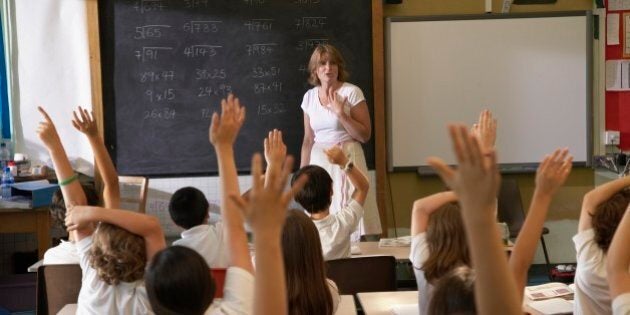 Students are nicely settled back into their classrooms and daily routines. But it is still early in the school year yet, and starting strong is still on the minds of students and parents.
To get an academic head start, here are some of the latest educational trends to hit the classroom this fall for students of all ages. They cover a range of categories including innovative lunches, jazzy school supplies, cool technology, and grassroots philanthropy.
Keep these ideas in mind for a happy, healthy and successful school year.
Capture the moment - Did you notice adorable first-day-of school pictures of all your favourite youngsters on Facebook? Many parents equipped their kids with hand-made or professional signs to hold as they captured these precious memories. While the first day of school is past, you can still save precious memories of other education milestones throughout the school year - like the start of an extracurricular activity, birthday, or even the last day of school. Check out MAJOR Moments for some amazing re-usable handmade moment boards and school signs to use as props for these photos!
Sneak health in the snacks - Getting our kids to eat nutritious food is not a new goal. However, crafty innovators are finding ways to pack the veggies into snacks in appealing ways. Check out Made Good for peanut-free bars and mini granola treats that are made with vegetables. While I am not a nutritionist, my friend Theresa Albert is, and she is a fan of these wholesome yummies too.
Go bananas for Bento - While I have written about litterless lunches before, I believe this is trend is here to stay. Parents and students are getting behind this movement that promotes less mess and healthy eating. Miniature bento boxes like Monbento are adorable and light weight, making them easy to carry for little ones. Check out well.ca for a great eco-friendly selection.
Compact is cool - School supplies and electronics can be big and bulky, taking up valuable real estate on a student's desk. We have more devices that need to be plugged in than ever before. Check out the 6-in-1 PowerCube which will make your power cord look like an antique. I'm also a big fan of mini staplers and other space-saving supplies.
Brighter is better - This year vibrant school supplies like neon notebooks and folders are all the rage. My personal favourite this season is the Logitech mouse decorated with pink watermelons. Colourful extendable plastic shelves and light-up mirrors are also bright additions to lockers that will put students in cheerful moods.
Express through emojis - Students love to express themselves. This year, emojis are coming to life in school supplies on magnets, pencils, and even personalized labels. I just ordered some smiling emoji labels for my son from Mabel's Labels, and they are adorable. Students can use these supplies to give their family, friends and teachers a heads up as to how they are feeling. Advice to parents: remember to check the emoji magnet status on the fridge!
Grab the Crayons - Adult colouring books are a growing trend; many enthusiasts claim colouring helps them relax and unwind. Check out printable binder covers to colour from Staples - absolutely free. I love this idea as it promotes student organization and creativity at the same time. It's also a great fall activity for students to prepare for each subject (and their parents who like to colour).
Code in the classroom - Do you have a little tech genius at home? STEM (Science, Technology, Engineering and Mathematics) is a big focus in the education world. Coding in particular is a big trend with many children learning programming logic at very young ages. Check out Indigo for an amazing variety of books, toys, and robotics. Some of the titles are burst-out-loud funny. HTML for Babies definitely caught my attention. Get ready to add coding club to your child's extracurricular schedule this year.
Digital resumes - Tech-savvy high school and post-secondary students looking to stand out amongst their peers are creating their own personal websites. When applying for co-op placements, internships or part-time jobs, website builders like Bookmark help create online resumes and cover letters to impress prospective employers.
Adopt a school - Giving back and supporting our local schools is an important theme. I am a huge fan of the Adopt a School initiative from the Indigo Love of Reading Foundation. They aim to give children access to new and current books by replenishing 500 high-needs elementary libraries for deserving schools across the country. If you're feeling inspired to give the gift of reading, this community campaign is running until October 9th.
Follow HuffPost Canada Blogs on Facebook