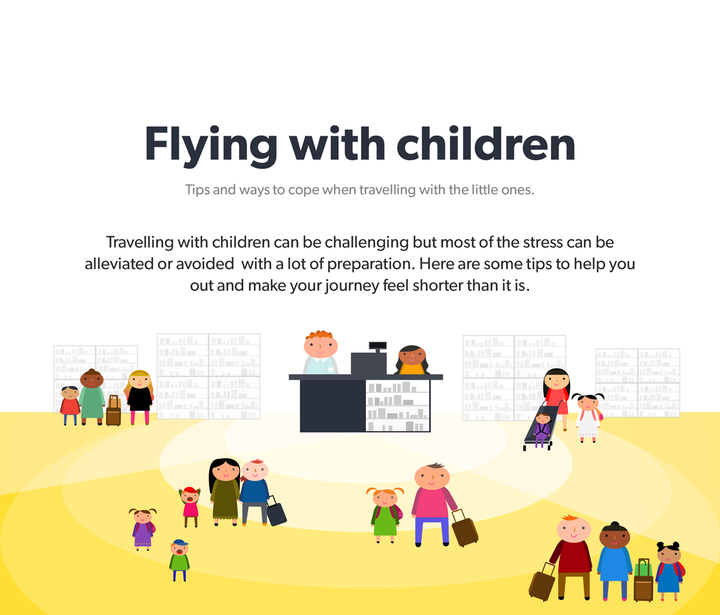 What you need to know...
Travelling with babies and toddlers can be a test of patience from takeoff to landing, but travelling as a family can also be extremely rewarding. Despite the chance for tantrums and mayhem, with proper planning, flying with infants and toddlers doesn't have to be a bumpy ride. Read on for Cheapflights.ca's ten commandments of family travel and a line-up of proven tips.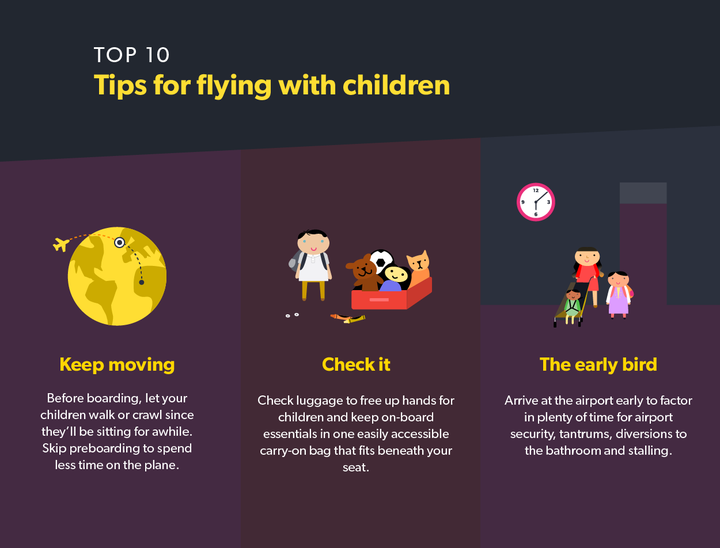 Packing tips for travelling with infants and toddlers
Lap infants don't typically get a carry-on or checked baggage allowance, so you'll have to combine your baby's stuff with your own. Airlines typically let passengers flying with infants and children check strollers and car seats for no additional cost. Infants and children with their own seats typically get the same baggage allowance as adults.
No matter what the baggage situation is, be sure to pack as light as possible. It may also pay to shell out a little extra to check bags rather than wrestle with keeping track of both carry-ons and kids at the same time. If you're travelling solo, packing light and checking bags to free up your hands is ideal.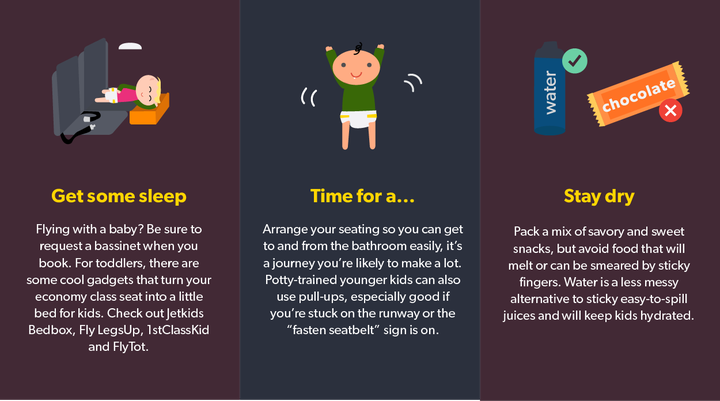 Plan ahead for a bassinet
Flying internationally typically means a longer travel time, and having an infant on your lap for all that time can be quite taxing. To give travellers a little extra space and comfort, many airlines have baby bassinets on board. The bassinet is collapsible and hung from the wall of the aircraft in front of your seat. In economy, they are typically located in the bulkhead seats.
Each airline and aircraft may have different weight or age requirements for using a bassinet. Generally it is somewhere in the ballpark of under one year old and less than nine kilograms (20 lbs).
These bassinets are a commodity and, if they are available at all, there may be as few as one on board. Because they are in such high demand, book early and be sure to request it at the same time as booking.
If your child is a bit too old for a bassinet, there are a number of products you can buy that will make the flight more comfortable for small children. Cool gadgets can turn your child's economy-class seat into a cozy sleep area. Before your next long-haul flight check out Jetkids Bedbox, Fly LegsUp, 1stClassKid and FlyTot.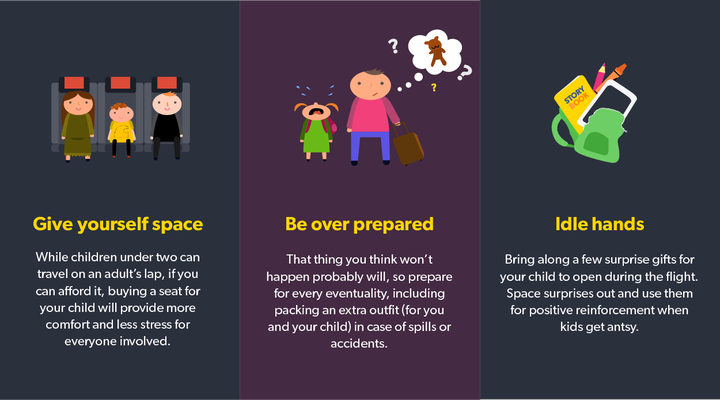 What to pack in your carry-on:
Create a checklist before you go so you don't forget the essentials and your kiddos favourites, advises Jessica Moran, an expatriate who has moved eight times with her two children and travels frequently with them as well. Here are some checklist items to get you started:
A backpack that is easy to transport with various compartments that keep items easily accessible and organized.
Favourite blankets and small pillows or child travel pillows for long treks.
Hand sanitizer, wipes, tissues, plenty of diapers and a changing pad.
Formula, breast milk, juice and water. It's important everyone stay hydrated. Bring a sippy cup for younger children to avoid spills. Be sure to either bring them in carry-on sizes or purchase them past security.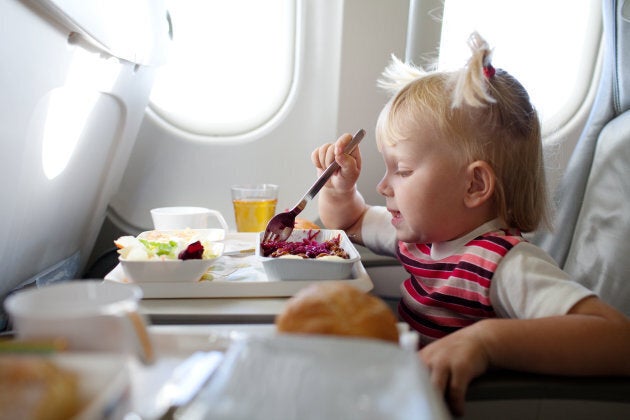 Snacks for you and your children. Avoid foods that are sticky, messy or crumbly. Pack a mixture of savoury (cheese cubes, bagels) and sweet (fruit). "Bring more snacks that you think you'll need for both you and your kids," said Marcie Cheung, who blogs about parenting and travel on Marcie in Mommyland. "For babies and toddlers, snacks can be an activity in themselves. Ask the flight attendant for an empty cup and put a few puffs or yogurt melts inside."
Change of clothes for baby and for mom, advises Kim Milnes, owner of Family Travel Boutique.
Fully charged electronics downloaded with your children's favourite apps and audio books (and maybe a few new ones) and headphones. "Give in to electronics. Make sure that everything is charged before you go. Bring cables and chargers, even an extra battery," said Milnes. "If the kids are old enough, have a backpack for each kid with things to do: iPad, toys, colouring books, etc. Have several options. I also go to the dollar store and get a few "surprise" gifts for meltdowns."
Triangle crayons. They won't roll off airplane trays, said Cheung.

In-flight tips and tricks
Here's how to navigate some of the most common types of in-flight chaos.
Accidents/spills: Drinks spill, food falls over — especially during unexpected turbulence. Keep calm and carry on. If you have forgotten wipes, ask a flight attendant for napkins or a wet cloth. "Our son once got air-sick, and we forgot an extra pair of pants. I had an extra shirt so we fashioned a pair of pants for him out of a shirt," said Moran.
Bad behaviour: If you think your child might act up or get fussy, speak up. "Pre-apologize to everyone around you for your potentially fussy/tired children," said Moran, who notes other passengers are normally quite understanding and helpful.
Tantrums/meltdowns: Milnes suggests some of the following strategies to calm kids and seat neighbours: "Suckers, candy anything they are not supposed to have usually... also I pack a few Starbucks gift cards for the seat neighbours."
For many parents, screen time is almost always the answer. "When my son melts down, I usually show him videos of himself. This calms him right away, and he starts telling me about what he's doing in the video," said Cheung. "This worked even when he was a baby. Kids love to watch videos of themselves."
Cheapflights has gathered up more key pieces of advice from the hardiest of road warriors — parents of small children — on everything from packing to dealing with a cranky or fidgety tot to navigating security. Other tips include choosing the best airplane seat; knowing which travel documents and vaccinations are required; considering travel insurance; managing travelling solo with kids and advice for parents of children with special needs. For the complete list of travel tips and tricks, go here.