Furniture pieces often have names that identify their placement or use — a bedside table, for example, is a table beside a bed. However, other objects can provide that same function. Perhaps you could use a vintage travel trunk or an old filing cabinet by your bed instead? Repurposing old or obsolete objects to function as furniture can transform the look of a room. They also can be good for the budget and the environment. Here are 10 objects that have gone from used up to useful.
1. Trestle table. The collapsible trestle table was the dining table back in medieval times, and was simply formed by placing a board over trestle legs. It remained the most common form of dining table until the 16th century, when it was replaced (in wealthier homes, at least) by more solid and permanent structures.
While it's still used in varying forms as a dining room or outdoor table, the trestle also makes a great desk for a home office due to the placement of the legs. And as preloved trestle tables already come with marks and scars, a little more wear and tear will only add to the character.
2. Ladder. Although traditionally designed for reaching higher planes, a ladder can be used for hanging tea towels in the kitchen, bath towels in the bathroom, or even quilts or blankets in the bedroom or living room.
Choose a ladder with round rungs for a neat and tidy display that won't damage fabric.
3. Wooden crate. Packing crates come in various forms, as their original purpose was to protect a variety of items during transport. Designed to be durable, wooden crates can last for decades and often have the markings of a previous time.
With a top surface for display, a wooden crate can substitute for a small sideboard, bedside table, coffee table or any other piece of furniture that provides a place on which to stack books and other objects.
4. Filing cabinet. As our lives become increasingly paperless, filing cabinets are getting rarer. But don't let those soon-to-be historic items go to waste. They can provide terrific storage for a multitude of objects in the home.
This bathroom vanity is made from an old wooden filing cabinet with metal handles. A white marble top lightens the look to complement the rest of the bathroom.
5. Locker. Once common in public places — but much less so today — lockers have been used for storage in schools, workplaces, transport hubs and more, and they come in a range of sizes.
This metal locker once held all manner of tools and carpentry items, such as nails, nuts and bolts. The doors were removed at some point (you can still see remnants of the hinges), and today the locker houses a colourful collection of sneakers.
6. Travel trunk. The nostalgic steamer trunk has become all but obsolete, gradually replaced over the 20th century by suitcases — first with handles, then with wheels.
Today, the travel trunk of yesteryear, with its romantic and exotic connotations, doubles as both storage and surface display. As a bedside table, coffee table, side table or display piece, it always looks worldly and sophisticated.
7. Console. The console originated in 18th-century France, when more and more furniture pieces were designed to address specific purposes. The console was meant to be placed against a wall and was often narrow so as not to obstruct passage around it.
Here, it has been transformed into an elegant bathroom vanity that neatly fits in an alcove, and it provides counter space as well as storage underneath for towels.
8. Door. A wooden door can have a limited lifetime as a door, depending on the quality of the wood and structure. However, when no longer needed for its original purpose of protecting and insulating a home, a door can be repurposed as a headboard.
Lay one door horizontally or stand two vertically to make an unusual feature behind your bed. Also, check out the locker and ladder — this bedroom is an upcycler's heaven.
9. Drop-leaf table. First used in 17th-century England, drop-leaf tables have one fixed surface and one or two hinged surfaces. They're ideal for small spaces and used for dining, taking tea and playing games. They also can easily be placed against the wall for surface display when not in use.
Here, a quaint little drop-leaf table serves as a nightstand, with plenty of space for bedtime essentials.
10. Wood pallet. Introduced in the early 1920s, the humble wood pallet evolved with the forklift, making it easier to hoist goods. And while they're still used as intended today, they can also be repurposed to elevate a mattress or cushions for a bed or sofa.
To find items to repurpose, scour salvage yards, secondhand stores, auction houses, websites, estate sales and the like. Take your time finding the right piece for your house. You may have to do some restoration work to make it suitable for your home, but the end result can add character to a room and leave a little extra cash in your pocket.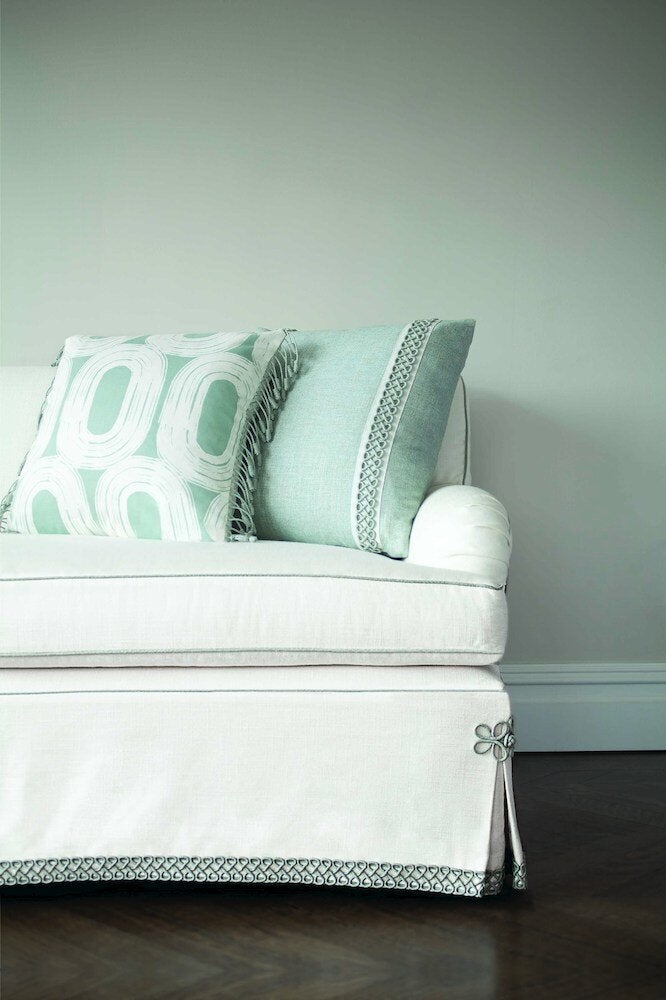 Furniture Ideas To Make Your Home Look More Expensive
Popular in the Community