The group suggests that Tower 7 collapsed due to a controlled demolition and subscribes to a theory that there has been a government "cover-up" about what really happened on September 11, 2001. The group wants a new independent review regarding the attacks.
Ottawa transit commisioner Diane Deans said Wednesday that "to have those ads running on buses seems, at the very least, insensitive," according to CBC News. Deans said she is ordering a review of OC Transpo's advertising policy, but said the right to free speech must be considered.
The ads, which are also running in several major U.S. cities, on a major Toronto billboard and in Vancouver transit shelters, have sparked widespread outrage.
Andres Acero, an Ottawa bus rider who spread a photo of the ad, told the Ottawa Citizen they are "disrespectful and callous."
Another rider, Adam Toner, told the Citizen that he understands the free speech argument, but that "to have something like that on the anniversary, that's a little disrespectful to families, friends who lost somebody there."
Not everyone is angry about the ad.
Kirk Lowry, a passerby in Yonge and Dundas Square, told The Toronto Star he's "suspicious of people instantly debunking something as not true. I will look it up, there are oddities."
"Our hearts still ache for the futures snatched away, the lives that might have been," Obama said.
The attack on the World Trade Center towers, the Pentagon and United Flight 93 in 2011 killed 2,977 people, not including the 19 hijackers.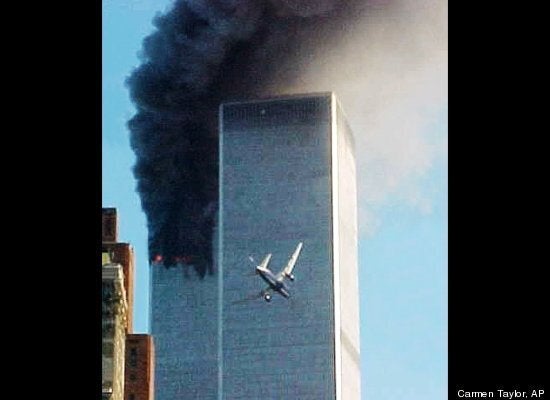 Unforgettable 9/11 Images