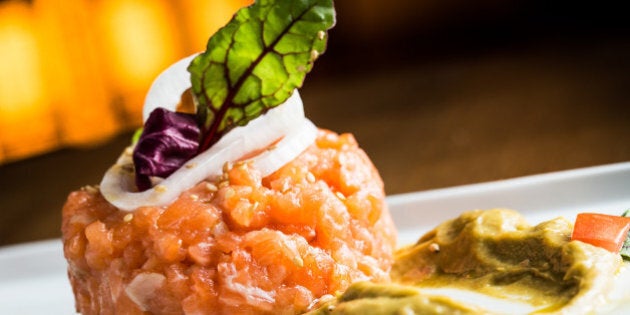 Whenever I'm about to travel to a new destination, I pour myself into research that -- hopefully -- leads me to the most interesting activities, Instagram-worthy points of interest, a better understanding of cultural expectations and the best places to indulge my #FoodPorn obsession.
So let me help save you an hour (or five) and tell you exactly what you need to order at what I consider the best restaurants in San Diego, having just spent 10 days eating my way through the city:
Searsucker (611 Fifth Ave.). Ignore the fact that this is actually a chain restaurant and just trust me when I tell you that the foie gras paté will change your life. The toasted brioche that accompanies it will help prevent you from licking the mason jar in which the paté is delivered.
The Fish Market (750 N Harbour Dr.). If you're a bouillabaisse connoisseur, the cioppino here is a must. Hold the pasta and use the table bread to sop up the thick, tomato-based sauce drowning in fresh seafood.
Cafe 21 (802 Fifth Ave.). It doesn't matter what time of day it is, the croque monsieur is perfect for breakfast, lunch or dinner. Pair it with one of the house mimosas; Cafe 21 makes its own fruit purées atop which the bubbly is poured. Or, heck, do the mimosa flight and try them all.
Miss B's Coconut Club (3704 Mission Blvd., Mission Beach). Come thirsty and ready to share with up to four friends, because Miss B's Havana Good Time cocktail is served in an enormous brass swan with five straws and packs a punch of tropical goodness. Perfect after a day at the beach.
Las Cuatro Milpas (1857 Logan Ave.). You know when those in Tijuana are crossing the border for tacos and other traditional Mexican fare, it's the real deal. You'll stand in line at this cash-only joint--which closes at 3 p.m. sharp--but it's worth it for flour tortillas so good you can enjoy them plain and tamales that'll have you shouting "Olé!"
Cowboy Star Restaurant & Butcher Shop (640 Tenth Ave.). If you can push yourself to try one new thing while you're in San Diego, make it the fried wagyu beef tongue. Because it's melt-in-your-mouth perfection that will go down in your foodie hall of fame.
Islander (1166 Orange Ave., Coronado Island). A hop, skip and ferry away from San Diego's downtown core is Coronado Island--which in and of itself is a must-visit. Here you'll make friends with the chowder to challenge all chowders that came before it: the spicy chipotle coconut milk seafood chowder. (Hint: it's not that spicy.)
Richard Walker's Pancake House (520 Front St.). Don't be intimidated by the lineup; instead, use your time wisely to peruse the menu so you're ready to order as soon as you're seated. Portions are huge and very shareable, but you can order half-portions for some dishes if you're solo. Don't leave San Diego without trying The Dutch Baby--think Yorkshire pudding on steroids.
Sushi Tadokoro (2244 San Diego Ave.). Traditional sushi and sashimi never tasted so good, but be sure to make a reservation since this out-of-the-way spot seats only around 30 people. Order the crunchy roll along with any of the daily specials and be swept away to sushi paradise.
The Crack Shack (2266 Kettner Blvd.). Love Southern fried chicken? You've come to the right place. And be sure to order a side of shmaltz fried fries, which are French fries deep-fried in rendered chicken fat. Oh, yeah. Goodness on a plate.
Crab Catcher (1298 Prospect St., La Jolla). When you go to La Jolla (because you really should), nosh on King Crab tacos made with crispy wonton shells and eat as much of the free sourdough bread as your stomach will allow. But stop there if you're not feeling spendy.
Kettner Exchange (2001 Kettner Blvd.). While it's hard to choose just one standout dish from one of the best menus in San Diego, the blueberry cobbler topped with crème fraiche ice cream had major wow appeal and is begging to be eaten. On repeat.
Donut Bar (631 B St.). Maple bacon doughnut. Need I say more?
Restaurants come and go, and of course I couldn't get to every fabulous restaurant in only a week-and-a-half. Did I miss one of YOUR favourites? Share it in the comments.
Popular in the Community