Last Thursday saw the return of the annual Interior Design Show, launching as always with The Party: a private industry-only event where design insiders come together to mix and mingle, and preview the exciting new products and creations on display.
This year, I found a lot of inspiration on the show floor, walking with friend and fellow Cityline guest designer Karen Sealy, and thought I would share an insider's perspective on the exciting trends and behind the scenes happenings with any of you who weren't able to come see it all in person.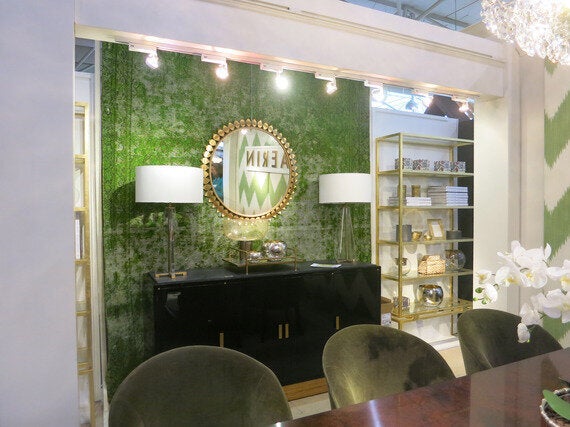 •One of the strongest trends I noticed throughout the show was a combination of gold with green. Warm metals have returned after years of chrome and silver, and cool greens are a classic counterpoint to this regal finish. This was especially well captured in the Cocoon scheme -- the boutique is one of my favourite hidden gems.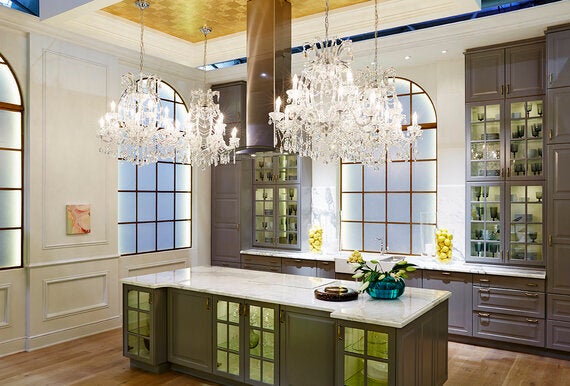 •I always enjoy having some time to chat with the faithful suppliers I work with for both client projects and my media appearances, and after featuring IKEA in a recent Cityline segment I was happy to see their creative showcase in person. Their logo was rendered in beautiful gold foil on a soft grey -- another key trend colour -- and this sense of mixing regal glam with modern sleekness was present throughout. Embracing a love of excess, their kitchen included four dramatic crystal chandeliers (not part of their own collection), while in the living area an antique daybed contrasted with their iconic Swedish styles. Mixing their affordable pieces with your existing treasures is really the key to creating a complete look. Am I discerning a newly emerging trend here of antique meeting Swedish modern design?
•Another colour trend to watch was the light and delicate shades on display in places such as the Urban Barn booth: soft pink especially was a featured colour that can easily blend into various schemes to add a little extra life without overloading your senses. Mixing this near-neutral shade with equally pale grey achieves a timelessly sophisticated elegance.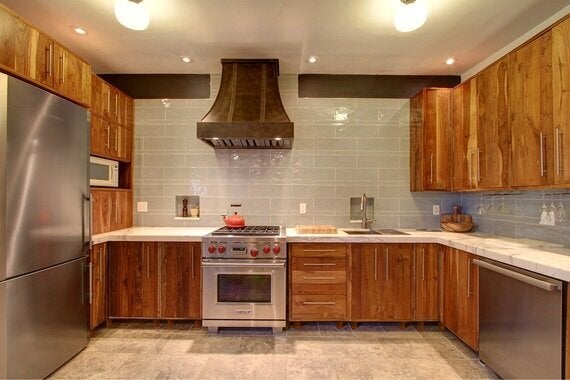 •Wood is a classic material, but it has been embraced in an even bigger way this year, appearing in all forms of interior objects from furniture to lighting. Inde-art's reclaimed wood kitchen cabinetry highlights this trend while working to reduce environmental waste for a stunning result.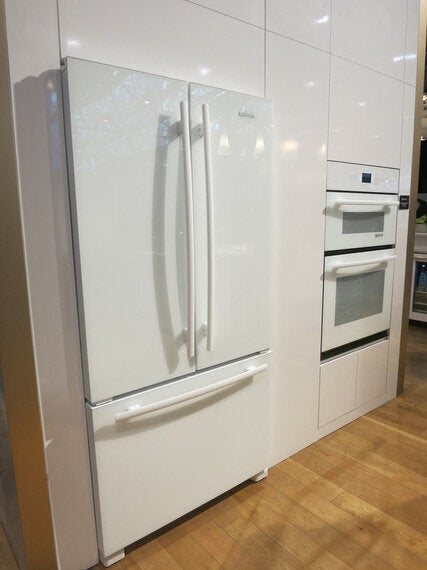 •Jenn-Air's booth featured their "floating glass" finish in white, which allows a white kitchen to blend the appliances and sleek white cabinets together for a fresh, luxe look that stands out from the popular stainless steel options of the past few years and feels very 2014.
A few stray observations:
•We said hello to Sarah Richardson and got a sneak preview of her new fabric line she's debuting exclusively through Kravet -- it's so beautiful and so Sarah.
•Later I spotted my dear friend and Cityline cameraman Patrick -- stay tuned to the show (9 a.m. on City) to get your own inside look!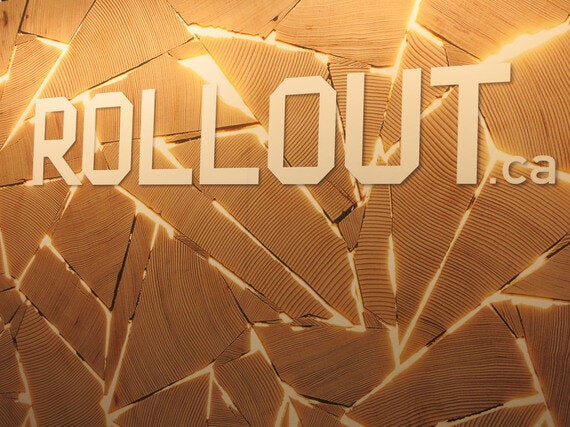 •Rollout's "shattered light" wallpaper creates the effect of a fractured wall panel with glowing light pouring through -- just one of their many artistic creations.
•Another neat idea from the IKEA booth: their full wall cabinets featured sleek handles that would usually be installed vertically -- here they were installed on a diagonal for a unique effect without spending a cent more. Sometimes the best things in design are free!
•I liked how Design Lump explained their vision of a lamp: "A lamp isn't just a lamp... a lamp is also a decorative fixture that says a lot about a room." Their brass legged Focal Point lamp (with bright green cord creating a feature) was certainly more than just a functional task lamp.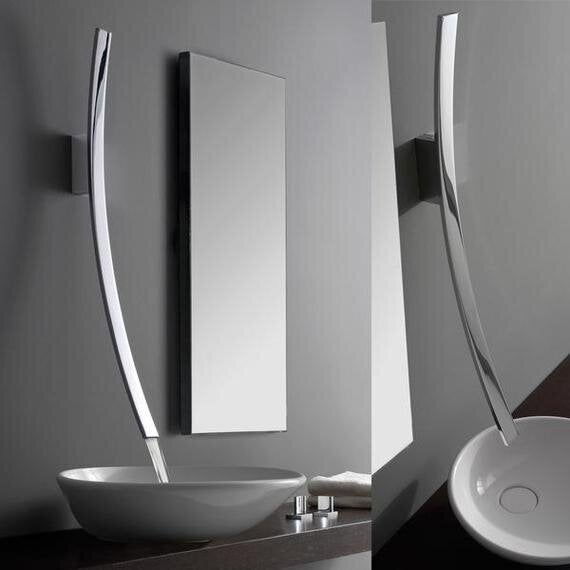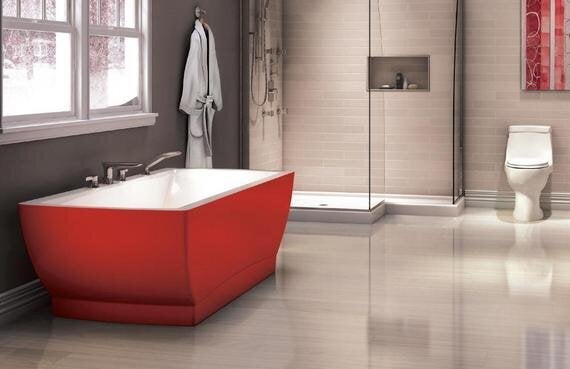 •You know my love of kitchen and bath design, and I found two spectacular new faucets: Axor Starck Organic by Hansgrohe has the appearance of an organic branch or growing plant, while the Luna faucet by Graff (available at Taps) uses a very long, elegant form hung from the wall to bring water down to the sink below while creating a statement wall feature. I also loved the memorable red bathtub courtesy of Produits Neptune.