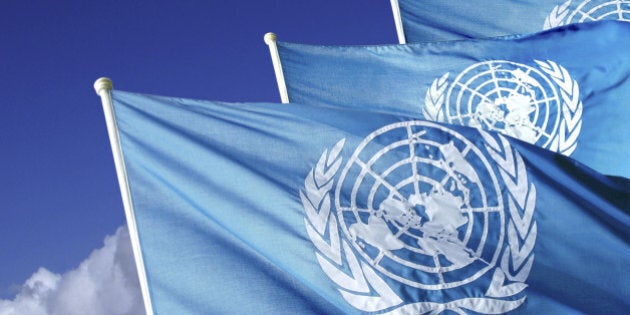 2015 promises to be a transformative year on the international development front and is therefore an appropriate time to reflect on a noteworthy milestone. The United Nations enters its 70th year -- and like some 70-year-olds, the beleaguered UN has found new vigour and relevance in people's lives, with Canada playing a role in some noteworthy accomplishments.
Over the decades, the UN has felt the brunt of legitimate criticism for failing to solve political crises and for administrative failures. Recently, however, given its success as a catalyst for major social and economic change, the UN is on track to remain a global force for decades to come.
Nothing has bolstered the UN's reputation more than setting a bold development agenda in 2000 by establishing, monitoring and prodding Member States to achieve its eight Millennium Development Goals (MDGs), which concern education, poverty and health. Overall, the MDGs are revolutionary in several respects. All countries endorsed them, making national leaders answerable for their progress in attaining them. UN Secretary General Ban Ki-moon calls the goals the "most successful anti-poverty push in history."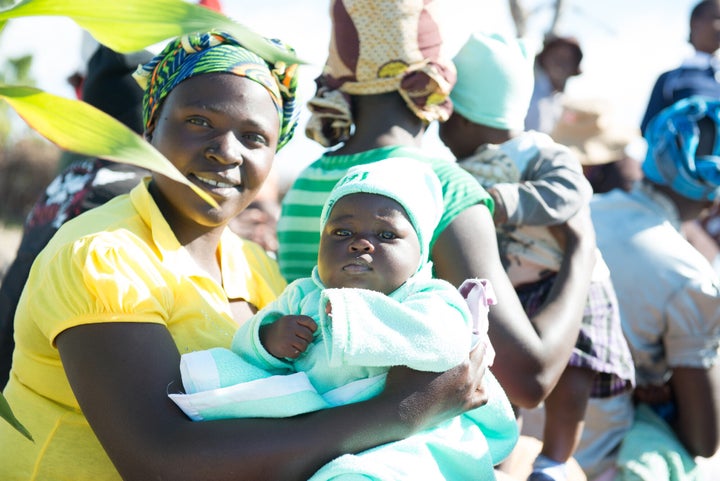 A mother and child wait to receive medical care in a community clinic in Zimbabwe. Photo: Plan / Mortuza Sheikh
Canada's focus on two MDGs in particular -- reducing preventable maternal, newborn and child deaths (MDGs 4 and 5) -- is one of our most significant contributions to building a better world through the UN. Our leadership, both through innovation and financial investments, in improving the health of these three vulnerable population groups is recognized around the world.
We can claim, for example, some part in cutting in half the number of children who die annually before reaching their fifth birthday, and saving the lives of some 5.5-million babies, infants and toddlers every year. Yet the journey isn't complete: some six-million children and nearly 300,000 mothers still die a preventable death annually. They will be represented in the new goals the UN will announce this year.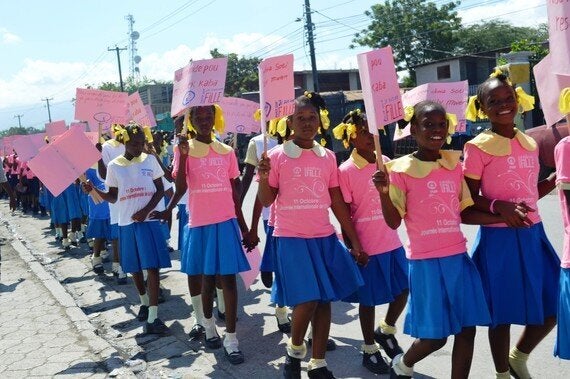 Youth from Croix-des-Bouquets, Haiti, march in support of girls' rights to quality education on the International Day of the Girl, celebrated every October 11. Photo: Plan
Canada also tapped into the UN system to establish a globally celebrated international day focused on the neglected rights of girls. A campaign and petition, signed by thousands of Canadians who wanted to put a spotlight on critical issues like gender-based violence and a girl's human right to an education, led to a unanimous all-party vote in Canadian Parliament endorsing the call for an International Day of the Girl. This became a resolution brought forward by Canada to UN Member States for global approval and support.
It was a textbook example of how the UN can be made to work for those without a platform or a voice or where a major issue of human rights needs to be addressed.
At the past fall session of the UN, Canada introduced another historic resolution calling on all Member States of the UN to come together to end child, early and forced marriages. The fight against this pervasive human rights violation has become a signature Canadian foreign policy objective. The UN is the right and only place where we can pull the world together to end this gross violation of the rights of every woman and girl not to be forcibly married.
The UN stands on three pillars -- development, human rights, and peace & security. Those are objectives embraced by Canadians and most other nations, and reflect the day-to-day work of non-governmental organizations such as ours.
Thanks to the MDGs, people now recognize the UN as a powerful vehicle for development and human rights, uplifting the lives of millions in the developing world. No country today will resist or reject the new Sustainable Development Goals. Member States will be held publicly accountable for achieving them over the next 15 years. The role and authority of the UN in development and human rights is firmly acknowledged, although regularly challenged by some.
Born out of the rubble of the Second World War, when the world struggled with the aftermath of refugees and displaced, destroyed infrastructure across European cities and the horrors of genocide, the UN has also struggled over the years with its three core mandates. The most challenging one, and where it experiences more public visibility and criticism, is the peace and security role.
Consider what it's up against: intransigent war and conflict in places like Syria, the Central African Republic, Iraq, Palestine and South Sudan; growing millions of displaced persons and refugees fleeing conflict zones for their lives; emerging human rights violations and threats to peace and security by groups such as ISIL and Boko Haram who recognize no authority except their own acquired through murder and intimidation; and the collapse of peace negotiations in the Middle East on a recurring basis.
It's a short 30 years before we celebrate the UN's 100th birthday. It is an imperfect institution in its decision-making but probably the best we can make it in a world that clings hard to state sovereignty. It has unstable and unreliable funding. It has no army. The fact that it has lasted 70 years in our complex and fighting world is an achievement that few would have bet on. It remains a work in progress as an institution challenged by almost impossible mandates. Its members are us -- Canada -- as well as Russia, Nigeria, Bangladesh, Syria and the other 188 Member States. Its victories as well as its shortcomings are all of ours. It is our United Nations.