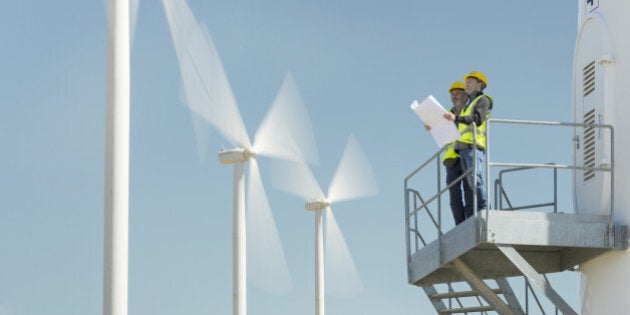 No question, 2015 will be remembered as a banner year for clean energy in Canada. Perhaps surprisingly Alberta led the way as the new government there pledged to invest in clean energy.
"Alberta is going to move away from coal and towards clean power," said Premier Rachael Notley when, in November, she announced a sweeping plan to accelerate the phase out of coal electricity and replace two thirds of it with renewable energy by 2030. She also said Alberta will put a price on carbon pollution and reinvest the money in clean research and technology, green infrastructure, renewable energy and energy efficiency.
These announcements were made just days before the climate change meetings in Paris. Combined with the new federal government's commitments to address climate change, Canada has been thrust into the world spotlight overnight, seemingly reclaiming some of the country's lost reputation and social license.
It was telling that Canada appointed Catherine McKenna as its first ever Minister of the Environment and Climate Change and pledged to invest in "green research" and "green infrastructure."
All of these announcements come on the heels of some pretty stunning global statistics: that the renewable energy industry employed 7.7 million people worldwide by the end of 2014, the U.S. already has 174,000 solar jobs and the province of B.C. in Canada, even in these early stages of distributed energy, has 14,100 clean energy jobs.
Early in 2015 we told the story of how the Cowessess First Nation from Saskatchewan partnered with the Saskatchewan Research Council to test energy storage attached to a wind turbine. Only about eight per cent of Saskatchewan electricity generation capacity is wind today. The results indicated battery storage can significantly smooth the power production of a wind turbine out over time and even save energy for times of peak demand.
Well before the Paris talks in December, we interviewed Edmonton Mayor Don Iveson about the city's energy transition plan. Iveson said times have changed: "What's different is that we have provincial and federal governments who are not denying that climate change is anthropogenically connected; they're prepared to go to Paris and talk about what we're going to do. But if they want to be successful, they're going to need to plug into specific and achievable and measurable and cogent local strategies, which we've provided here," says Iveson. The new strategy is designed to reduce emissions and promote renewable energy in the city. We posted a 30-minute interview with Iveson in our episode on Edmonton's energy transition strategy.
Cities going 100 per cent renewable
"We see this as a huge economic opportunity for Vancouver," said Robertson. "We're partnering with a group of 17 cities around the world that are looking at how we do this, how we work together, share best practices and really develop a framework for all the cities of the world to go 100 per cent renewable."
Even Banff, Alberta weighed in early in 2015 when they launched the first solar municipal feed-in tariff in Canada. The program was small, but the leadership was noticed across Canada. What made the program unique is the support was calculated to ensure participants received a seven-year payback on their solar investments which means the solar systems will produce electricity for at least 18 years after they are paid for.
And this year we also visited the very beautiful City of Kimberley, B.C. where they have planted a sun-tracking, one-megawatt solar farm on the old contaminated brownfield left behind by one of the world's largest lead-zinc mining operations that had closed in 2001 taking 600 jobs with it. The SunMine solar project is a baby step towards a new tourism, knowledge and clean energy based economy, but Kimberley has room for another 200 megawatts of solar if it works out.
For years we've done stories about innovative Alberta farmers, municipalities and individuals working hard to push the cost of solar down and in 2015 the fruits of these collective efforts seem to bear fruit in the form of a two-megawatt Green Acres Hutterite solar farm near Basanno, Alberta. It's the largest solar system in Western Canada and it was built with no subsidies for the very low price of $2.40/watt. The project powers a recycling operation, hog and chicken operations and the residences at the Green Acres Colony.
2015 has to be described as a breakthrough year as renewable energy seemed to reach a tipping point and is transitioning from a few keen farmers and municipalities to provincial and perhaps even national scale initiatives. This is good news for climate change and emissions reductions, but it also represents investment in new jobs and industries with plenty of future potential.