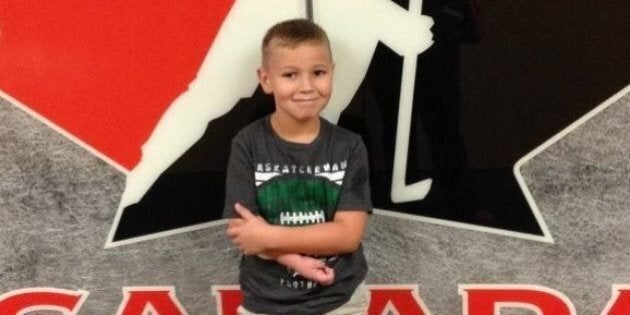 A nine-year-old Alberta boy is headed to the 2016 NHL Entry Draft.
Jaxon Melnychuk of Whitecourt, Alta., is an avid hockey player. When his mom, Stacy Crossland, heard about a contest promising to send winners to Buffalo, N.Y., for a VIP draft party, she knew she had to enter.
The Sport Chek contest asked hockey fans to share a photo of what hockey means to them.
Crossland wrote about her son's disability and how it has no influence on his dedication to the sport.
"This is my son Jax. His arm is paralyzed yet that doesn't stop him from playing hockey. This picture means perseverance and hard work, those are the two things that describe hockey. Jax embodies the spirit of hockey the way the game is meant to be enjoyed," she wrote in her entry. She attached a photo of her son in his hockey gear.
When Melnychuk was born the nerves in his right arm were damaged.
His hand has less dexterity so it's hard for him to hold onto a glove, but that hasn't stopped him from getting on the ice.
"He only has 10 per cent usage of his hand. He can close it but he can't open it at all. I have to open it physically, and there's no way that I can put his hand into a glove," Crossland told the Whitecourt Star.
He plays with a specially-designed glove, gifted to him by sports equipment manufacturer Bauer.
Melnychuk is hoping to motivate others to get active.
The NHL Entry Draft will feature 211 young players being selected among 30 teams, CBS Sports reported.