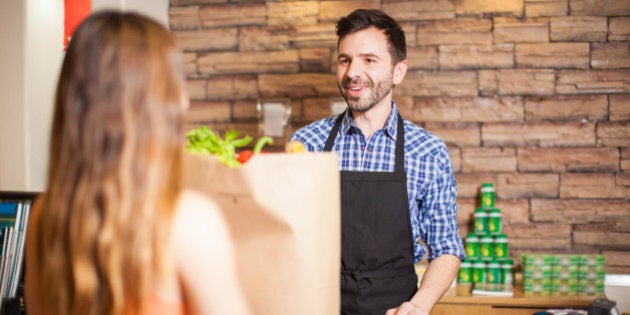 Let's say you're thinking of buying something for yourself beyond groceries or essentials - whose opinion, or what kind of advertising influences Canadians the most?
The answer might surprise you. According to a recent survey conducted by Harris Poll for Chartered Professional Accountants of Canada (CPA Canada), nearly three-quarters of Canadians (71 per cent) say they are influenced most by the recommendations of family and friends, and 46 per cent say input from work colleagues carries sway.
The participants could cite more than one influence and the survey clearly shows that shopping can lead to spending temptation. The numbers reveal that in-store advertising influences 45 per cent of respondents while 30 per cent are influenced by the recommendations of retail store employees.
Have you thought about what influences your spending habits? It would be a good idea to do so.
Always remember that the final decision rests with you. Managing your money is about choice, not sacrifice. Set realistic spending targets for the year and the chances of achieving the desired result is greatly enhanced.
If you know you're swayed too much by others, think about your purchasing priorities before you talk about them. Do some research prior to spending your hard-earned cash. You'll feel armed with ammunition to stick with your own plan.
You can also borrow a smart, easy tip - take cash, and only spend what you have in your pocket. Think of shopping as a chore rather than recreation, and you'll start to change your perspective for the better.
Today, there are many options, not just for what we buy, but how we purchase it. For example, according to the survey, 26 per cent of respondents say online advertising has an influence on their purchase decisions. Learning to avoid your own temptations and spending triggers will help you become a better shopper.
The survey found that a majority (59 per cent) of the respondents agree that they worry about money. That is not surprising - our finances affect so much of what we do.
A lot of unnecessary stress could be eliminated if we put a greater focus on our personal finances. Investing time into managing your personal finances can go a long way in providing some peace of mind.
There is an encouraging finding that came out of the CPA Canada survey. An impressive 69 per cent of Canadians say paying down debt is a medium or high priority in 2017. For many of us, that may mean there will be times when our best decision is simply not to buy at all. This can feel surprisingly good! It can help us protect the money we need for what we've decided is most important.