In his book, "Why Read The Classics?", Italian writer Italo Calvino argues that, in a world increasingly full of stimuli and noises, sometimes it's necessary to close the windows of our house (i.e. our body and mind) and read a literary classic. And remember – he wrote this in 1991!
A visit to a museum can also be an antidote to the information overload and noise of the 21st century. Spending two or three hours quietly observing paintings, sculptures and photographs in a welcoming environment has an amazing power to make us forget the busyness and the problems of everyday life. And it also helps us reconnect with our deepest feelings and emotions.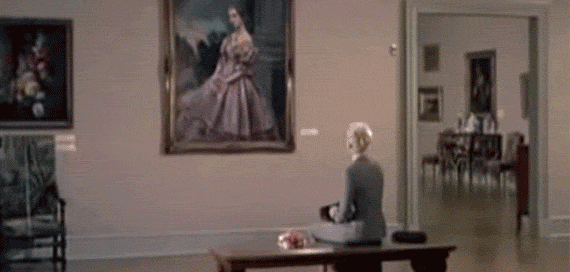 A scene from Vertigo (1958), by Hitchcock, in which Kim Novak spends hours sitting in front of the portrait of a dead woman who's presumably possessing her.
However, you can't approach a visit to a museum as if you're going to the mall. Nor should it be a symbol of social or cultural status. It's an investment in ourselves, and the more conscious, aware and sensitive we are, the more we'll enjoy it.
Check our 22 tips to make the most of your next visit to a museum.
Avoid Lines And Closed Signs
With the globalization of tourism, the major museums of the world are increasingly crowded. Good exhibitions also attract large audiences around the world. To avoid massive queues or the disappointment of not being able to get in, buy tickets in advance online. It's also often possible to make an appointment, but don't be late.
Try Less Crowded Days And Times
It's not always possible, but in order to avoid the rush in front of the works, try to go during the week and at less crowded times (i.e. not holidays).
Do Some Research Before You Go
Getting to know a bit about the museum and the collection beforehand helps you to decide what to focus on during the visit. It is also interesting to search for information about the artists in the exhibition, their ideas, where and when they lived, and which movement they belonged to. MOMA's website, for example, has an educational section with lots of tips on how to best take advantage of the incredible collection of modern and contemporary art in this great New York museum. When you are finally in front of the works, you will enjoy them much more.
Choose Smaller, Less Crowded Museums
Choosing less obvious museums (see the gallery below with suggestions in several countries at the end of this post) is a great way to escape the stress of crowded and noisy rooms. In addition, they usually have collections with specific topics or cultures or specific eras, helping with the audience's understanding. Finally, it is possible to visit them with no stress.
Visit The Homes Of Artists And Collectors
Visiting former homes turned into museums reveals the artists' and their families' tastes and habits, as well as their working processes. It is also worth visiting great collectors' houses to understand their views and choices.
Spend Only Part Of Your Day There
Less is more. You can spend whole days in large museums such as the Met (New York), the Louvre (Paris) or the British Museum (London). But appreciating works of art demands concentration and, after three hours, the mind and the body shut down. Choose a time of the day to visit a museum: morning or afternoon. For the rest of the day, do something totally different, preferably outdoors.
If I can, I prefer to wake up, have a good breakfast and get to the museum around 9 a.m. with a clear mind and a well-rested body. By noon, mission accomplished. It's time for lunch, and if you're on vacation, make a toast to the art you've seen with some good wine.
At Night, Everything Changes
Some museums open at night once a week or per month. They can actually get quite crowded, but the crowd is different, with people who work business hours in attendance, and sometimes there's a certain party atmosphere. You can even find yourself flirting – why not?
If the plan is to go to a museum, wear comfortable shoes and clothes. Leave heavier bags and coats in a locker and go hands-free.
Keep Your Phone Off — And No Pictures!
Avoid interference from stimuli that have nothing to do with the unique experience of visiting a museum. Respect your own time and the people around you. And why take pictures of professional paintings and sculptures? If you want a souvenir, go to the museum shop.
Running, speaking loudly, discussing and touching the works are not appropriate. If it's crowded, don't get nervous or try to fight for space with other people. Try to relax your body and mind, as in meditation. Walk slowly, with your feet flat on the floor, breathe consciously, relax your arms and shoulders, unlock your jaw. Focus on the present moment. Exercise patience and kindness.
Open Yourself Up To Thoughts And Emotions
The more calm and relaxed you are, the more open you will be to appreciating the aesthetic experience of the works and understand the thoughts and emotions that arise. If a picture conveys a sense of peace or pleasure, smile. If it moves you, why not let the tears come? I cried a lot when I discovered the dramatic paintings of Cy Twombly, the particular universe of Louise Bourgeois and the strength of Rodin's sculptures.
A Work Of Art Is An Enigma
Many people visit museums mechanically. But art has the power to stimulate a whole new line of questions. What is the author trying to say with that piece? What emotions does this work provoke? What does it make me feel? When a work grabs your attention, dedicate more time to it. Try to decipher it.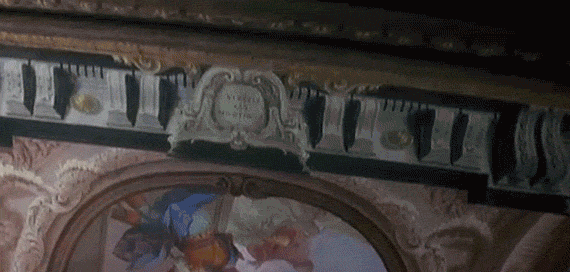 Opening scene of The Stendhal Syndrome (1996), by Dario Argento, in which the character feels vertigo when she sees works of art of great beauty.
To Read Or Not To Read The Supporting Materials?
This really depends on the visitor's personality. There are people who like to know everything about the artists and the works they are viewing, which of course takes time. Others prefer to focus on the works, without much concern for extra information. Let your eyes guide you and let yourself be swept up by the works randomly. Don't feel obliged to follow any set plan.
Should You Take The Audio Tour?
These types of tours give a lot of relevant information, in an enjoyable and stimulating way. But they also demand the visitor's time. The worst thing is to be torn between listening and not listening, or trying to fast-forward the program to save time. If you choose to follow the program, go with it to the end. Otherwise, don't get the audio tour.
Permanent Collections Or Temporary Exhibitions?
Large museums often have areas dedicated to the permanent collections and other areas to temporary exhibitions. Both things are worth your time, but to make the most of your visit, focus on what's more interesting for you at the moment. Even with the permanent collection, you need to make choices. Choose one or two sections and immerse yourself in them.
Why Are Temporary Exhibitions Worthwhile?
I loved an exhibition I saw at the Museum L'Orangerie (Paris), with paintings great artists made with their children as models. Besides the works, there were video testimonials of the heirs. Many hated to pose as models. Exhibitions like this are a must-see, because they have defined themes and bring together artists who converse with one another. They show works from several museums around the world, which hardly will be seen together again. Make sure to check the labels to know where each work is.
Guided Tours And Educational Programs
Visiting a museum with a guide can be a very enriching experience. It is also worth checking out the educational or cultural programs available, and if you have time, choose one of them.
The Advantage Of Going Alone
Being alone helps you to focus on the sensations and emotions that arise during the visit. You can do everything at your own pace, go back and forth in a zigzag, stop for a while or even sit in silence in front of a stunning work. Try it!
But Having Company Can Be Great Too
A museum can also be a great place to deepen friendships, reinforce bonds or even have a date. The best thing is to go with someone you get along with really well and share interests with, or someone who really understands art. It is a great opportunity to exchange views on the work, calling each other's attention to a detail that may have gone unnoticed. Just don't rush your partner or wait for them at the door looking bored.
Is A Museum A Place For Children?
It can be, but don't make it an obligation — they have to see it as something fun. The sooner a child starts going to museums and exhibitions, the more they will develop an artistic outlook. A good idea is to give a child a book of artwork beforehand, and then take them to see the original work. Another suggestion is to choose a theme for your child to observe in the works during a visit, e.g. paintings with hats.
Last And Best Tip: 'Take A Painting Home'
I've already said it: there's nothing tackier than taking photos in museums. But I have a personal mania. In each room, I choose the picture or sculpture that has moved me the most, go back to it and make a mental picture of it. At the end of the visit, I pick the champion "to take home" in my memory.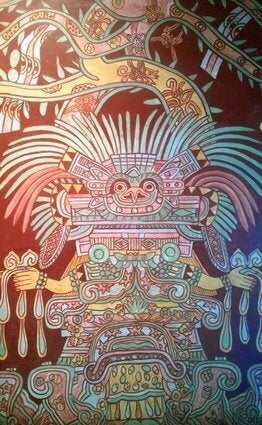 50 Surprising Museums