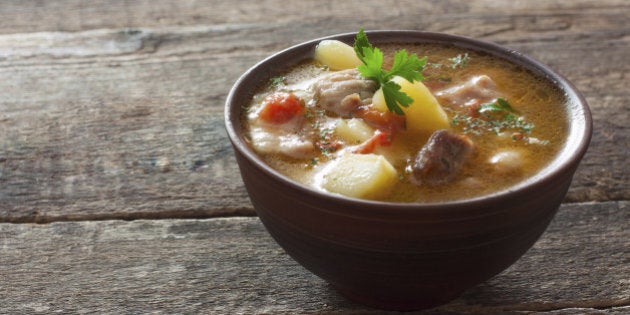 During the frigid winter months I think about snuggling in bed longer and staying home to nestle. All those layers of clothes we wear trying to keep the chill off our bones, all that snow that needs shoveling and the car that takes forever to heat up... wouldn't it be nice to just hunker down with a good book and a big bowl of comfort?
I'm like that kid in the candy store excitedly choosing all the abundant crops of autumnal vegetables and the earthy spices that accompany them so well. People who know me well know that on any given day of the year they can peek into my freezer and they'll be greeted by rows of packages filled with ready-to-eat and ready-to-prepare meals. I'm pretty expert at filling the freezer which buys me the freedom to get lazy without having to feed the kids junky food for supper. I love that!
I freeze year-round because my family has allergies and celiac and we don't dine out much, but when the fall comes I know its soup time. It's healthy, it's a hearty meal, it's great food for company and it's soothing!
I gather fall ingredients and pack up the freezer just like the squirrels that can be seen gathering and burying nuts and seeds for the winter months. This time of year is dedicated to squirreling away containers and freezer baggies of all our fall family favourites. I prepare enough food to get us through some lazy, winter days.
Here are three of my favourite soup recipes: (gluten-free of course!)
1 lb carrots, peeled and cut into cubes
1 lb parsnips, peeled and cut into cubes
1 lb butternut squash, peeled and cut into cubes
1 lb sweet potato, peeled and cut into cubes
3 red peppers cut into chunks
3 leeks, white and pale green part only cut into small rounds
Handful of chopped parsley
Place all vegetables and herbs on two large cookie pans so they are spread
Drizzle with olive oil and salt and pepper. Toss so all is evenly coated.
Bake at 350 degrees for 40 minutes.
Vegetables should be cooked.
Let cool and process all in a blender or vitamix
Adjust seasoning if needed.
Makes three soup containers.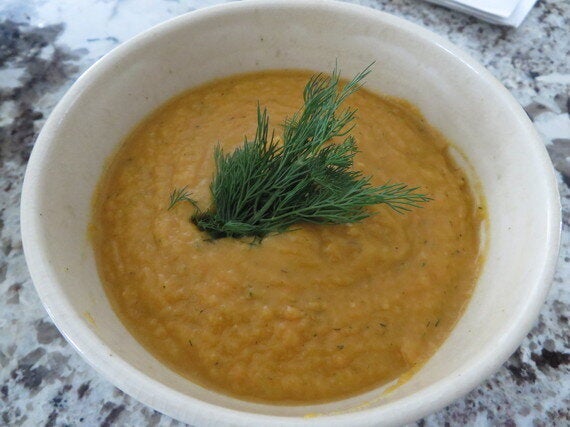 1 bunch Kale or 4 cups chopped Kale (you can use Swiss Chard as well)
6 cloves of garlic, minced
1/4 - 1 tsp red chili flakes
2 cups of dried red lentils
8 cups of vegetable stock (2 litres)
2 lemons juiced and zested
Rinse lentils in cold water and set aside.
In a large pot, add onions and oil and sauté until transluscent.
Add Kale, carrots and all spices and garlic. Stir and cook for about five
Add stock and lentils and bring to a boil. Simmer for 20 minutes. Let sit
You can keep soup chunky or put into blender to purée.
Add lemon juice and zest and cilantro.
Makes three soup containers.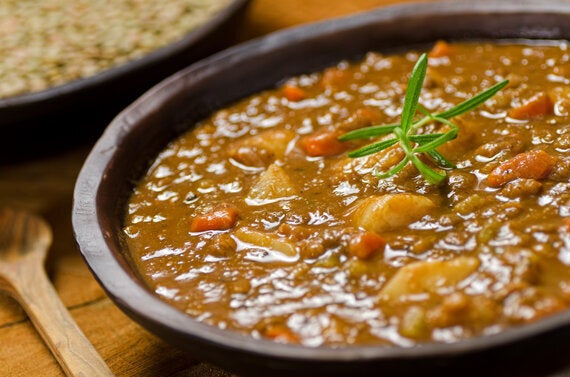 12 fresh kaffir lime leaves (1 bag)
2 sticks lemongrass, use 4" from end only
5 x 1" pieces of ginger, peeled
2 large pieces of galangal
8 cups coconut milk (1.89 liters)
2 tbsps (29mL) fresh lemon or lime juice
2 cups fresh button mushrooms, sliced
2 cups fresh oyster/shitake mushrooms, sliced
1/2 red pepper julienned, 1/2 orange pepper julienned
2-3 green onions, finely chopped
1 bunch fresh cilantro, finely chopped
Slit the lemongrass, galangal and ginger in several areas to release flavor.
Place water, lemongrass, ginger, galangal and kaffir lime leaves in pot and boil for a few minutes, then simmer for 15 minutes. This will be an amazing broth. Let sit as long as you can while you prepare the rest of your recipe.
Remove galangal, lemongrass and ginger root. Discard.
Put heat back on and add coconut milk, lemon/lime juice, sugar, and sambal olek.
Add mushrooms and cook through for five minutes on medium heat.
Turn off heat and add peppers and corn and let sit.
Serve and top each serving with green onions and cilantro.
Add more limejuice to taste.
Makes three soup containers.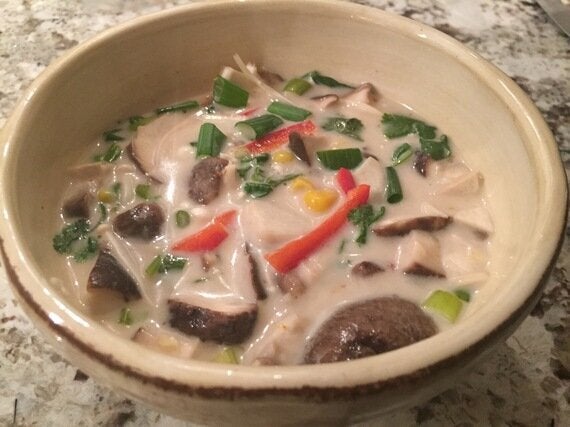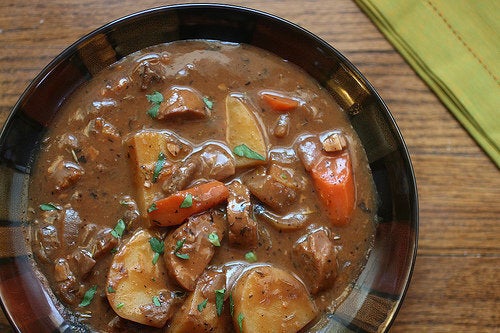 Beef Stew Recipes For Polar Vortex Days
Popular in the Community