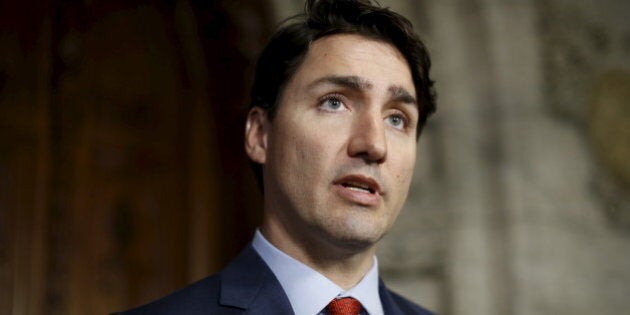 This weekend, hundreds of people will take to the water and march on the land surrounding the Kinder Morgan pipeline terminal in Burnaby, B.C. as part of a global wave of actions to "break free from fossil fuels." The action comes just over a week ahead of the National Energy Board's deadline to make a recommendation on the whether or not the Kinder Morgan pipeline should be built.
Given the embattled pipeline regulator's record, many people think an approval is a pre foregone conclusion, but whatever happens the federal government has made it clear that the ultimate fate of the proposed 890,000 barrel per day pipeline project lies in their hands. Where Prime Minister Trudeau lands on this pipeline is a crucial decision, and one that not only may have a catastrophic effect on communities around the world, but could also make or break three of this government's biggest promises during and since the election.
Promise #1 - Implement the United Nations Declaration on the Rights of Indigenous Peoples
Earlier this week, Canada's Minister of Indigenous Affairs, Carolyn Bennett, received a standing ovation at the United Nations in New York City when she announced Canada's plan to do "nothing less than to adopt and implement" the United Nations Declaration on the Rights of Indigenous Peoples.
Adopted by the UN in 2007, the declaration proclaims that governments "shall consult and cooperate in good faith with the Indigenous Peoples concerned through their own representative institutions in order to obtain their free, prior and informed consent before adopting and implementing legislative or administrative measures that may affect them." Put another way, implementing UNDRIP means that projects like Kinder Morgan can only proceed with the consent of indigenous peoples.
During the election campaign, Justin Trudeau often repeated the phrase "governments can grant permits, but only communities grant permission."
Promise #2 - Real Climate Action
On Earth Day, Prime Minister Trudeau was one of the most emphatic signatories to the Paris Climate Agreement. Signing the document in New York City last month, the Prime Minister once again affirmed Canada's renewed commitment to real climate action and our pledge to the Paris agreements goal of striving to limit warming to 1.5ºC.
Promise #3 - "Communities grant permission"
For many, the line crystallized their hopes for an end to Stephen Harper's relentless push to shove pipelines down the throats of unwilling communities. Now, the government has changed and community opposition to pipelines is as strong as ever.
During the National Energy Board hearings in January, municipalities all around the Burrard Inlet raised questions, concerns and outright objections to the pipeline project. Cities like Vancouver and Burnaby are well documented in their opposition to the project, with the City of Vancouver recently railing against the potential climate impacts of the project. Beneath this political opposition are communities that aren't giving Kinder Morgan permission, and so now the prime minister faces a choice -- reject the pipeline, or eat his words.
Follow HuffPost Canada Blogs on Facebook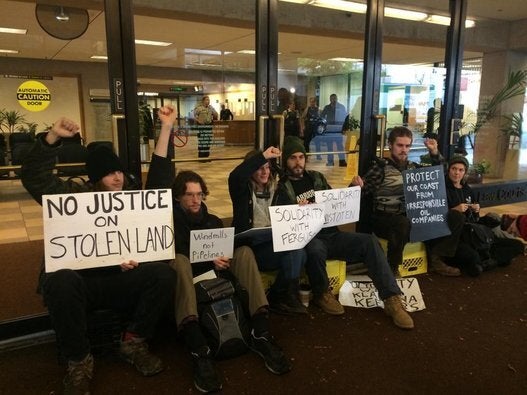 Kinder Morgan Pipeline Protest, Fall 2014