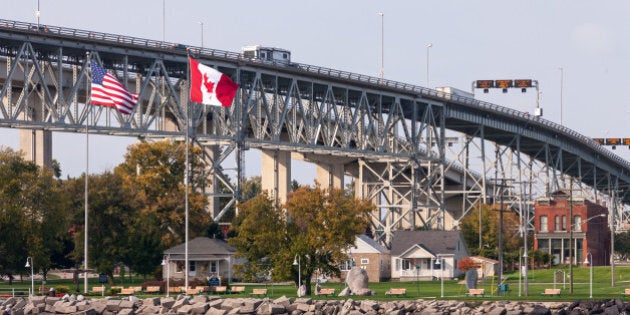 Now that Donald Trump has been sworn in as the 45th president of the United States, should we prepare for an onslaught of Americans moving north and buying Canadian homes?
The "possibility" was well publicized leading up to the election last November, with search terms such as "How to move to Canada" and "How to become a Canadian citizen" skyrocketing on Google during and after the election, even leading to a reported crash of Citizenship and Immigration Canada's website on election night on Nov. 8.
Now Royal LePage Canada and others are fanning the flames even more. On the morning of the inauguration, the realty firm issued a press release titled U.S. Interest in Canadian Real Estate Surges Following U.S. Presidential Election.
"American web traffic on royallepage.ca, the company's consumer real estate portal, has been highly correlated to recent U.S. political events. U.S.-originated sessions surged 329 per cent the day following the election and climbed 210.1 per cent year-over-year the week after Donald Trump's victory," the release said.
"Looking at the full month of November, 2016, U.S. web traffic grew 73.7 per cent year-over-year, when compared to the same period in 2015. This trend continued throughout the remainder of 2016, with American web traffic rising by 40.9 per cent year-over-year during the fourth quarter."
Americans cannot just pick up and move here because they don't like their new president.
We can't blame Royal LePage for publicizing this notable web search trend. It's the company's job, after all, to sell homes.
But it's a bit of a stretch that Canadians should batten down the hatches and prepare for an onslaught of Americans offering wheelbarrows full of U.S. greenbacks for their Canadian homes.
Let's also remember Royal LePage, and every single one if its agent-respondents to its survey, would have a vested interest in a sudden and severe spike in Americans buying Canadian homes.
We need a reality check here.
Putting aside all jokes about Americans crossing the border -- in summer -- with skis affixed to their car rooftops to hit the slopes and other misconceptions, their concerns about their new leader are no laughing matter.
But Americans cannot just pick up and move here because they don't like their new president.
Immigration to Canada is complicated, and it depends on a person's background, according to Robin Seligman, a Toronto-based a specialist in Canadian immigration law, past chair of the Canadian Bar Association and Ontario Bar Association.
"We have express entry, and each province has numerous programs," she told YPNextHome. "As well, we have options for work permits if the person has an employer in Canada, or under NAFTA if they are on the professional list."
Just as Canadians face regulations when wanting to head to the U.S. for employment, there are similar rules for Americans wanting to head the other way.
"We also have the labour market impact stream, so employers in many cases must first try to hire a Canadian or permanent resident for the job," Seligman says. "However, there are many exemptions, including intra-company transfers and NAFTA exemptions."
Even those provisions may change, however, if Trump signs an executive order to renegotiate NAFTA.
Clearly, there are a variety of tax issues to deal with, and certainly legal issues involved in acquiring properties here and moving to Canada. But basic questions can be as simple as, when does a person become a 'resident' of Canada for tax purposes?
"For U.S., citizens, they will need to deal with various U.S. tax issues as a result of their U.S. citizenship," says George Dube, a partner at BDO Canada LLP, Waterloo, Ont. "And, they will need to abide by different tax regulations while considered a non-resident of Canada versus as a resident, such as withholding taxes, filing requirements, eligibility for deductions and credits.
"It's quite doable for most, it's just there are right ways and wrong ways that require guidance from qualified tax and legal professionals. Owning a home for personal use, versus investing in a rental property, from a tax perspective, is easier to deal with, although there are still issues such as changes to the principal residence exemption rules that came about last fall."
"Foreign buyers - including Americans - will have a more difficult time qualifying for a mortgage than Canadians," says James Laird, co-founder of RateHub and president of CanWise brokerage. "The down payment requirement is higher, and there are additional challenges around proving income."
While Canadian citizens and permanent residents have the option of paying a minimum five-per-cent down payment, out-of-country buyers will need to pay roughly 10 times that amount to compensate for their lack of Canadian employment to qualify for competitive financing from an A lender, according to RateHub's real estate brokerage affiliate, Zoocasa. For those Americans who would manage to pay less than 20 per cent down, they would also need to adjust to a 25-year amortization timeline, rather than the 30-year products available in the U.S.
Follow HuffPost Canada Blogs on Facebook
Popular in the Community