In January 2017, a High Level Panel report on the OECD's Development Assistance Committee (DAC) recommended three key reforms for the DAC. One of these was that the DAC should evolve to: "be more inclusive of other development partners in its work and intensify its outreach and dialogue with other development partners in order to increase effectiveness and achieve results" (p. 1). At its June 14, 2017 Senior Level Meeting, the DAC embraced this and other reforms taking what the Chair of the DAC referred to on Twitter as the first step of "Going from club to hub for development."
2/2 by agreeing a stragic direction emphasizing core but also innovation and dialogue. Going from being a club to a hub for development.

— Charlotte Petri G. (@CharlottePetriG) June 14, 2017
In the face of growing aid skepticism and major cuts to aid by the USA, calls to expand DAC outreach and inclusivity require greater understanding of the proliferation of new donor countries than ever before.
We find new donor countries are motivated by strong legitimacy and reputational concerns. In seeking legitimacy as donors, we argue that new donors do not match form and function - often falling short of the expectations set by the DAC. This is apparent in how new donors differ from established donors in three ways: (1) Generosity; (2) Aid to the Neediest; and (3) Multilateral Aid.
Difference #1: New donors are less generous
Our analysis shows how new donors provide less aid as a proportion of their national income and in total volumes than established donors.
New donors who joined the DAC after 2010, had a median ODA as % of GNI between 2010 and 2014 of only 0.125%, while those which remain outside of the DAC provided a median ODA as % of GNI of only 0.09%. The DAC donors in this same period had a median ODA as % of GNI of 0.42%. Figure 1 shows how few new donors reach levels of aid generosity comparable to the established donors.
We argue that this generosity gap shows how new donors claim donor status for legitimacy reasons, but do not match that status with substantial aid levels.
Fig. 1 - ODA as percent of GNI by donor category, 2010-2014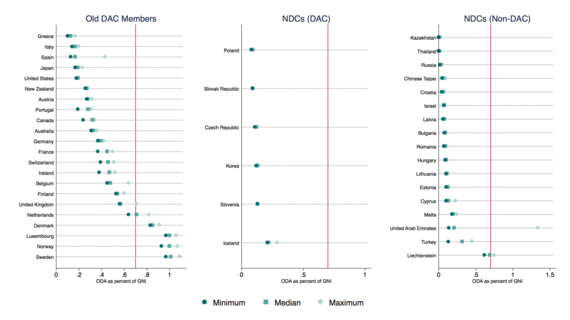 Difference #2: New donors provide less aid to least-developed countries and fragile states
Our analysis showed that new donors provide less aid to those most in need than established donors. New donors were much less likely to channel their ODA to either the poorest countries or to fragile states.
Established donors provided nearly 20% of their aid to LDCs and a little less to fragile states. New donors, in contrast, saw less than 8% of their aid go to LDCs and only around 10% dedicated to fragile states.
By not providing as much aid to the neediest, new donors appear less motivated by the need of aid recipients than do established donors. We argue this shows that new donors may possibly provide aid for the sake of being a donor rather than for responding to development effectiveness concerns.
Fig. 2 - Median share of ODA to LDCs and Fragile States by donor category, 2010-2014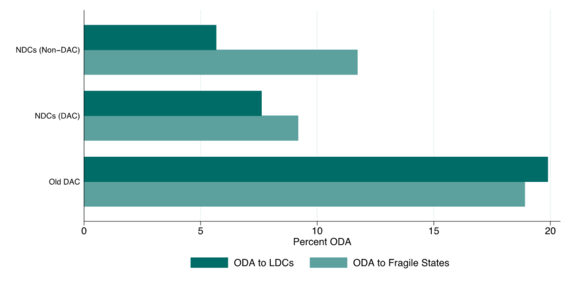 Difference #3: New donors show mixed support for multilateral institutions
When comparing new and established donors on their support for multilateral aid, an intriguing pattern appears. New donors appear to be stronger supporters of multilateral aid than the established donors. Only when you break the new donor category into EU and non-EU new donors, do we see this is largely an effect of EU membership.
Figure 3 shows how the non-EU new donors provide less than 20% of their ODA through multilateral channels. EU new donors, in comparison, rely heavily on multilateral aid to disburse their aid: more than 70% of their aid is disbursed multilaterally.
This result suggests that the non-EU new donors do not invest in multilateralism to the same extent as established donors, while the EU new donors are forced into heavy reliance on multilateral channels to meet their ODA obligations required by the EU.
Fig. 3 - Median share of ODA through multilateral channels by donor category, 2010-2014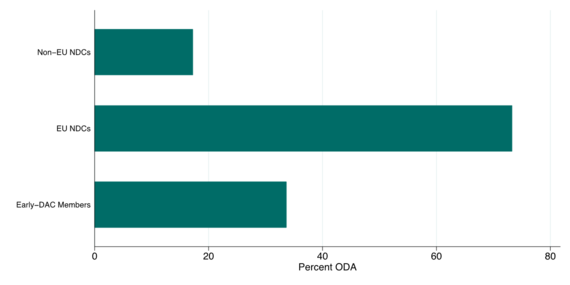 Taken together, we argue these differences point towards legitimacy as a significant motive behind the emergence and proliferation of new donors.
To be sure, legitimacy is not the only motivation for new donors. To be a relevant and, yes, legitimate state on the global stage is to provide development and humanitarian assistance to other countries in need. This is why all western democratic liberal countries are donors, why new EU members become donors, and why now even states that continue to receive aid are also becoming donors.
More donors and more aid should be a win-win for development and the aid community more broadly. The aid community must understand the legitimacy motive behind NDC proliferation and begin to examine ways for more donors (both DAC and non-DAC) to match donor rhetoric with substance in their aid programs.
There are many reasons behind the failure to better integrate more NDCs into the mainstream aid institutions like the DAC; but one of these might be a failure to recognize the motivation of legitimacy for many NDCs.
Instead, we recommend that the donor community - both new and old - must consider these motives more fully and to recognize better how NDCs differ from established donors. Doing so will enable the DAC and the broader aid community to capitalize on the opportunities provided by donor proliferation (south-south cooperation; solidarity; anti-imperialism) as more NDCs seek legitimacy on the global stage.
New donor countries want legitimacy - and the DAC and international community should build upon that motivation to ensure that NDCs attain not only legitimacy for being donors, but also for being legitimate donors.
Liam Swiss is Associate Professor in the Department of Sociology at Memorial University, and Senior Fellow at the Käte Hamburger Kolleg / Centre for Global Cooperation Research at the Universität Duisburg-Essen.
The views expressed are those of the authors and do not necessarily reflect the views of CCIC or its members.
Popular in the Community