Last year, U.S. energy firms wrote off 8.2 billion barrels of foreign oil as no longer economically feasible, thanks to low oil prices. Of those, 7.7 billion were in Canada's oilsands.
That's according to a new briefing note from the U.S. Energy Information Administration, which tracked the proved oil reserves of 68 publicly-traded U.S. energy companies. (That doesn't include such privately-held giants as Koch Industries.)
UPDATE 6/14/2016: The EIA has revised downwards the amount of oil written off by U.S. companies, due to an error that caused some oil to be double-counted, the Canadian Press reports.
However, under the revised numbers, the oilsands still account for the majority of the oil holdings written off by U.S. companies.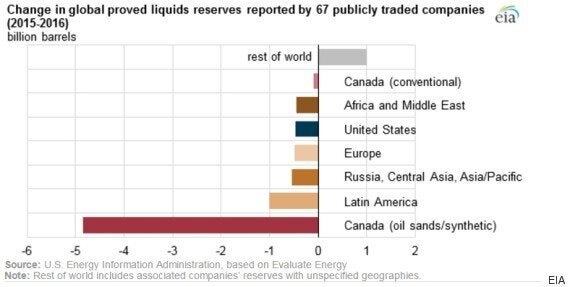 Original story follows below.
"Proved reserves" are those which it makes financial sense to extract. When oil prices drop, some of those proved reserves become unaffordable for producers, and they write off those assets — at least until prices pick up again.
Canada saw by far the largest write-down among U.S. companies' holdings of foreign oil.
The reason for this is simple: The oilsands are some of the most expensive fields in the world from which to extract oil. When oil prices fall, the oilsands are among the first to get hit.
Interestingly, Canadian companies are picking up the slack. Cenovus Energy spent $17.7 billion on ConcoPhillips' oilsands assets, while Canadian Natural Resources picked up Shell's and Marathon's holdings.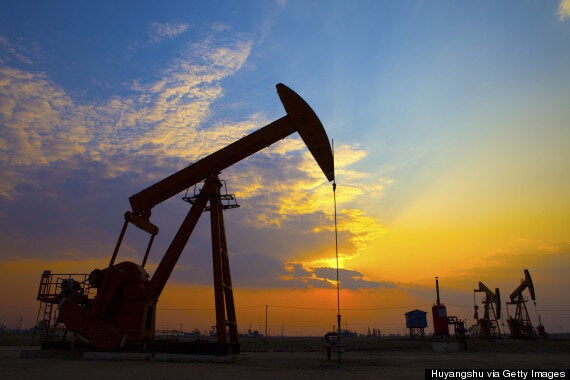 As global firms sour on the oilsands' long-term prospects, the local industry continues to issue optimistic forecasts.
The Canadian Association of Petroleum Producers (CAPP) recently commissioned a poll showing that Canada is the preferred source of oil among poll respondents in 32 countries. With 31 per cent of the vote, Canada beat out 10 other oil-producing countries.
CAPP took that as a sign there will continue to be demand for Canadian oil going forward.
"With global energy demand forecasted to grow 31 per cent by 2040, Canadian oil and natural gas is poised to become a major supplier in meeting the world's needs," CAPP's vice-president for communications, Jeff Gaulin, said in a statement.
A permanent price collapse?
Not everyone agrees with that assessment. Numerous recent studies have suggested that oil prices may never bounce back to the US$100-a-barrel range seen before the 2014 price slide. (North American crude oil was trading at around US$46 a barrel on Monday.)
A recent study from Stanford University asserted that forecasters have underestimated the speed at which electric cars and alternative energy will be adopted in the coming years. It predicts a permanent collapse in oil prices in as little as four years.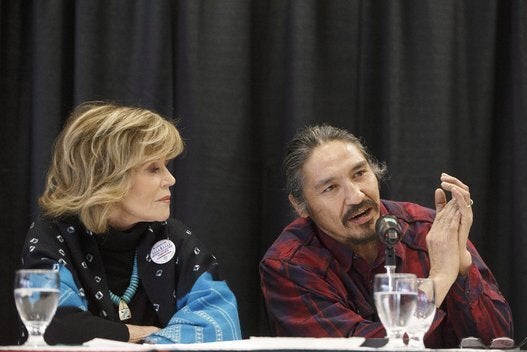 Jane Fonda Visits Alberta Oilsands