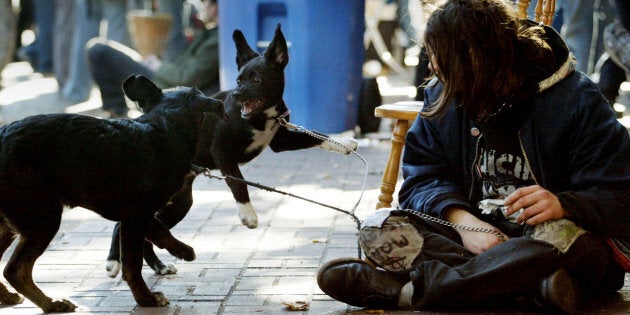 It's no secret that income inequality has been widening in most developed countries, but a new study has found that, in Canada, the problem has been concentrated entirely in cities.
"The increase in income inequality seen in Canada is not only centred in our cities, it is almost exclusive to our cities," states the report from the Chartered Professional Accountants of Canada (CPA Canada).
Like other studies before it, this one found that much of Canada's increase in inequality happened during the 1990s, when the country was recovering from a harsh recession and the federal government cut back on social spending to fight a growing budget deficit.
But if you strip out the largest city in each province, there has been little to no increase in inequality across Canada since the 1980s, the report found. In fact, three provinces — British Columbia, Ontario and Quebec — have recently seen a narrowing of inequality, when not looking at their largest cities.
The report found that four cities — Toronto, Montreal, Vancouver and Calgary — have seen the lion's share of income inequality growth in Canada since 1982.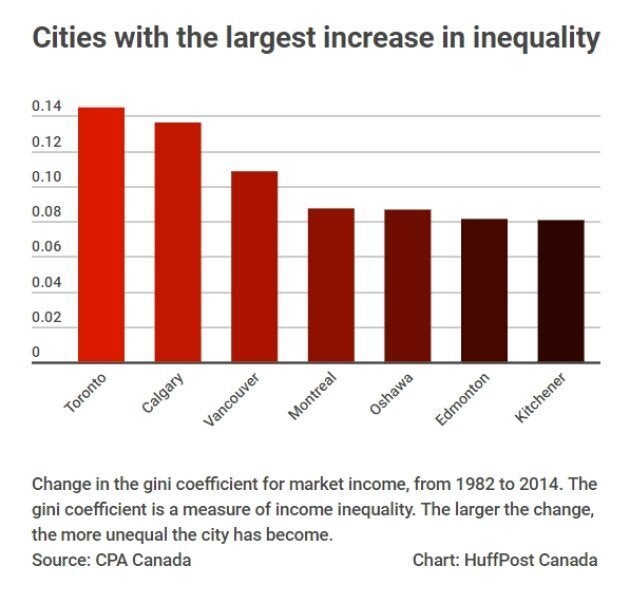 "These results are particularly concerning when considered against the fact that Canada's population is heavily concentrated in these exact cities," the report noted. Some 40 per cent of Canadians live in these four metro areas.
Calgary's inequality has grown a stunning four times faster than the national average, followed by Toronto (three times higher than the average) and Vancouver (2.5 times higher).
"That's not to say people outside urban areas don't feel the impact of inequality," said Francis Fong, chief economist for CPA Canada and author of the report. But "people in urban areas are feeling it most."
Fong says it's an open question why the increase in Canada's inequality has been so heavily concentrated in these cities. But he suggests that changes to the economy — such as the replacement of many middle-skilled jobs by machines — have contributed to the problem.
Jobs are increasingly either high-paid and high-skilled or low-paid and low-skilled, he noted. And Canada's cities have been the principal drivers of job growth in recent decades.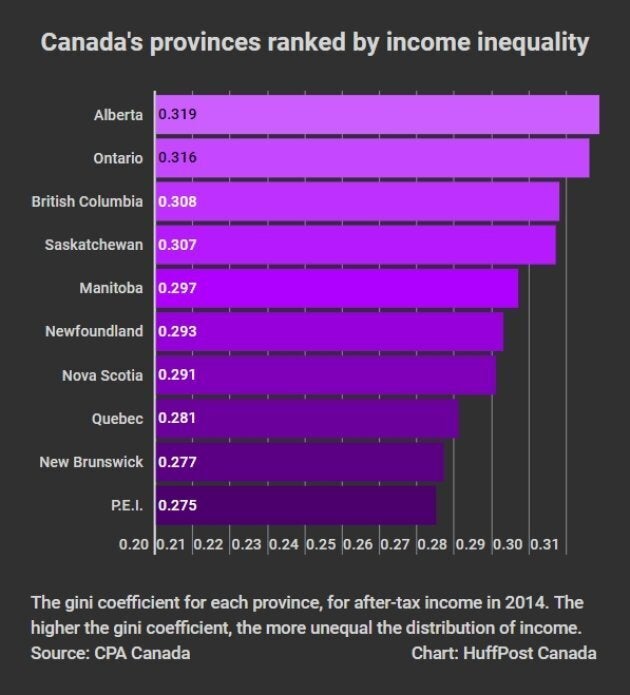 But cities aren't equipped with the means needed to fight the problem, Fong told HuffPost Canada in an interview Wednesday.
"None of the tools related to distribution of income are at city council," he said.
Instead, it falls to the provincial and federal levels of government to seek solutions, potentially through changes to the tax system, affordable housing policies and other measures.
But Fong says we may not know enough about the inequality problem to make effective decisions on how to combat it.
"Our conversation on income inequality is not granular enough. ... We need to be specific about who we're trying to help."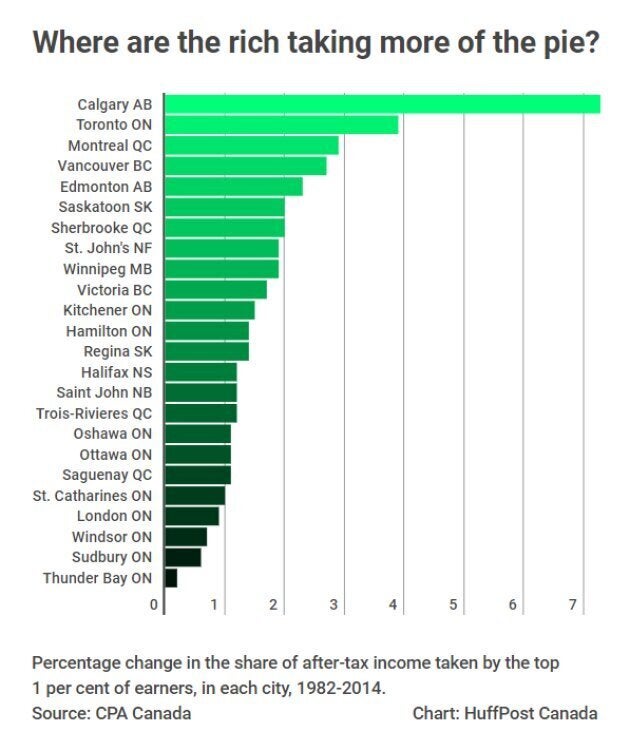 Solutions to inequality have "eluded policymakers," he said. "Trying to find a balance between promoting growth and making sure that growth is well distributed — that's a new arena."
The report stresses that it isn't arguing that cities are bad places to live.
"Quite the opposite is true. Urban centres are dynamic, innovative engines of economic growth. ... What this study does suggest is that rising inequality is often a byproduct of that success."
What's Going On In Housing?

Our weekly newsletter delivers the news and analysis you need on Canada's housing market. Sign up below and don't miss an issue.