Overqualification up among university grads, down among college grads
Vast majority of underemployed came from three fields of study
PBO sees 'continued slack in labour market'
A new study from the Parliamentary Budget Office suggests university grads have been having an increasingly hard time finding work for decades now, but college graduates are doing better for themselves.
The PBO's Labour Market Assessment 2015 found the share of university graduates aged 25-34 who are overqualified for their job hit 40 per cent last year. That's some 600,000 people.
That number has been rising gradually for the past quarter century, from a low of 32 per cent in 1991, the PBO said.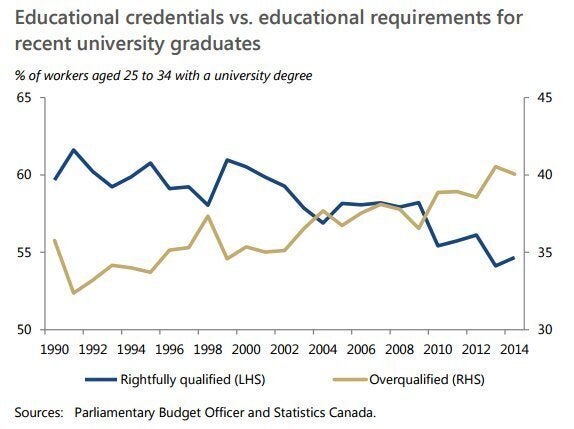 By contrast, a smaller number of college graduates are underemployed. The share of overqualified college grads fell to 34 per cent in 2014, from 37 per cent in 2006, the PBO said.
The PBO cited earlier research that shows the "vast majority" of grads who are underemployed came from three fields of study: business management and public administration; social and behavioural sciences and law; and humanities.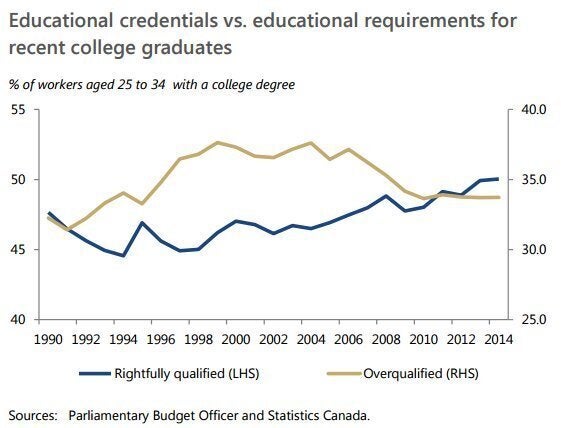 The report also identified specific jobs where the overqualified are most likely to end up.
Among jobs requiring a high school diploma, clerical occupations had the most overqualified workers (28 per cent), followed by sales and service jobs (20 per cent) and retail salespeople and clerks (9 per cent).
Among jobs requiring some post-secondary education, insurance and real estate (14 per cent) and administrative/regulatory jobs (14 per cent) had the highest rate of overqualified employees.
The PBO report also looked at the broader labour market, and found many indicators "have improved or are unchanged over the past year." Still, it saw enough weak spots to predict "continued slack in the Canadian labour market."
"Although the national labour market has performed well since the oil price shock, labour conditions have deteriorated in major oil producing provinces and industries," the PBO report said. "But this has been offset by improvements elsewhere in Canada and in service sector employment."
But StatsCan noted that virtually all the job growth in Canada over the past year has been due to government hiring, with payrolls up 2.7 per cent since last October. Private-sector hiring has nearly stalled, with jobs up 0.3 per cent over the past year.