It's almost lunch time and Saman Munir is sitting at a coffee shop in Mississauga, Ont. with a black hijab wrapped around her head.
She swipes around on Instagram before pulling up a Nike ad that shows Muslim women exercising. One woman runs down a street in a Middle Eastern country, while another figure skates on a dimly lit ice rink.
"They are all Muslim," she says excitedly.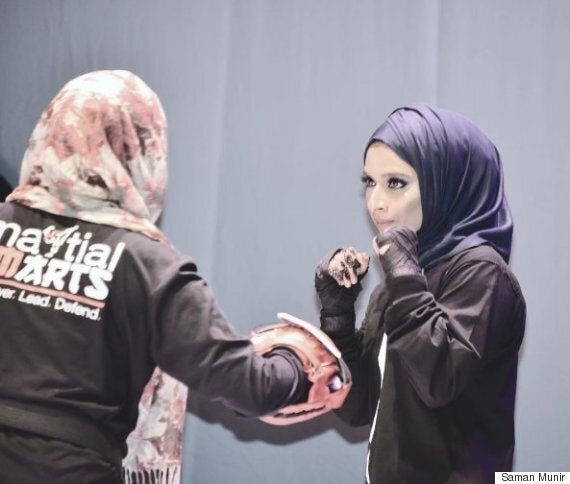 The 37-year-old is a mother of three, a wife and an entrepreneur. She also knows her way around a boxing ring. In fact, she could probably beat you in a match.
But you may not guess that by looking at her.
Munir is a brand ambassador at her local UFC Gym, and boxing is her passion. But when she's throwing punches at her trainers, she's not just working out. She's inadvertently busting stereotypes about Muslim women.
"The people who are working out, they think it's a girl with a hijab, she probably doesn't know much," she says, talking about prying eyes at gym. "But when they see you working out, you can tell from their face they have a totally different perspective."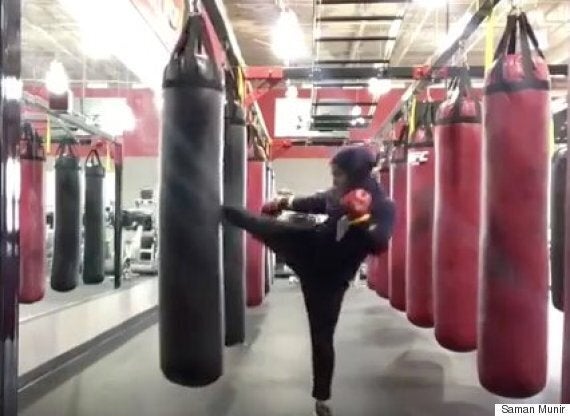 Munir wears a tightly fastened hijab while exercising, and opts for loose-fitting sweatpants. The YouTuber and social media personality is known for her makeup tutorials, but this not-so-glamorous look may be her favourite.
"It's something that makes me happy. I'm focused, I'm doing my thing. I look like crap, and I don't care," she says proudly.
But it isn't a confidence that came easily.
Intimidated by judgment-filled gazes in her earlier years of working out, Munir often took off her hijab at the gym. People looked at her "in a funny way," and it took her time to get over the fear of standing out. But now, she has more important things on her mind.
"I have three kids, I have goals," she says, including being a role model for her young daughter.
Now that she's over it, there's little stopping her.
"If a non-hijabi can do it, why can't I do it?"
Zehra Allibhai is always on the move.
The mom of two has been a fitness trainer for more than 15 years, but exercise has been part of her life long before that. She was on practically every sports team in school, often as the captain, and spent hours shooting hoops on the driveway outside her suburban Ontario home.
The health enthusiast also runs a blog called "The FitNest," where she shares workout tips, recipes, and life hacks.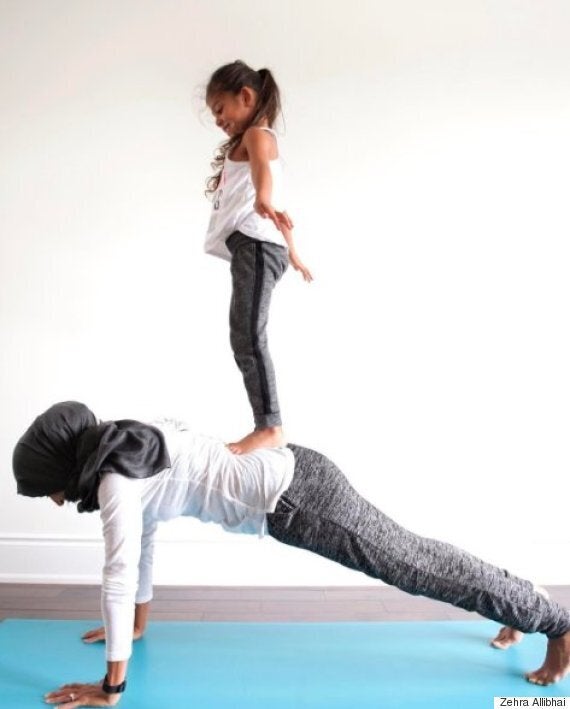 In essence, fitness is a part of everything Allibhai does.
And she's been able to integrate her religious beliefs with her fitness lifestyle seamlessly. But there were times the hijab-wearing woman faced discrimination.
In high school, a coach from an opposing team demanded she be disqualified for not wearing shorts like the other girls.
"My coach and my team stood up and said, 'Well, if Zehra can't play, then the whole team forfeits,'" she recalls with pride.
While those instances have been rare, curiosity about Muslim women who exercise is far more common.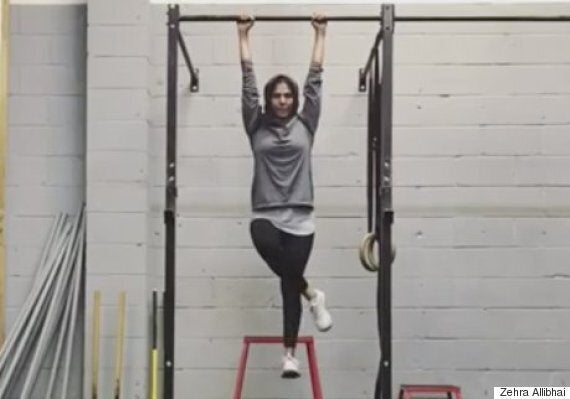 At the gym, she sometimes finds herself answering questions like, "Don't you get hot?," though she says it's never in a hurtful way.
"Just because I have a hijab on my head, doesn't mean that I'm different," she says.
Before having her daughter, Nazima Qureshi was heavy-lifting weights, attending yoga classes, and regularly hitting the gym.
Now, her toddler and new business called "Nutrition By Nazima" leave little time for traditional workouts. But that doesn't mean she isn't exercising.
"I've gotten more creative," she says. "The challenge is more balancing my responsibilities and taking time out for myself."
The nutritionist and personal trainer is making sure other Muslim women do the same.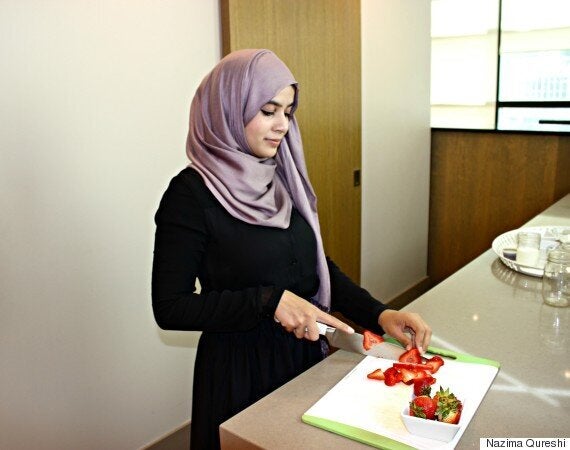 "A lot of Muslim women, they're not putting themselves first, and they don't see that value in it," she says, adding that it's a cultural mindset she hopes to shift.
She teaches mommy-and-me fitness classes, and organizes outdoor activities for women.
More recently, she gathered a group of moms who hike new trails around the Greater Toronto Area.
"Every Sunday morning, before any of our kids wake up, we just leave the house and explore."
These are baby steps in her larger goal of making fitness a greater focus of the Muslim community, where a lack of culturally relevant information often prevents people from making lifestyle changes. The nutritionist wants to give Muslims the tools to think beyond salads and treadmills when they think of healthy living.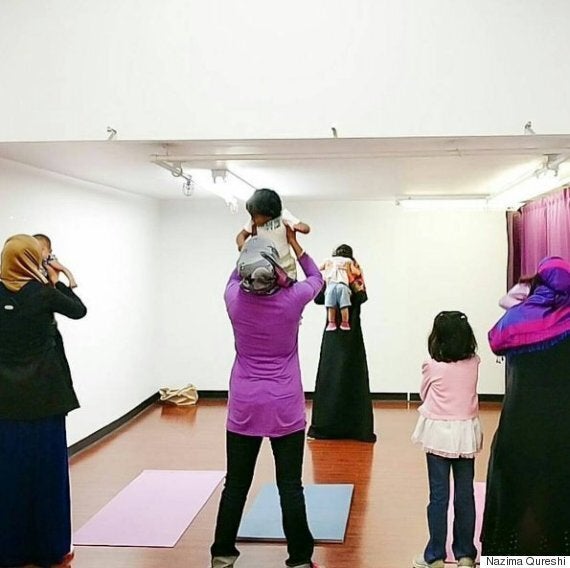 "A lot of the information is very generic. The Muslim community doesn't necessarily resonate with it," she says.
Through her recipes (tandoori salmon tacos, for example) on her website, counselling and workshops, Qureshi shows Muslims they don't have to give up their cultural food, or lifestyle, to be healthy.
"They can make health a priority without having to compromise their own health and traditions," Qureshi says.
Ryhana Dawood isn't afraid of calling it like it is. And she says rising Islamophobic hate crimes — right here in Canada and around the world — since the 2015 Paris terror attacks are making Muslim women fearful for their safety.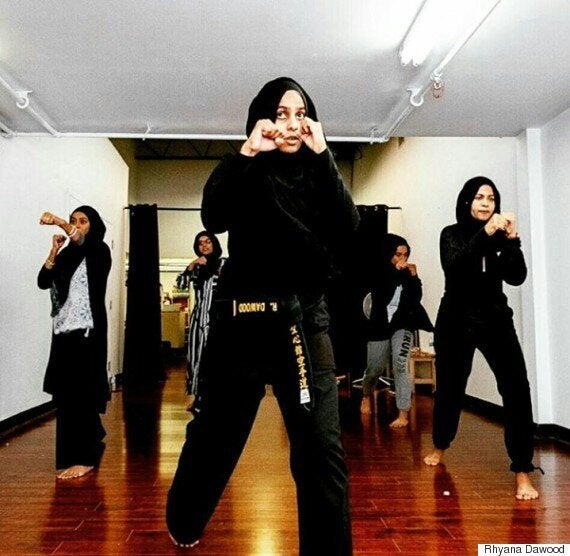 It's something she's witnessed as interest in her martial arts organization has spiked among Muslim women wanting to learn self-defence.
"It's very real, the fear that they feel," she says.
The Toronto-native owns a non-profit called Martial Smarts and often holds free workshops for at-risk groups, such as sex workers, women living in shelters and Muslim women.
Martial arts is more than a workout, or self-defence. Dawood says it teaches women essential life skills — many that are also in-line with her religion.
Like Islam, Dawood says the sport teaches respect, discipline, and how to protect yourself and others around you.
The athlete has been training in martial arts since she was nine years old, but says as a Muslim woman, she's still underestimated when she walks into workshops.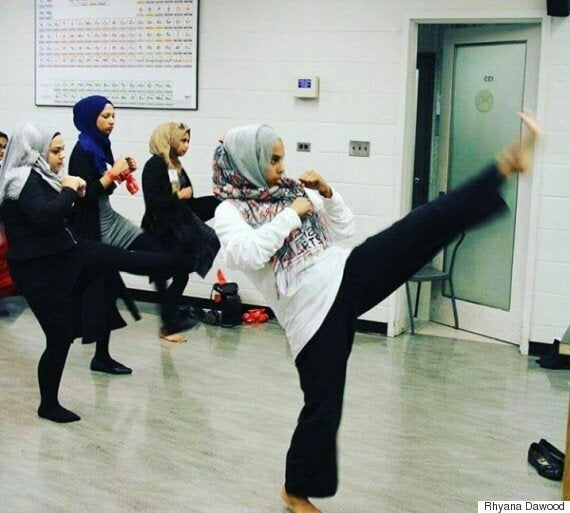 "When I go in, they don't expect that it's going to be me that's going to be teaching them self-defence," she says. "I definitely don't like somebody that would do that."
"The beauty of it is, if you have the skills then they can't really say anything about it. Your abilities speak for themselves."
Online, she faces another round of critics, receiving messages like: "The first thing you should do empower yourself is take off your hijab."
But there's little that fazes Dawood, and she hopes she can help empower Muslim women who are intimidated by hate.
"I can still do all this stuff with my hijab, and show other women that it is possible," she says. "You don't have to give up your deen (faith), or you don't have to give up your values, in order to excel."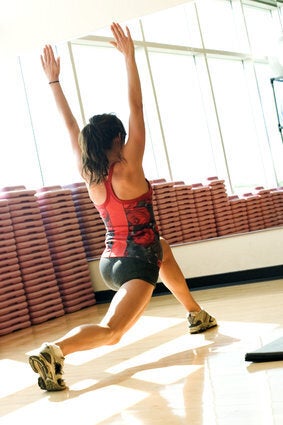 15 Gym Hacks For People Who Hate Exercise
Popular in the Community