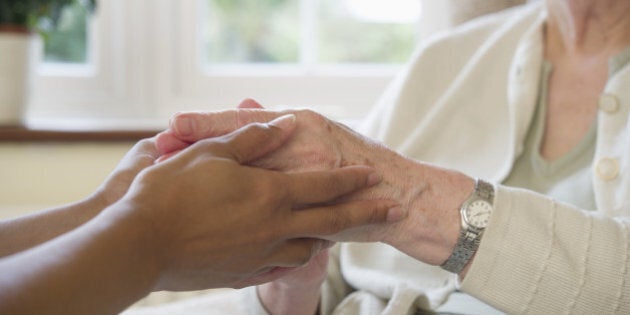 Caregiving is an extremely demanding role -- it can drain you physically, mentally, emotionally, and even socially. Of course, due to most circumstances, caregiving is extremely challenging and although each case is unique, there are some key stages in which every caregiver experiences.
Sometimes, you may feel like you're alone -- as if no one cares. Perhaps you're caring for your mom, who has developed Alzheimer's disease and is completely dependent on you. If so, it's tough to live a somewhat 'normal' life. You need to dedicate your time, ensuring that she is safe and well cared for.
In the year 2012, over 8 million Canadians were providing care for a chronically ill or disabled friend or family member -- with 1 in 10 caregivers providing more than 30 hours of care a week. Most commonly, these individuals are between the ages of 45 and 64 -- which can be extremely draining.
The 4 Stages of Caregiving -- Can You Relate?
If you do feel lost some days, it's important to remember that you are not alone and that there is most certainly help. If you are currently caregiving or will soon be adopting this role, it's critical that you understand what that means. What will you experience? How do you cope?
The following four stages will help you determine where you currently are and how you can improve your circumstances. Hopefully, you are not only able to provide better care for your loved one, but also improve your own quality of life -- you can find that balance.
When you first start providing care, in some cases, you will need to make some major adjustments. Certain diagnoses, such as dementia, can occur suddenly and without much time to plan, you're thrown into your new role. At this point, you will be feeling a number of mixed emotions.
This is the time to sit down and discuss options with your family and friends. As mentioned, each scenario is unique and so you will need to reach out to those who are able to help. From preparing meals to helping with financial needs, it's important to pool together your resources if possible.
You will need to sit down with the individual you're caring for and ask them what their wants and needs are. What are their long-term wishes? If your loved one is suffering from a degenerative condition, it's important to make arrangements early on.
This is the time to start educating yourself -- not just in terms of your caregiving role, but also your loved one's condition. Planning head will help you avoid added levels of stress and uncertainty. You need to prepare yourselves for the worst, but hope for the best. That way, all appropriate planning will be in order.
It's best to seek help before you really need it. Getting into a routine with siblings or family friends can be highly beneficial for everyone involved. Whether you seek help in terms of day-to-day tasks -- or join a support group for mental and emotional support, it's imperative that you create a schedule that works for both your loved one, as well as everyone involved.
You can also seek more formal support services. Sometimes, you just need a little extra help around the house -- cooking, cleaning, and in some cases, bathing. Licensed caregivers can provide assistance regarding a wide range of needs, helping you create your ideal schedule. Adult daycare programs can also be highly beneficial -- both for you and your loved one.
Stage Three: Intensive Care
At this stage, you may have exhausted all of your resources -- or in many cases, you are simply far too exhausted. Within this stage, you need to be aware of caregiver burnout. Although you need to care for someone, you also need to care for yourself. If you fall ill, you cannot do either.
As soon as you feel as though you're overwhelmed and need a break, respite care is an ideal solution. Even if you take an afternoon or two off each week that could make all the difference. Homemaking services are often utilized by caregivers, but there are also more intensive services available, including overnight and live-in care options.
This is perhaps the most challenging stage of them all, as end-of-life decisions are made and the grieving process begins. Everyone is different -- some react to the death of a loved one by expressing sadness, while others express denial. Once again, support will be critical during this time.
You will need to make some major changes to your current life and although you may feel slightly relieved that the struggle is over, you will now be dealing with a new challenge -- bereavement. In order to process your feelings, make sure you take some time for yourself.
Some find that a journal is quite helpful, allowing them to express themselves and heal. Others prefer to get away, taking time to relax -- this can help you find yourself again. No two journeys will be the same, so in that sense, you will need to adapt and evolve based on your individual needs.
Regardless of the stage you're currently in, it's important to be aware of all four -- especially within the beginning. If you are really struggling to adjust, the worst thing you can do is keep to yourself. It's important to remember, you're not alone -- not even close. There are millions of people who feel like you do right now, so reach out to them.
Ask for tips and solutions to common problems you're experiencing. If you are going through it, someone else is as well. Sometimes just knowing that support is available can help reduce stress and the risk of burning out.