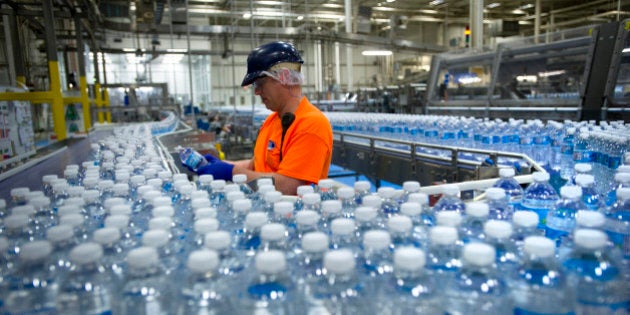 The bottled water industry has been getting a lot of heat lately in Ontario. For months now, residents in Guelph have been fighting Nestlé's application to renew its permit to draw 3.6 million litres of groundwater a day from nearby Aberfoyle. Then there was a huge outcry when it was reported in September that Nestlé had outbid a small municipality for another well in the area. And when people hear that water bottlers pay only $3.71 for a million litres of water, the outrage boils over.
Ontario Premier Kathleen Wynne has now acknowledged that there's an issue with water takings by bottled water companies, and she's vowed to fix the problem. Change couldn't come soon enough. If she's serious about fixing the water bottling system, here's what Ontario needs to do.
The province should be monitoring Guelph's water supplies and other aquifers to ensure their sustainability.
First, the province needs to better monitor groundwater that communities rely on for drinking water. Water is a renewable resource, but only up to a point. In the case of the Guelph permit, there's a dispute over whether the groundwater supply is being depleted or not. A local environmental group, Wellington Water Watchers, says the aquifer has dropped by 1.5 metres. Nestlé says the aquifer is healthy and their operations are sustainable.
There shouldn't be a debate as to whether the aquifer is healthy. It shouldn't be up to local environmental groups to act as a watchdog and monitor water supplies. Nor should we trust the health of the aquifer to Nestlé, whose operations in B.C.and California have drawn fire for extracting water under drought conditions. The province should be monitoring Guelph's water supplies and other aquifers to ensure their sustainability.
Second, the province needs to prioritize who gets the water first when the demands exceed what can be replenished. And communities' needs for drinking water must be protected. The prioritization should probably go something like this: municipalities and local drinking water supplies first; then agricultural use; then industrial uses where the water is returned to the environment after being used and treated; and then so-called "consumptive" uses, where the water is taken out of the local area. Bottled water is a consumptive use, and should be lowest on the priorities list.
Third, raise the water taking fees. It's absurd to let companies take water for only $3.71 per million litres, and especially galling when that water is sold for well over $1 per litre -- a mark-up of over 250,000 times! Nine years ago, the province created these water taking rates due to outrage about water bottlers taking water for free. But they set the rate far too low. The rates need to be raised, considerably.
That said, a distinction here could be made between the consumptive users -- like water bottlers -- and others users of water who return it to the local environment after use. Or a distinction could be made between beneficial uses -- like agriculture -- and unnecessary uses -- like bottled water. Perhaps with the exception of First Nations reserves on boil water advisories (something else the government needs to address), most Ontarians don't need bottled water because we are fortunate to have some of the best tap water in the world.
Ontario is one of only two provinces without a deposit on plastic bottles.
Some people like Montreal Mayor Denis Coderre say ban the bottles. Another solution would be to put a price on the plastic through a deposit return program, like Ontario already has for beer, wine, and liquor bottles.
These programs are clear best practices for beverage container recycling. Currently, 98 per cent of beer bottles get returned to the Beer Store, and almost 80 per cent of wine and liquor bottles are returned now as well. In comparison, less than 50 per cent of our plastic bottles get recycled. This is unacceptable. Ontario is one of only two provinces without a deposit on plastic bottles. It is time for that to change.
The province can fix the system for water bottlers -- and they can fix the plastic pollution problem too. It's just not acceptable to let these companies to take water practically for free, while they threaten communities' access to clean water and litter our streets, rivers and lakes with plastic bottles. Half measures won't work. If the province opts for a band aid, we can be guaranteed that this issue will boil over again in the near future.
Follow HuffPost Canada Blogs on Facebook
Popular in the Community