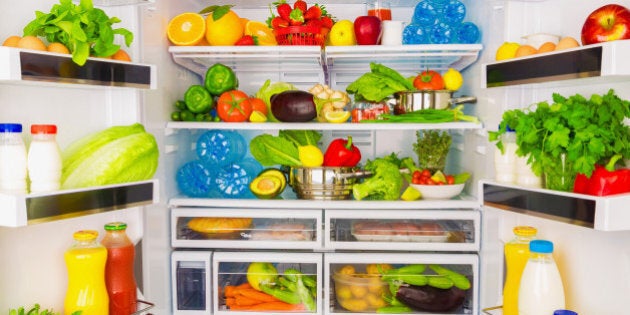 With February generally conjuring up images of chocolate and candy hearts, it's a good time to think ahead to March -- also known as National Nutrition Month. After you've indulged in some sweets, are you struggling to still keep your New Year's Resolutions?
There are many ways to keep nutrition on the forefront - it's more than just a diet. Here are four ways to boost your health all year long.
If you're committed to changing the way you eat, making meals at home instead of eating out is key. Shopping for healthier food products is a must. Grocery stores are now providing some guidance in this area, with their own food rating systems, like Guiding Stars, which gives food items a rating from 0 to 3 stars, making it easy to trade up for the healthiest items when doing your food shopping.
When it comes to following a specific diet plan, many turn to fad diets for a quick fix. One of latest diets to explode, especially on social media, is The Whole30 Diet.
The Whole30 Diet: Overview
The Whole30 Diet is a strict elimination diet that lasts 30 days. That means no mistakes or cheating - if you break the diet plan, you have to start over. It also doesn't allow for weigh-ins or calorie counting.
Added sugar (real or artificial)
So what's the draw for this extreme program? The idea that it's strictness will change your life -- eliminate cravings, rebalance hormones, cure digestive issues, boost energy and immunity, and reset your body by identifying food groups that bother you. Does it work? Of course for the time you stick to this regime there will weight loss when eliminating food groups. But what happens for the future?
The downside is it's a quick fix, but hard to maintain, which is the key to a healthy lifestyle. It also requires 100 per cent dedication, which can be disruptive to your life, and sets you up for total failure if you slip up. You don't reset eating habits and metabolism by eliminating healthy food groups.
If you're looking to change your eating habits, what sort of plan should you follow? My pick for a healthy diet to emulate is The Mind Diet.
The Mind Diet focuses on food meant to help your brain and slow mental decline, especially Alzheimer's and dementia. Studies have found the diet reduced risk by over 50 per cent for those that followed it strictly and 35 per cent for those moderately. It's a hybrid of the D.A.S.H diet (Dietary Approaches to Stop Hypertension), and the Mediterranean Diet, which focuses on fruits, vegetables and whole grains. It also doesn't involve calorie counting.
Whole grains, at least three servings daily
Leafy green vegetables, at least one daily, as well as at least one other vegetable serving each day
Berries, at least twice weekly
Fish, at least once a week
Poultry, at least twice a week
Red wine, a glass daily (or grape juice for a non-alcoholic option)
Red meat, only once a week
Butter/stick margarine, no more than 1 Tbsp daily
Cheese/pastries/fried and fast food, less than once a week
2. Hydrate Your Way to Health
We've all heard that we're supposed to drink eight glasses of water a day, but we now know it doesn't have to be just plain old water. The liquid in your fruits and vegetables, unsweetened beverages, and even soups all count. Not only is hydration key for health, upping your liquid intake can help when trying to lose weight.
Thirst can often be mistaken for hunger. The issue when it comes to downing glasses of water can be the lack of flavour or texture. Try adding fresh or frozen fruit or vegetable slices. Drink carbonated water for a fuller feeling - make your own at home with a Soda Stream. You'll get the refreshing and filling taste, without the sugar and additives from pop, and it's cheaper than store-bought carbonated water.
No healthy lifestyle is complete without some form of exercise. Not only is it part of maintaining or losing weight, it's also essential to one's overall health - keeping a fit and strong body will help us as we age.
Even though we know working out is important, getting ourselves to the gym can be a chore. If you're easily bored by the treadmill, change up your workout routine. Intersperse your regular workout sessions with alternate forms of exercise: yoga, boxing, barre and spin classes are all great options.
Take advantage of introductory specials at different studios in your city. You can also get access to all different types of workout classes and gyms in your city with ClassPass. For an affordable monthly fee, it offers flexible plans, which vary in the number of times you can attend classes and studios per month, making it ideal for someone who prefers to switch up their workout schedule, especially if you're wary of settling on signing a contract for one gym.
The mind-body connection is strong, making our mental health key to our overall health, and it's one element that is too easily put on the back burner. With busy schedules, many of us are constantly frazzled or struggling with sleep at night, all which can contribute to us avoiding exercise and turning to junk food. Taking time to prioritize mindfulness with meditation can help our focus, stress levels and our ability to get a good sleep.
While being constantly plugged in is part of the problem, there are apps that can help combat our over-connectivity. Stop, Breath, Think charts your mental, physical and emotional state and offers guided meditations to suit your current status. The app uses a combination of clinical research and Tibetan and Indian meditation techniques.
Take time this Nutrition Month to take stock of your well-being -- both mind and body!
CORRECTION: An earlier version of this blog indicated that February is National Nutrition Month. It is in March.