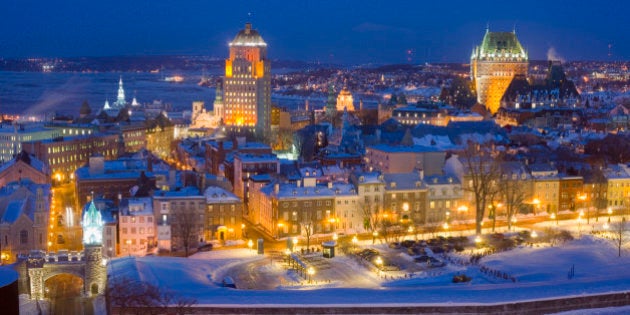 As stores trade beach displays for winter ones and Starbucks starts to smell more like cinnamon, Canadians notice the first hints of holiday cheer. It's no secret that Canada becomes a lot more magical during the holiday season, with guaranteed snow in many areas and fun holiday activities like sleigh rides and dog sledding always on schedule. However, these five Canadian towns and cities go above and beyond to turn their downtown streets into real-life winter wonderlands.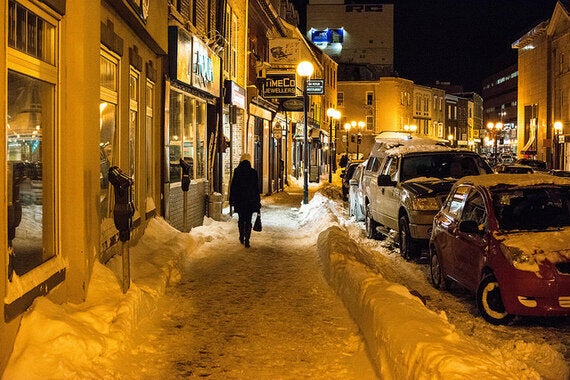 The seaside city of St. John's offers a unique combination of the coast's rugged, wintertime beauty and events that draw thousands to the streets to celebrate the jovial time of year. Anyone who visits St. John's at the tail end of November should stick around for the annual Downtown St. John's Christmas Parade on Nov. 27. This year's crowd is estimated to reach 40,000 people and more than 100 floats, marching bands, performers, and cheerleading squads will march through the wintery streets.
Another must-visit St. John's holiday tradition is the Mummers Festival, taking place from Nov. 26 to Dec. 14, this year. Mummering is an English and Irish tradition in which friends and family disguise themselves and visit one-another's homes. The homeowners try to guess who the mummers are, and once they've been identified, they're welcomed inside to eat and drink. The festival includes a parade, dance, and tons of other family-friendly activities, encouraging locals and visitors to find their holiday spirit.
Nunavut is the northernmost territory in Canada, so it's no wonder Cambridge Bay embraces its location near the north pole. The town hosts two weeks of games and activities at local schools leading up to Christmas day, including relay races, talent shows, dances, and more. In addition to the games, Cambridge Bay holds an annual Christmas bazaar, Santa Claus Parade, and a long list of fundraisers to pull the community together for a family-style celebration.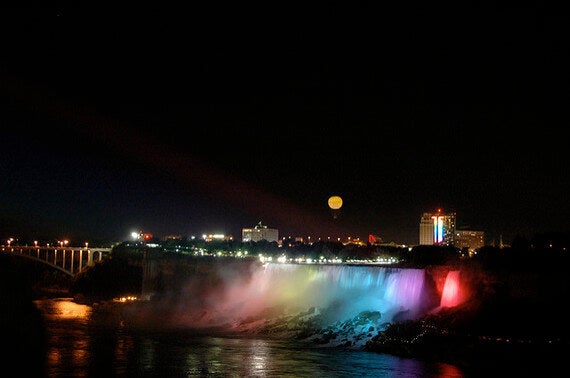 Even the best holiday light display in your neighborhood can't compete with Niagara Falls. The city holds an annual Winter Festival of Lights, which includes the world's largest illuminated Canadian/American flag, 3 million lights across the city, and of course, a multicolored display across the town's signature natural attraction -- Niagara Falls. Weekly fireworks shows above the falls, musicals, holiday shopping markets, and a long list of other festive events turn the touristy town into a true holiday village.
Anyone who loves the spirit of Christmas should spend the holiday in Mahone Bay, Nova Scotia at least once. The town's Father Christmas Festival dons the streets with human-sized figures of Father Christmas, making every evening walking the streets feel like a magical one. Visitors can ride on horse-drawn carriages, attend the Yuletide food market, and listen to their favorite holiday tunes performed by the Mahone Bay Mouse Choir.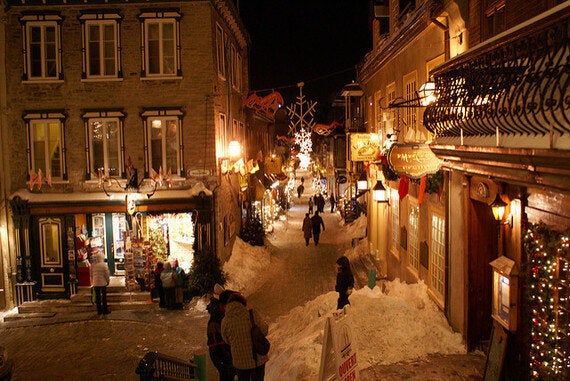 Quebec City offers holiday spirit with a European flair. The French-speaking city offers snow-dusted cobblestone streets, candlelit historic homes, and holiday lights and decorations that encourage visitors to dine, drink, and windowshop long after the sun goes down. The authentic German Christmas Market and QuebecAdabra! Festival (featuring light shows and massive illuminations) create a true Old-World-style winter wonderland for those who venture to the city this time of year.
Follow HuffPost Canada Blogs on Facebook