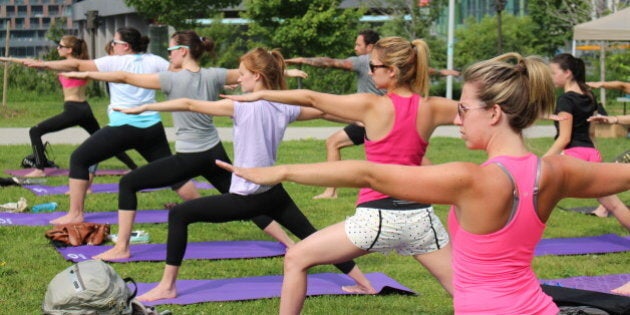 In an ideal world we'd each have a full hour for physical activity every day. But if your workday keeps you moving less and you end up like the 47 per cent of us who are sitting more, short rounds of exercise can add up over the course of your day and have you feeling more energized and alert.
In fact, apart from the power to make you instantly feel great, increased physical activity has been shown to lower the risk for many chronic conditions that may keep you from work, including cardiovascular disease, certain types of cancer, osteoporosis, diabetes, obesity, high blood pressure, depression, stress and anxiety by as much as 50 per cent.
The Canadian Physical Activity Guidelines recommend that adults 18 and over should get at least 150 minutes of moderate-to-vigorous physical activity per week, and this can be made up of time periods as minimal as 10 minutes. To help you make the most of your time, here are five ways to sneak activity into your busy schedule.
1. Turn your commute into a workout.
Try walking, running or riding your bike to the office a few days a week. You'll save money on gas, possibly save time from public transit or congested driving, and start your day with a clear head. Live too far for an active commute? Try getting off the bus or train a few stops earlier or park your car farther away from the office.
This is an easy option depending on your physical activity level and workplace attire. For added fun, consider counting the number of steps you can do in a minute, or for an extra glute workout, take two steps at a time if you can do it safely. For those working in high towers, take the elevator part way and walk the rest of the way up!
Need to take a few minutes to catch up with a colleague at the office? Why not do it with a walking meeting? Commit yourself to two or three 10-minute touch-base conversations where you can brainstorm a project, follow up and plan next steps, or bring your phone along and chat it up while on the move. A great way to get fresh air while getting down to business.
Consider gathering a few colleagues and hold each other accountable to a noon-hour sweat session. Workplace wellness program service providers, like Tribe Fitness in Toronto, provide trained fitness professionals who offer fee-for-services fitness programs in your office and help staff sneak in "me time" during the workday.
5. Host a workplace Move More challenge.
Provide staff with an activity tracker or use those available on a smart phone and have staff track their workplace physical activity. Consider posting steps on a common area and provide health related prizes for the individual or team who moves the most.
This post is part of an editorial series produced by The Huffington Post as part of our month-long "Work Well" initiative, which focuses on thriving in the workplace -- staying healthy and free of anxiety even in the midst of difficult work conditions. The goal of the series -- which will feature blogs, reported features, videos, and more -- is to present creative solutions you can use to take care of yourself as you take care of business. The effort is also part of The Huffington Post's "What's Working" solutions-oriented journalism initiative. To see all the content in the "Work Well" series, visit here.
Follow HuffPost Canada Blogs on Facebook
Popular in the Community