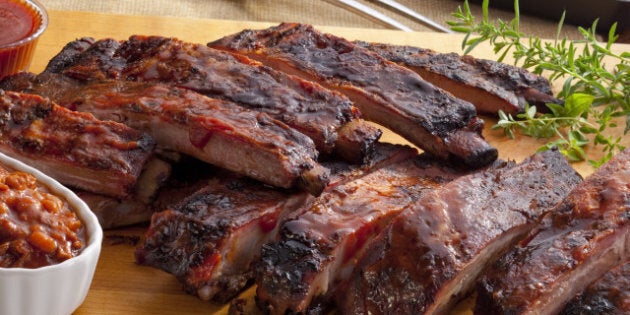 Are you an aspiring grill master? If you want to be known for your barbequing prowess and throwing the best cookouts on the block, a good starting point is to have a solid foundation. That's right – it all begins with having a complete grill station.
If you think that all you need is a grill brush, some spatulas and a spray bottle, think again. Having the right tools and accessories in place makes all the difference between being a BBQ enthusiast and being a grill master. To help you speed up your grill master quest, we've compiled this list of five items no grilling station is complete without.
STORY CONTINUES BELOW SLIDESHOW
1. Foil dispenser. Nothing says 'tricked out grilling station' like a built-in foil dispenser. Not only will it make cooking way easier for you, it will be sure to make all of your friends and neighbours extremely jealous. Check out Martha Stewart's tips on how to install the perfect (and perfectly attractive) dispenser.
2. Instant-read meat thermometer. The last thing any grill master wants is to make guests sick by serving undercooked meat. (You'd undoubtedly lose your grill master title if such a calamity were to occur!) That's why meat thermometers are a must for any self-respecting grilling station. BBQ Like a Pro has plenty of useful tips on how to properly read, clean and store them.
3. Rib racks. Nobody can ever seem to get enough ribs. So why not maximize your grilling space with a rib rack? TLC points out that rib racks can significantly increase your capacity by standing slabs of ribs up on an angle. That means you'll finally be able to keep up the demand for ribs, more ribs!
4. Wood chip smoker box. Take your grill to the next level with a smoker box that can infuse your food with a delicious smokehouse flavour. The Firepit and Grilling Guru recommends soaking your wood chips ahead of time to make them last longer before burning out. No smoker box? No problem – the Guru suggests wrapping wood chips in aluminum foil to create your own DIY smoker.
5. Corn grill baskets. Everyone loves grilled corn on the cob. But those little guys can be prone to rolling around on the grill, inadvertently venturing into (and interfering with) meat territory. Keep them in place with a non-stick corn grilling basket that has the added bonus of making the transfer to and from the grill a breeze.