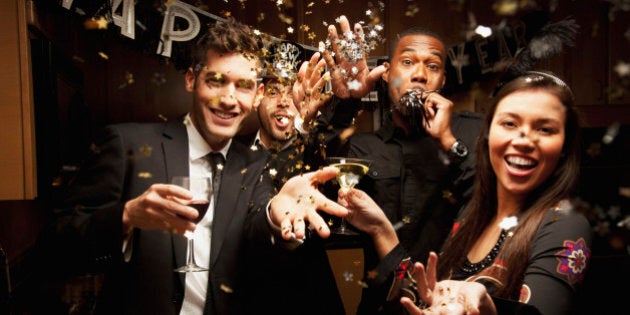 The countdown is on. But if going out for another extravagant and way-too-expensive New Year's Eve party with a bunch of strangers has lost its appeal or simply isn't your style, there's still time to pull off a fun evening at home.
It's all about the people you're celebrating with, after all, and planning your own New Year's bash for friends or family doesn't have to be time-consuming -- or cost a small fortune. From food and refreshments to games, you can bring on the good times, and the bonus is you won't have to worry about getting home at the end of the night! Here are a few creative tips to make your New Year's Eve fun, memorable and cost-effective.
Get your creative on and set the stage with pretty DIY New Year's banners, glittery party hats and mini goody bags filled with confetti and noisemakers for guests to use. Not crafty? Check out Etsy for instantly downloadable banners, crowns and even bottle labels.
Stock up on cheap balloons, ribbons, tinsel and various themed décor, such as napkins and party crackers, most of which you can find at the dollar store. Get the full effect with a homemade balloon drop at midnight -- you can order a balloon drop bag online or find one at a local party supply store.
Tickle trunks are a great way to get people into a fun party mood. Gather any costumes you have on hand, plus fun props like wigs, funky glasses and interesting hats for guests to play with. Check out your local Value Village if you need to supplement with a few items.
Create signs with New Year's resolutions or fun hashtags and set up a staged photo booth area where guests can snap selfies in costume. Expect photobombs.
Just because you're not "in da club" doesn't mean you can't dance. Good times need good tunes, so consider throwing a dance party, complete with confetti, music and a disco ball. Create a playlist in advance on your iPod, or through services like Spotify, and turn your living room,or basement into a dance floor.
You can have the same fun as you would at a club without the hassle of lines and cover charges -- an added bonus: no more strangers bumping into you when you're busting out your signature move.
No New Year's Eve party is complete without champagne... or is it? There are plenty of quality sparkling wines from France, Italy and Spain that are just as good, at a fraction of the price. Create your own specialty cocktail, like this champagne sangria.
Combine one-and-a-half litres of sparkling wine (or ginger ale for a non-alcoholic version), one cup of orange juice, one cup of apple juice, a 12-ounce can of frozen cranberry juice concentrate and sliced strawberries. Make sure to add the champagne or ginger ale at the last minute to keep it bubbly. And for food -- get guests involved by assigning themed potluck dishes, or keep it simple with a variety of pizza and chips.
From adult games such as a Cards Against Humanity that are always a party favourite, to board games, Guitar Hero, or even karaoke, New Year's Eve is a perfect time to play. No games at home? Shop a selection of great games at Chapters-Indigo online with Ebates.ca and you can pick it up at your local store!
You can also create your own games with a New Year's theme. For example, have your guests write out their predictions for 2016 and place them into a box or bowl. Then, take turns reading the predictions while everyone guesses who wrote them. You'll be surprised how difficult it is to guess your friends' predictions!
Sari Friedman is the Marketing Director of Ebates Canada and resident shopping expert. Ebates.ca is Canada's largest Cash Back shopping site. As a fashion enthusiast and new mom, Sari has an eye for finding and sharing amazing deals on the hottest trends and must-have styles.
Follow Ebates Canada on Twitter for the best Canadian deals, Cash Back offers and online shopping tips @EbatesCanada