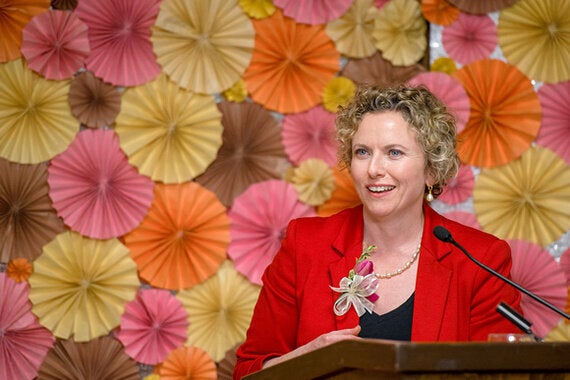 Ryerson VP Julia Hanigsberg used social media to communicate her vision for a people-first culture. (Photo: Clifton Li)
This week marks a major milestone in Julia Hanigsberg's career as she steps down as Vice President of Administration and Finance of Toronto's Ryerson University to take on the top job at the Holland Bloorview Kids Rehabilitation Hospital.
I was fortunate to see Julia in action during a job-shadowing assignment last year. This Globe and Mail article sums up my learnings from that experience, the most salient of which is Julia's mantra of putting people first.
While Julia is a recognized leader, who has just been awarded the President's Service Award by the Ontario Public Service Employees Union, among other accolades, she's also a thought leader. Her thought leadership is not necessarily demonstrated in her being an avid Twitter user -- and she is, but in her ability to communicate her vision coupled with an online personal brand that supports her credibility as a trustworthy leader.
Following Julia's example, here are five key steps you can take to develop thought leadership as well.
Generate compelling content
Produce thought-provoking content on various platforms, be it a blog, Twitter or mainstream media. For example, Julia used multiple channels to communicate her ideas on building a people-first culture, a major theme of her legacy at Ryerson. On her blog, she laid out her vision for a "People First Ryerson" and what that entailed. She talked and tweeted about it. During my one-on-one meeting with her, her emphasis on people was unequivocal: "It's all about the team, it's all about the team, it's all about the team." Later, in an article she contributed to the Globe and Mail, she outlined the steps to creating a people-first culture, providing a roadmap for other leaders to follow suit.
Learn to love social media
Julia loves social media, and so should you. She uses social media platforms to have a direct ear to the 50K-person community at Ryerson. On Twitter, she routinely responds to queries from students, has conversations with staff and diffuses customer service-type situations by directing people to the right contact. In fact, Julia has created such a strong presence online that when she announced she was leaving Ryerson, Twitter was abuzz with the news. The Ryersonian published a story on Twitter's reaction to the news, which speaks volumes to Julia's influence on Twitter.
Embracing social media would enhance your transparency and add an authoritative voice to your company's narrative. A survey by NYC firm BRANDfog shows that executive engagement in social media is perceived as better leadership. Once you're on social media, be proactive. Being static is similar to being at a big party and not talking to anyone. Engage your stakeholders by initiating conversations around your key message or topics that interest you.
When you commit to transparency, you have to follow through. That means sometimes putting yourself out there, even in unfavourable situations. A great example is Julia's public apology to the community regarding the Gould Street paint-job controversy in a blog post, simply entitled "I'm sorry."
Staying transparent and keeping the lines of communication open are important for your accountability as a leader.
Contributing your content to reputable, mainstream media sites is one of the fastest ways to build a following and position yourself as an authority in your space. In addition to sharing your thoughts around your central message, engage your audience in other topics that excite you. For example, Julia shared her perspective on a variety of leadership-related topics, from work-life balance to diversity and innovation. (To learn how you can get published in mainstream media, read my tips in this post.)
Use the LinkedIn self-publishing tool as a platform to expose your content to new audiences. If you haven't received an invitation to publish on LinkedIn yet, you likely will soon. LinkedIn has been rolling out invitations to non-influencer members to self-publish. If you already have a blog, you can recycle old entries into LinkedIn posts, as long as you have copyright to the content.
Set an editorial calendar
Writing posts about timely topics would drive sharing of your content and hence maximize your visibility as a thought leader. Create an editorial calendar to help you plan your posts throughout the year. For example, a blog post about diversity during the first week of July is timely as it would coincide with World Pride Week. While the first week of March is a good time to share your perspective on women's leadership since International Women's Day falls on March 7.
Popular in the Community