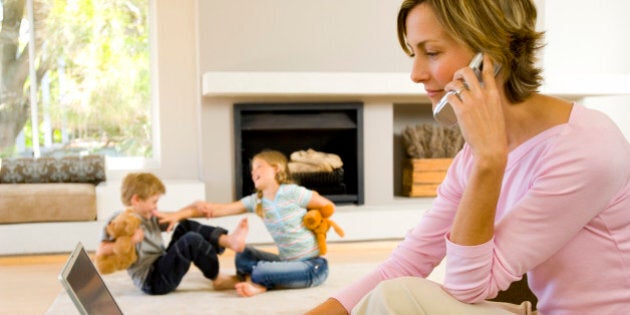 Solopreneur, freelancer, consultant, self-employed... whatever label you use, it generally translates to the same thing: life outside the traditional office environment. Sure, you're as professional as the next corporate guy or gal. But you get to be "a professional" while wearing flannel pants and shoving in loads of laundry while on conference calls.
I'll bet your friends envy your freedom to fit personal stuff into your day -- whether it's working out, walking the dog, visiting your kids' classroom, or having your teeth cleaned. They covet your ability to book vacation whenever you like, and to say screw you to heels-and-makeup (or ties-and-jackets). And that no-commuting thing seems pretty sweet too. But you know the truth - working from home ain't all its cracked up to be.
A hilarious essay in this month's New Yorker - one in which a panicked, self-combusting freelancer makes a 911 call to save his sanity - got me reflecting on the pros and cons of working from home. (If you've ever suffered from career-induced cabin fever, it's a must-read.)
Thankfully, I've found a better option than calling EMS to save me from my extreme isolation and cabin-fever: a spot in a co-working space. If you live in a major North American city, you've probably noticed the shared workspace trend. They're popping up in more and more neighbourhoods, and with good reason:
Let's face it. Home is a handy place to work, but it's also full of tempting ways to procrastinate. For me, housework is usually the culprit- I think I'm being clever by squeezing in "a bit" of multitasking, but suddenly hours have evaporated while my keyboard sits idle. For other freelancers the distraction might be gaming, Netflix, or simply raiding the fridge to fix endless snacks. In a space away from home, with distractions out of sight, there are no excuses. Work just gets done. "Our members often tell us that being surrounded by other productive people working is infectious," says Edward Vensing, co-founder of Toronto's Verkspace. I agree. Seeing other people buckle down helps me buckle down too. It's amazing how much more work I get done off-site.
Another occupational hazard for those of us who work from home: work spills over into personal time, and, conversely, personal stuff interferes with work. The neighbour drops by. Friends call in the middle of the day. You're the one who gets to take junior, or grandma, to the doctor. It's always your job to pick up "just one quick thing" from the store. The otherwise reasonable people in your life somehow miss the working in "working from home" - all they hear is home. Flexibility is great, but when too many non-work obligations seep into work hours, that's a problem. And don't forget the flip side of the coin - do you know when to quit? Many solopreneurs are their own worst enemies, allowing work to spill over into family time, couple time, down time. (If you're thinking, "What down time?," I'm talking about you....) If setting limits is something you struggle with, having a designated place for work, one that you travel to and from, can help immensely.
Occasionally setting up camp at Starbucks isn't a bad temporary cure for the work-at-home blues, but it's not an ideal solution when you consider the big picture. Think about those times when you need to connect with a prospective client or partner - meeting somewhere with privacy and polish would make a much better impression than a noisy café. Verkspace, like most co-working spaces, offers multiple lounge areas, as well as private offices and boardrooms where you can hold meetings and events. Vensing point out that many freelancers and small business owners join precisely for this reason: to enhance their public image. His members especially appreciate Verkspace's professional front desk staff and business mailing address. And don't forget that your time at Starbucks is limited, whereas co-working facilities are typically open 24/7.
Working from home makes it challenging to meet new people and build a professional network. On a more basic level, some folks (i.e., yours truly) find working at home solo downright lonely. Coworking offers the opportunity to connect with other interesting individuals - and not just pros in your field. "Our members span so many verticals, from sports to digital startups to law to the entertainment business," says Vensing. "One of my favourite things is seeing both friendships and business relationships blossom here. It happens all the time." Referrals happen, advice is shared, and there's often someone (other than the cat) to take a lunch break with.
Take it from me: cabin fever is real. Social withdrawal, left unchecked, can even lead to mild depression. Being around other energetic professionals is a great antidote - and a coworking space offers just that, minus the annoying office politics in a traditional workplace. In addition, Verkspace, like many modern shared workplaces, is a feast for the senses, with abundant natural light, attractive décor, soothing colours, comfy ergonomic chairs, and the aroma of organic coffee brewing. Vensing and Verkspace co-founder, Logan Prong, who designed the Scandinavian-chic space themselves, often have members say, "I wish I could live here!" Personally, I wouldn't take it that far, but spending time in such an aesthetically pleasing environment is absolutely a mood booster.
Think of it this way: what's good for the mood is good for productivity, and enhanced productivity is ultimately good for your bottom line. If you always thought investing in a spot at a co-working space wasn't within your budget, maybe you should think again...
Follow HuffPost Canada Blogs on Facebook
Popular in the Community