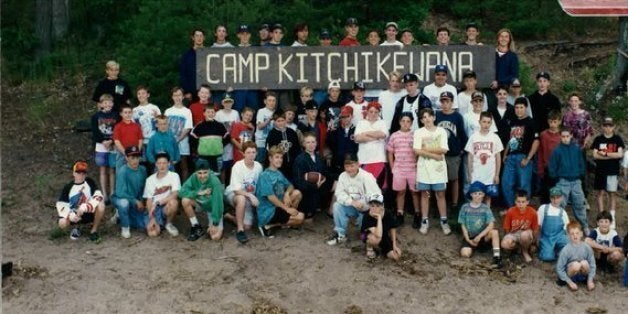 This morning a photo from almost thirty years ago came across my Facebook feed. There I was, second from the left front row, in the Cleveland Indians' hat. Beside me is my cousin, Brit. This was the first day of one of the best summers of my life. But, the truth is, every summer I spent at camp (as a camper, a CIT, a counsellor, and eventually a camp director) was one of the greatest summers of my life.
I was fortunate enough to attend camp in some capacity for every summer from the age of five (at YMCA John Island's family camp) through to the age of 29 (as the director of YMCA Camp Kitchikewana). In those 25 or so summers in between, I had the pleasure of attending and/or working at seven camps in total. The following is what I took away from a quarter century of camp.
I made my best friends at camp. This sounds trite and cliché...but clichés are cliché for a reason. I made great friends in high school and university, and have made many wonderful friendships through adulthood, but to this day my closest friends are the guys I went to camp with.
Similarly, my counsellors had a lasting impression on me. They were some of the greatest role models to enter my life. Here's the weird thing ... other than myself, my cousin Brit and my friends Mike, Graeme and Brad (all of whom I am still in touch with today), I can only name probably one or two other kids in that picture. BUT, I can name every one of the young adults in the back row (Steve, Josh, Mark, Craig, Mike, Aaron, Brandon, John, Matt, Andrew, Marc, Mike, Pat and Shaun). I didn't just want to be like those guys... I wanted to be those guys. To this day, I believe that I chose to go to Queen's University because so many of the counselors I grew up looking up to went there, not because it was my dad's school or that it ranked well on lists.
I can remember being homesick -- even as a thirteen year old boy I can remember sneaking off on a canoe trip to find a quiet place to cry. And I was okay. It was healthy. This was a good lesson to learn (and better to learn as an 11, 12, 13 year old, as opposed to an 18 year old off to University). Through learning to overcome homesickness, I learned to be independent.
As a counsellor I learned what real responsibility was. Eight children were in my care. I had to make sure that they ate enough, had fun, stayed (relatively) safe and that they came home with at least half of the clothes their parents sent them with. As a camp director, I further learned that camp is as much about the development of the counsellor as it is about the camper. What an incredible leadership experience for a 17, 18 year old young person. Camp breeds responsibility.
I learned to make my own fun. This was just as (or perhaps more) important as it was to learn how to build a campfire, skipper a sailboat, tread water for what seemed like endless minutes. "Free Time" is so undervalued today -- everything needs to be structured it seems. During "Free Time" I learned just as much as I did in our structured sailing lessons and canoe trips. Learning to "make your own fun"... what a wonderful concept.
The YMCA has been providing high quality camp experiences to children, youth and families for over 100 years. Last summer, over 100,000 children attended a Y Day Camp across Canada. Of those that attended a YMCA Day Camp, 87% of children reported having fun, 81% of children reported making new friends and 90% of children reported being more physically active than they are at home.
Kids need the chance to make different friends from the ones at school; they need the chance to develop relationships with role models other than parents and teachers; they need to learn independence and responsibility; probably, today more than ever, kids need to learn to make their own fun. This is why I believe that summer camp is as important today as it was 30 years ago ... in fact, probably more so.
Set your child up for a memorable summer and lasting life skills. Visit www.ymca.ca/camps to find a summer program near you.
Brian Shelley is Vice President of Youth Engagement, Leadership Development and Camping Programs at the YMCA of Simcoe/Muskoka and YMCA Canada, a life-long camper and dad. He is also a past Vice President of the Ontario Camps Association. You can follow Brian on Twitter at @bshell78.
Follow HuffPost Canada Blogs on Facebook