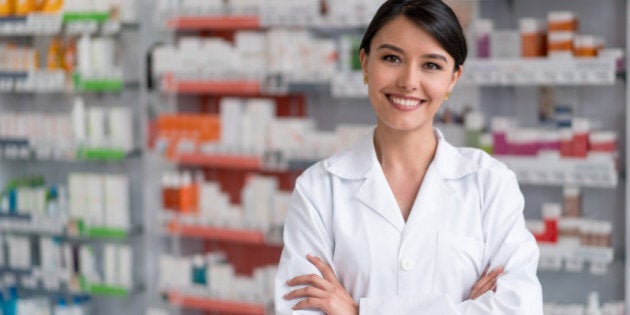 Ever have the feeling there aren't enough hours in the day? Or, every time you strike something off that to-do list, two more things are added on? This seems to happen all-too-often with our health. We'll start sniffling, notice a rash or other concern, and intend to look into it without ever doing so. Rather than getting answers we need today, we're putting off another item on our lists for tomorrow -- and only adding to our worries.
Thankfully, pharmacists can help ease stress and ensure your health is well managed. With more than 42,000 licensed pharmacists in Canada, working in over 10,000 pharmacies, we're the most accessible and convenient health care providers in the country. With expertise in a variety of health-related areas, pharmacists are a convenient option for trusted information.
Pharmacist Awareness Month is celebrated every March to help educate Canadians about the contributions pharmacists make in their communities. In the spirit of Pharmacist Awareness Month, here are five services many Canadians don't know pharmacists offer:
1. Administering vaccines to help prevent disease
Whether you're at risk of shingles (hint, if you've ever had chicken pox, you are) or are heading south for a vacation, you should make plans to speak with a pharmacist. Shoppers Drug Mart pharmacists can review your health related risks and recommended appropriate immunizations, for shingles, and other needs such as travel vaccines. They can answer questions about the vaccines available that can help protect you and in most provinces can even administer them right in the pharmacy.
2. Renewing your prescriptions
When you've run out of refills for medication, pharmacists can do an assessment and can renew your prescription if appropriate. This helps ensure you don't miss a dose.
3. Providing advice on heart health
Hypertension (or high blood) pressure is known as a "silent killer' because you may not notice the signs or symptoms, but it can lead to long-term complications such as a stroke or heart attack. Pharmacists can support patients by helping to monitor blood pressure with easy-to-use, in-store machines. We can also address any questions about heart medications, unwanted side effects and provide advice on heart-healthy foods.
Prescription and non-prescription medications can prolong or even save your life - but only if they're used properly. Pharmacists can provide a review and assessment of all your prescription medications (as well as over-the-counter medications, vitamins, and natural health products) to help ensure they are contributing to your optimal health.
5. Providing nutrition advice
In addition to taking the proper medications, a balanced diet is especially important for people managing a chronic condition. Whether you have diabetes, high blood pressure or high cholesterol, pharmacists can help their patients with important nutrition advice to help manage their condition and achieve health targets.
So you can see there is no need to be stressed about taking care of your health. You have options! Although every province and territory is different, pharmacists across the country are able to deliver a broad range of services in convenient locations, at all hours.
Follow HuffPost Canada Blogs on Facebook
Popular in the Community