You've heard it before: Canadian housing is in a bubble, and a price crash is headed our way. It's been said enough times in the past six years or so that it seems safe to discount the warning altogether.
But lately, Canada's housing markets have truly defied common sense. Despite a recession in the first half of the year, unimpressive wage growth and record household debt levels, house price growth in some markets, like Toronto and Vancouver, has accelerated into double digits over the past year.
Here are five recent signs that Canada's housing market has grown out of control, and could be headed for a correction of one kind or another:
1. We're topping the global housing bubble rankings.
Canada, along with Australia, is where "prices seem most out of kilter," the magazine said, noting that "the cheapness of borrowing" has pushed up prices in Canada and elsewhere.
Deutsche Bank has also declared Canada to have the world's most overvalued housing market, arguing in 2013 that prices were 60-per-cent overvalued at that time.
Of course, simply having an overvalued market is no guarantee of a correction. But it certainly increases the odds.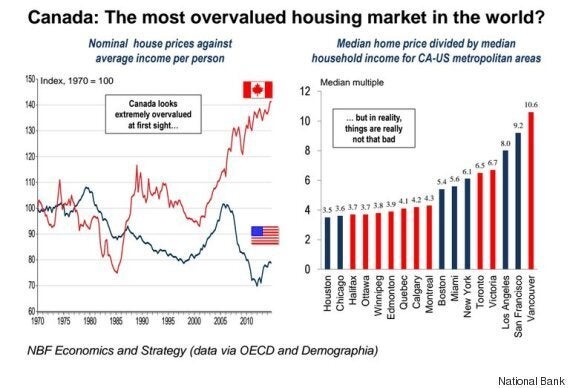 2. Global investors are betting against Canadian housing in record numbers.
The global investor community is looking at Canada's housing numbers, and not buying them. According to research firm Markit, investors are taking out a growing number of "short" positions on Canadian companies involved in mortgage lending, such as banks and insurers, meaning these investors expect stock prices to fall.
Home Capital Group, one of Canada's largest mortgage lenders, is now the most-shorted stock in Canada, CNBC reported last week, and three of the 10 most-shorted stocks are financials institutions.
3. Mortgage fraud is "thriving."
That has turned attention to the issue of mortgage fraud, which economists say played a role in the U.S.'s housing bubble bust last decade. Canada isn't seeing the levels of lending craziness seen south of the border; we have yet to hear of "NINJA loans" (no income, no job, no assets) being peddled to homebuyers. But a recent investigation by the Globe and Mail asserted that mortgage fraud "is thriving" in the current real estate environment.
In an online presentation on fraud and identity theft from 2012, mortgage insurer Canada Guaranty notes that "one in 10 mortgage applications will have some element of fraud." Credit bureau Equifax says it had been able to flag nearly $1-billion worth of attempted mortgage fraud among its lender clients since 2013.

In some cases borrowers are simply trying to buy a home that is out of their reach financially. In others, the borrowers could qualify if they had a bigger down payment and paid a higher interest rate, but instead alter pay stubs and bank statements in order to qualify for the cheapest possible mortgage….
4. Foreign investors are emptying out neighbourhoods — or is this racism rearing its head?
A recent study carried out at the University of British Columbia seems to have borne out some observers' worst fears that foreign investors are having a disproportionate effect on house prices. The survey found that, in a recent six-month period, 70 per cent of homes on Vancouver's west side were sold to what the study believed to be "Mainland Chinese" nationals.
But the study — which, in an absence of data, tried to determine nationality from homeowners' names — was accused of racism.
"I'm very concerned with the racist tones that are implied here, and we have to get away from that. We have to deal with this as a housing challenge we have," Vancouver Mayor Gregor Robertson said.
All the same, the phenomenon of houses standing empty in desirable neighbourhoods is real.
"I see a house sold now – and you just know it's going to get demolished," Point Grey, Vancouver, resident Clare Cullen told the Globe and Mail recently. "The houses they build are empty – or people are only here for a month."
Cullen suggested that these partially empty neighbourhoods may be more dangerous than fully-occupied ones.
The banks are happy to go along with it, and are even encouraging the trend. RBC this week announced it's scrapping its limit on newcomer mortgages, reportedly to keep up with demand from Chinese nationals. Yes, foreign investors take mortgages to buy homes in Canada.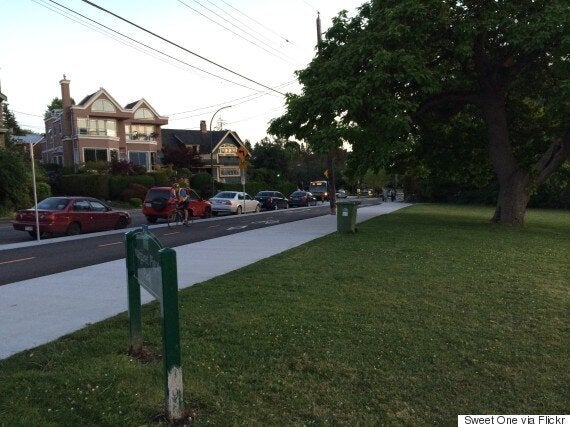 Residents of Vancouver's Point Grey say the neighbourhood is increasingly empty as foreign investors snap up homes.
5. Even the CMHC thinks it's gone too far.
As Canada's government-run mortgage insurer, it's CMHC's job to keep Canadian housing and homeowners on an even keel. So it's somewhat worrisome that this institution is now raising the alarm bells about overvaluation.
"The evidence of overvaluation has increased since the previous assessment in Toronto, Vancouver, Montreal, Edmonton, and Saskatoon as price levels are not fully supported by economic and demographic factors,'' CMHC economist Bob Dugan said in a statement.
But Dugan notes there could be a simple solution to the problem that won't require a painful housing bust.
"Problematic overvaluation conditions in local housing markets could be resolved by moderation in house prices and/or improving economic conditions," he said.
Let's hope those "improving economic conditions" show up before the market finds a more draconian solution.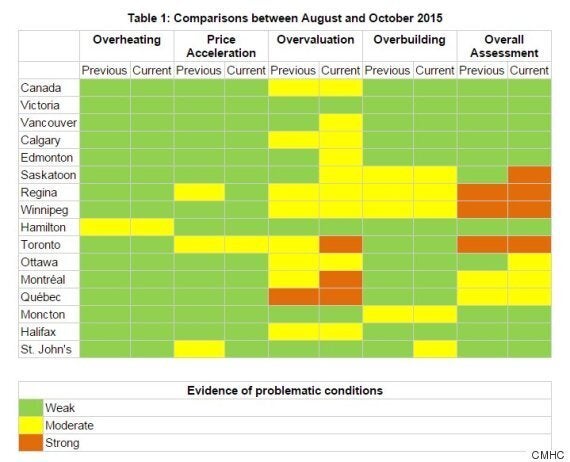 This colour-coded chart shows the degree of housing market risk that CMHC sees across 15 Canadian housing markets.
Popular in the Community