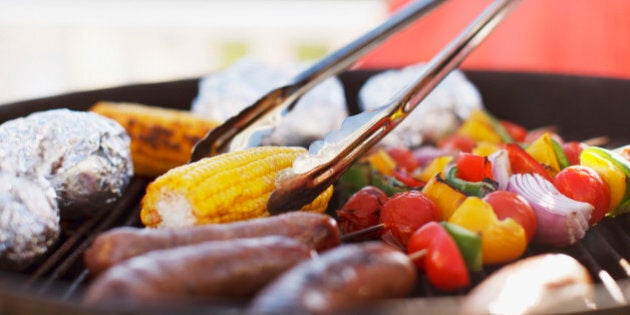 With the summer season almost here, many of us are planning to fire up the grill at picnics, cottages, backyards or rooftop parties. No matter if you're grilling up a perfect meal for a carnivore or vegan, or just looking for new summer flavours, here are five tips to deliver tasty, non-traditional summer eats while keeping food fresh when eating outdoors.
No matter if you're preparing a healthy meal or tossing a few indulgent treats on the grill, safety it key. The first place to start is to make sure food is kept cool to keep from spoiling. With steamy outdoor temperatures comes a higher chance of foodborne illness as bacteria can rapidly multiply in warm, moist environments. To keep foods fresh when outdoors, keep them cold by transporting them in coolers filled with ice or ice packs. Like your fridge, your cooler should be kept below 4°C (40°F). While enjoying the outdoors, store the cooler in a shaded area and help keep the cold air in by not opening it too frequently. If any unrefrigerated food has been out for more than one hour in the sun, discard it. It's better to be safe than sorry.
Another important safety tip to keep in mind is to make sure meats are properly cooked. When cooking meat on the BBQ, use a digital thermometer to check internal cooking temperature to make sure any harmful bacteria has been cooked off.
2.Get Creative on the Grill
Instead of same old traditional beef burgers, chicken kabobs or Portobello mushroom caps, why not try grilling up something different? Add veggies to the grill, such as romaine lettuce, sweet potatoes, zucchini, jicama, carrots, or even spring onions. Have a sweet tooth? Try grilling fruit like avocados, melons, peaches, pineapples, cherries, grapes or bananas. While grilling different proteins might be obvious, this BBQ season is the time to be adventurous and try the unexpected like grilled Haloumi or brie cheese, extra firm tofu, shrimp, tuna or clams. You can even cook pizza, quesadillas or French toast on the grill!
Spice blends are a great alternative to sugar-filled sauces and marinades for your meat, fish and poultry. With such a diverse option available, you can add different flavours to your BBQ favourites by just adding a different spice mix. For example, Harissa is a spice blend that is commonly used in North Africa and the Middle East. It's made up of a combination of dried red chilies, cumin, paprika, coriander and garlic, but can vary from region to region. It's great to add to chicken or beef, but is also a nice addition to vegetable dishes. When choosing a spice blend, check the ingredients -- it may contain salt. If so, skip using any added salt to the meal.
It's not new news, but it's important to stay hydrated, especially on hot days. Instead of reaching for sugar-sweetened beverages or alcoholic drinks (unfortunately alcohol is dehydrating), just go for water. To spruce it up, infuse your water with fruits or vegetables -- this is also a great way to use up any leftover herbs from recipes. Some easy combinations are: strawberry, lemon and basil; peach, thyme and ginger; or, for a little kick, try watermelon, mint and jalapeno.
Another great option is to turn your infused water into homemade iced tea -- without the sugar of course. Simply steep four bags of tea in eight cups of hot water for 20 to 30-minutes. Once steeped, transfer to a pitcher and refrigerate until chilled and add in fruits, veggies or herbs.
Rather than reaching for store-bought popsicles or freezies, which often contain little fruit and a lot more sugar, flavour and water, try making your own frozen treats. All you need is a blender, popsicle molds and popsicle sticks (ice cube trays or leftover mini yogurt cups can also work). To get the most nutrition and flavour out of them, combine your summer fruits with a protein source like kefir, yogurt, nut butter, soft tofu or hemp seeds. Veggies can also be included, like beets, spinach or kale, and spices such as cinnamon, nutmeg, vanilla extract and more. Another option is to use a smoothie recipe and freeze it. Try a blueberry smoothie recipe which uses a soy beverage and ricotta for protein. To reduce the sugar, swap out the vanilla soy beverage for an unsweetened version.
Néma McGlynn is a registered dietitian with Loblaws. She is part of a network of more than 70 dietitians who provide free services like one-on-one consultations, assisted shopping, school tours and recipe ideas at locations across the country.
Follow HuffPost Canada Blogs on Facebook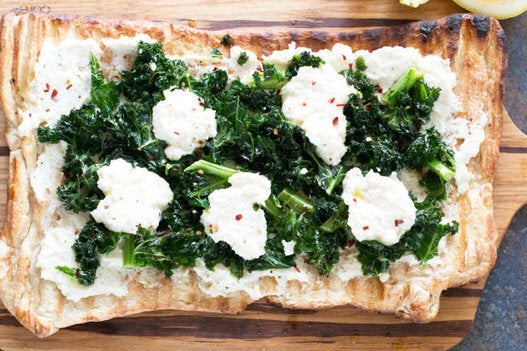 25 Delicious BBQ Recipes
Popular in the Community