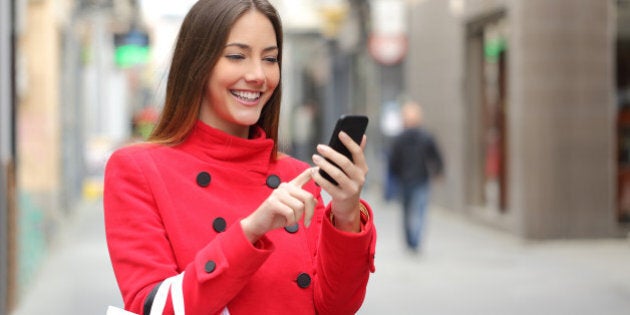 Participating in the used economy is nothing new to me. Growing up in a cash strapped household, I'd often tag along as my ever resourceful Mom scoured thrift stores and rummage sales for treasures (which she found - often). So, it's not surprising that I inherited my Mom's love for a great bargain.
Although you can still spot me browsing through my favourite vintage stores or scoping out neighbourhood yard sales, a lot of my used shopping has shifted to online. In fact, I recently wrote a story for The Toronto Sun about how I've become hooked on apps like VarageSale that allow you to buy and sell used items from your phone. I suspect I'm not the only one.
According to a recent report, Canadians spent $29 billion on used goods in 2016 -- a $1 billion increase from the previous year and more than the GDP of Canada's agriculture, fishing & forestry industries combined ($27.4 billion).
As a single woman living in an increasingly pricey city, buying used is a great way to get like-new items at a fraction of the cost. However, the used economy still presents an element of risk. I've definitely encountered my share of creepy situations in the past. (Case and point: the strange man I interacted with on Craigslist who seemed more interested in "getting to know me" than purchasing my old couch.)
No sale is worth compromising your personal safety. Here's a few safety tips to follow when buying and selling online.
One of the reasons I love using apps like VarageSale is because they allow you to see previous feedback that buyers and sellers have left about a member. Knowing that someone has a history of positive transactions makes me feel safer meeting them in person.
If you're using a platform that doesn't have a built-in feedback feature, do some research before you meet. Although a lot of people have a specific email address that they just use for buying and selling online, it's still a worth it to google their name and/or email address if you have it. If anything pops up that makes you uncomfortable, do not engage with this person.
2. Meet in a public place.
If you're buying or selling a small sized item, there's no reason why you should have to meet at someone's home (the buyer or seller insists that you come over to their house, approach with caution). Instead, meet in a well-lit, public place - for example, a local coffee shop or another venue that's convenient for both of you.
So, maybe lugging that sectional or your old fridge to your neighbourhood Starbucks is uh, less than convenient. I get it. (According to VarageSale, this is especially true if you're living in the Greater Toronto Area where Furniture is the number one listing category.) Sometimes inviting a buyer or seller to your home is unavoidable. If you're going to someone's home, make sure you bring a friend. Conversely, if you're going to be letting a buyer into your own abode, make sure you're not home alone.
Making a big ticket sale? Avoid travelling with a bunch of cash and meet at the bank. With all the security cameras and a bunch of people around, it's literally one of the safest public places to meet.
When my friend told me that she often leaves items on her front porch so buyers can pick up and leave cash in her mailbox, I couldn't believe my ears. This trust system actually works?! The answer is yes. It also makes a lot of sense. According to VarageSale's research, women users bought and sold 2x more items than men. When you have a busy schedule and are selling multiple items, meeting someone in person isn't always realistic. While I wouldn't use my friend's "pickup and drop" strategy on expensive items, if the item is small and the site has a built-in feedback feature, it works perfectly. No one wants bad feedback, so they respect the honour system.
If an item seems too good to be true or something about the sale feels off, it probably is. Use your intuition as your guide and only do business with people that you feel comfortable with.
Follow HuffPost Canada Blogs on Facebook
Popular in the Community