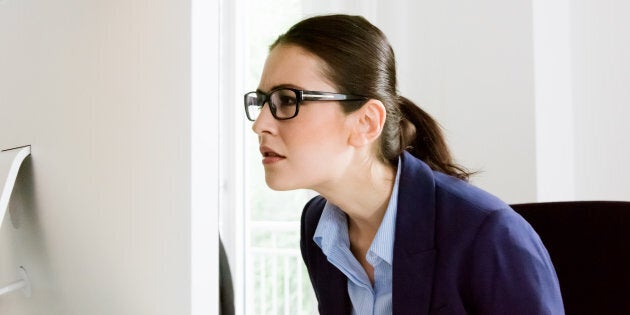 If this is all news to you, that's OK. Because none of it's true.
Fake news is everywhere, masquerading as reliable reporting. What's interesting about these fictions is that most of them invariably make me gasp, question my understanding of current events, or utter, "WTF?" That's because fake news is almost always highly charged and political. It's about race, abortion, gay rights, war, immigration — you get the idea. The perpetrators of fake news want to hit you in the gut, then divide and conquer.
We've recently seen how this new reality plays out, and it can be devastating: it helped put Trump in the Oval Office and has called American democracy into question. Stories built on lies have incited shootings, displays of hatred, and have even caused stock market confusion. And it's getting worse: Pew Research Centre says 23 per cent of Americans have shared fake news (knowingly or not), and a whopping 64 per cent report being confused about current events because the sheer volume of information is confusing.
Some of the companies implicated in perpetuating the fake news cycle are taking steps to combat the deluge: Google has pledged to suppress sites distributing falsities. Facebook shut down a million fake accounts and is implementing systems to provide transparency into what's posted in the news feed. Well, actually, it's just a button.
As we continue our descent into an age that champions vigilante journalism and sharing from behind the screen, I believe it's up to my generation and the next to suss out the truth.
But as fake news continues to spin unbridled, are these (mostly) reactive measures enough to stem the flow? I suspect not.
As we continue our descent into an age that champions vigilante journalism and sharing from behind the screen, I believe it's up to my generation and the next to suss out the truth. We already know that the internet is full of sham stories concocted by shadowy figures and self-styled satirists, and that we're all at the mercy of man-made algorithms. In this digital wild west, it's our responsibility to figure out if what we're reading is real, or risk being hoodwinked.
Here are the five simple steps I use to determine if news is legit.
1. Scan for bias
I was taught in journalism school that news should be an unbiased analysis of current events supported by facts. Inflammatory language within a story or on a site could mean the author or outlet is trying to persuade rather than inform. If your blood is boiling, ascertain what the bias is and think about why the information is being shared that way. Then proceed with caution.
2. Consider the source
Reputable journalists seek out first-hand accounts, fact-check their stories, and include citations, so look for hyperlinks or references that link to credible sources. A dearth of sources or quotes from first-hand interviews could indicate something's amiss. It's also worth finding the author on social media to find out more about their credentials (and their perspectives).
3. Judge a book by its cover
Professional, established news sites have a certain look. They have logos, high-resolution images, consistent font and established domains, like .com or .org. For example, abcnews.com is a legitimate news source, but abcnews.com.co is not, despite its similar appearance. If the website looks shoddy, the news might be, too.
4. Corroborate
You might have noticed that the news cycle is similar across outlets — after all, the news of the day is the news of the day. If the outlet in question is the ONLY one reporting a story, they either have a scoop ... or it isn't a story at all.
5. Find a trusted outlet, and be loyal
Finding a trusted source for news means you don't have to do an investigation every time you come across a headline. Here's a list of established news organizations that have long histories of accurate reporting and their own codes of ethics.
At the end of the day, it is the population at large that suffers from fake news. We are the targets and it will probably get worse before it gets easier to manage. It's just too easy to launch a website and write whatever you want. After all — that's why you're reading this now.
We need to understand how to find fact in a sea of fiction, and learn to cope with a new normal in news.