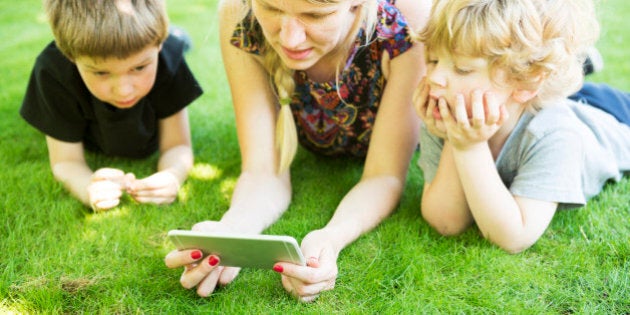 There are so many amazing benefits to being a parent, but not a single one of them involves free time. Whether you're juggling summer camps and activities or thinking about how you're going to manage life when the school year starts again, the time of a parent is always spent on the go. There's chauffeuring kids to and from softball and soccer games, trying to remember when you booked that dentist appointment, making sure homework is completed on time - the jobs never end.
Add a busy career to the mix and it can be challenging to manage my time. As a director at Salesforce Canada, a company that has its own B2B app store and that uses apps throughout its business, I know firsthand how technology helps business and employees do more with less. As a busy mom of two young daughters, my experience with work apps (and how much time they save me) inspired me to find some amazing apps to help make my life outside of work easier and more efficient.
Here's a list of a few of my favourite apps for the busy Canadian family:
1.Cozi. This free app and website can turn your "flying-by-the-seat-of-its-pants" family into a finely-tuned team. Replacing the antiquated fridge calendar system, the Cozi family organizer keeps activities, appointments, shopping lists, meal plans and to-do lists in one place everyone can access across smartphone platforms.
2.23Snaps. Since grandma and grandpa are likely looking for more family pictures and updates than the rest of your Facebook audience, parents should think about using 23snaps, a free, private photo sharing app that offers a safe and secure way to record the special moments in your kids' lives and share them with loved ones. Family members can receive updates via email so they don't even have to visit the site, and you can instantly turn collections (or an entire month's worth of photos) into a photo book that you can print as a keepsake.
3.DateNight. Because every couple with kids needs to make time for themselves, the Toronto start-up DateNight helps match parents with babysitters through a downloadable app. DateNight has a series of checks to ensure not just anybody can sign up to be listed as a babysitter on the app. People have to go to the app's website, where they punch in their name, address and references. They are then contacted by DateNight for a "Skype interview," where they will be asked about their experience working with kids and whether they have a criminal record, CPR certification and first aid training.
4.Ignore No More. While I'm not using this one myself yet, this is a great app for parents with kids who would rather be out with their friends than doing their homework. In the event your offspring's ignoring your phone calls and text messages, Ignore No More gives you the ability to remotely lock your child's smartphone. The phone can only be re-activated if your child calls you back, giving them some much-needed motivation to keep you in the loop.
5.Allrecipes Dinner Spinner. Some days, the last thing that's on your mind is dinner. That's where the Allrecipes Dinner Spinner app comes in. Not only do you gain instant access to hundreds of tasty member-shared recipes, the spinner makes finding a meal fast, fun and easy. For parents who like to plan in advance, there's also a shopping list feature that lets you cross off all the recipe's required ingredients as you buy them.
6.JUST EAT. And then there are the days when you just don't feel like cooking. If your fridge is empty, download this app and recycle all those flyers. Just Eat connects you with almost every delivery restaurant in your area, and literally every kind of food, so you'll never be short of dining options again.
While it's true that none of these incredible apps will make your life easy (that ship sailed when you made the decision to have kids), it's my hope that they will make you more efficient, freeing you up to spend more time with your children and enjoy life as a parent. After all, we're all trying our best, but who among us doesn't need a little help?
Popular in the Community