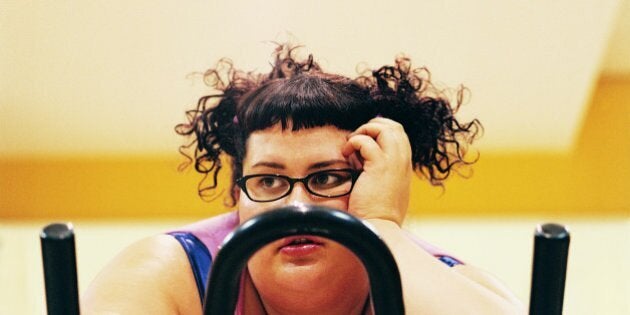 How are your New Year's Resolutions going?
I know, we're only in November, but the end of the year is actually a great chance to re-evaluate your goals with enough time to prepare for the New Year ahead of you.
So even though it may seem like an unconventional time to take stock of what you were hoping to accomplish this 2016, it's actually a great time to recognize your accomplishments.
Did you plan on this being the year when you were going to start eating better, getting plenty of fresh, organic fruits and vegetables, lean protein, and healthy fats? Perhaps you had the goal of taking more time for yourself, coping better with stress, doing a daily meditation, and spending more time with your loved ones?
Whatever you chose, how is it going? Would you say you're right on track, or maybe there's some room for improvement?
For many, New Year's Resolutions focus on making it the year to get physically fit and healthy.
While many achieve their goals through hard work and dedication, some of us seem to slip off track, never really reaching the finish line. "I'll get to the gym" you say "4...no, 5 times a week"! You've heard many success stories of those who have reached their athletic goals when committing to Crossfit, or Pilates, and HIIT. Maybe you've tried all these, and nothing seemed to work?
When it comes to exercise and getting in shape it's important to know that it's not whether your friend thinks you need to hit the elliptical 30 minutes a day, or that Celebrity Trainer so-and-so has a new fitness video out guaranteeing you fit in 5 days!
The most important thing to know is that when trying to get into shape and accomplishing those fitness New Year's Resolutions is that your exercise goals should work for you.
We might want to sign-up for that trendy yoga class but if you're more of a on-the-go personality this activity might find you feeling restless rather than finding your inner calm.
Wilderness hiking is a great way to build strength and endurance, but if you prefer being indoors as opposed Nature's playground, perhaps it's not quite the best activity for you? In addition, if your primary goal is to increase muscle mass and you're only setting out for a brisk walk a few times a week your fitness results may be forever lacking.
One of the biggest challenges when it comes to our exercise goals is just doing it. However, if we actually like the exercise activity we've committed to, and it helps us achieve the goals we've set for ourselves, this makes it all the more easy to get off the couch and hitting the trails... or treadmill.
The key is to build activities that you actually enjoy into your life. That might mean taking an extra Friday off each month to actually go camping or skiing with the family.
So if your exercise resolutions have fallen by the wayside it's time to dust yourself off. And while there's only a month left of 2016, committing to a healthier you is a lifestyle; it's a change that will hopefully last a lifetime and give you many years of energy and strength.
No matter what your goals were for 2016, get moving with an activity that will get your heart pumping, while keeping your specific goals in mind, and perhaps most importantly, keep you motivated and interested.
See how you match up with my 6 suggestions listed below to get you moving on those not-so-new New Year's Resolutions, this can still be the year you do it!
6 Exercises to Make Sure You Keep Your New Year's Resolutions
1. Steady state indoor cardio
What is it? - Using a treadmill, stationary bike, elliptical or other stationary cardio machines.
You need stress reduction without a focus on fat loss and muscle gain
You enjoy watching TV, listening to music or reading a book while exercising
You enjoy repetitive activities at a range of intensities
You need a comfortable way to be introduced to the gym
You are a busy person and utilize the cardio equipment at home or at the gym to build a routine
Note: This is NOT the ideal way to build muscle and lose excess fat.
2. Outdoor cardio and interval training
What is it? - Outdoor hiking, running, biking, and swimming with short bursts of acceleration (ie. sprints) or increase in resistance (ie. climbing hills).
You require stress reduction without a focus for muscle gain
Endurance training and improved tolerance to daily activities is of interest to you
You enjoy being outdoors and have access to safe roads or paths
You enjoy independent or group activities
You have family members or friends able to participate together
3. Team Sports
What is it? - Team sports such as volleyball, soccer, football, basketball or paired activities like tennis at a competitive or intramural level.
Fun, endurance, competition and social activities are most important
You need set dates to schedule and keep accountable for exercise
You work harder when motivated by others and winning
You are training for a bigger goal (such as a competition)
You can commit to scheduled practices
4. Resistance Training
What is it? - Machines, weights or body weight exercises with a trainer, workout partner or by yourself.
Your focus is on fat loss, muscle gain and stress reduction
You enjoy challenging your body to improve
You are willing to have a personal trainer access your current fitness level, technique and safety before lifting heavy weights
You enjoy external motivators, such as a trainer or program to guide you
You are training for an event (ie. wedding) or athletic competition
You have access to a gym or basic exercise equipment
5. High-intensity group classes
What is it? - Group classes with an instructor conducting aerobic, dance, and/or resistance training (ie. Crossfit) that vary in level of skill.
You have some background in exercise (ie. can perform basic exercises safely), especially if the groups are large and the instructor isn't able to give you direct feedback
You want to emphasize fun, endurance and a social setting
You are introducing fitness into your regular practice and have little experience building your own workout regiment
You work best when you can schedule classes into your busy day
You enjoy external motivators and having someone tell you what to do
6. Low-intensity group classes
What is it? - Group classes with low impact and low intensity, such as yoga, Tai chi, Chi gong.
You want to focus on balance, flexibility, stability and being grounded
You have less focus on losing fat and gaining muscle
You have physical or mental conditions that limits your physical abilities (ie. elder, hip replacement, acute injury)
You have a stressful life and need to relax more
You enjoy the group dynamic and social aspect of exercise
You are introducing fitness into your regular practice and have little experience
You work best when you can schedule classes into your day
New Year's Resolutions are a great way to set goals for ourselves for the upcoming year. Getting physically fit is an excellent way to keep our health on track, important to so many physiological processes.
These resolutions, however, are sometimes easier said than done, and we can become easily derailed, especially by this time of year. While every fitness expert will have suggestions, remember that just doing something you enjoy and that works for you is the key to achieving your fitness goals with consistency.
And before you start setting even loftier goals for 2017, make sure to acknowledge yourself for ALL that you've accomplished this year. Whether it was getting one more training session in a month, running that obstacle race with your girlfriend, or booking that solo adventure jungle trip that you've been putting off for years, congratulate yourself... because every little step counts.
Gratitude and appreciation for yourself is the best ways to encourage these positive behaviours. Recognizing habits to be proud of gives yourself that bump of dopamine and triggers your reward centers to stay motivated, without associating food, alcohol, gifts or external attention. Self-gratitude is the fuel that will drive a lifetime of healthy habits.
So go ahead and pat yourself on the back. Here's to another fantastic year and lifetime of health and energy. I hope you thoroughly enjoy it!
Follow HuffPost Canada Blogs on Facebook