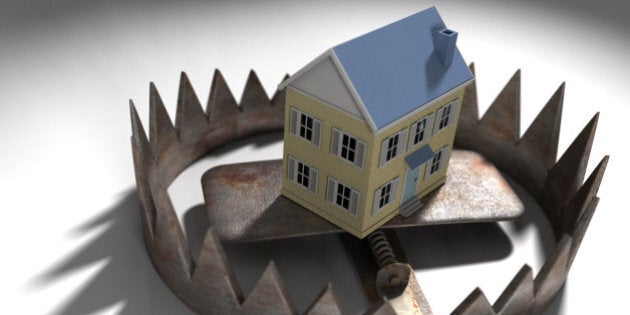 It's not easy being a resource economy in the midst of a commodity-price slump and a major global shift away from carbon.
The optimists say the worst is behind us — the TSX has tanked, the loonie has fallen, new investment in the oilsands has dropped off a cliff. There's nowhere to go but up.
Well… maybe not just yet. The wise investor will always be aware of the traps ahead, and this year there is more than the usual number of pitfalls to watch out for. Here are six things policymakers and the rest of us should be keeping an eye on in 2016 and beyond.
Trap 1: The 'Great Canadian Short'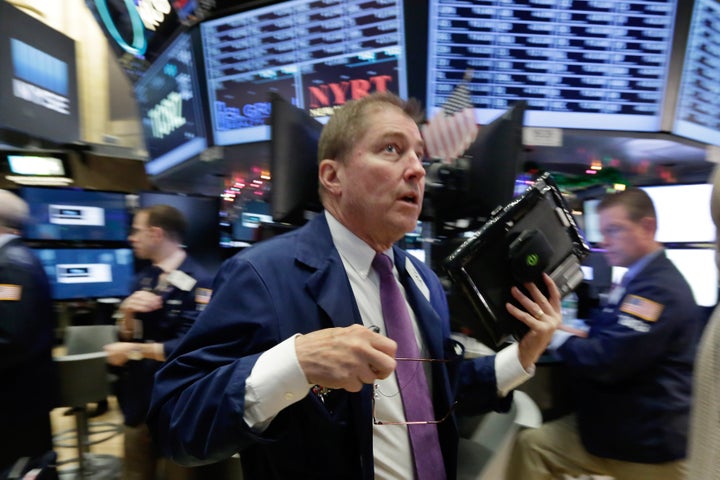 A trader rushes across the floor of the New York Stock Exchange, Wednesday, Dec. 16, 2015.
For the past few years, investors around the world have been increasingly betting against Canada, short-selling Canadian stocks, banks, the loonie, real estate — anything you can bet against, they did. That's at least part of the reason why the TSX was down nearly 12 per cent for the year, as of mid-December, and why the loonie is down to under 73 cents U.S., from above US$1 a few years back.
It's all part of a growing feeling (at least outside Canada) that this country's economic luck — propelled by oil exports and rising house prices — is running out. The optimists, however, say the worst is behind us. The pessimism about Canada's prospects in the age of low oil prices has been "priced in," they say, so it's uphill from here. We shall see.
Trap 2: 294,000 Canadian Families With Dangerous Levels Of Debt
It's generally considered that having a debt load that is more than 350 per cent of your annual income is risky, unless your future earnings are bright. According to the C.D. Howe Institute, 11 per cent of mortgage-holding households in Canada now have debt above — wait for it — 500 per cent of disposable income. As recently as 1999, only 3 per cent of households had debt loads like that.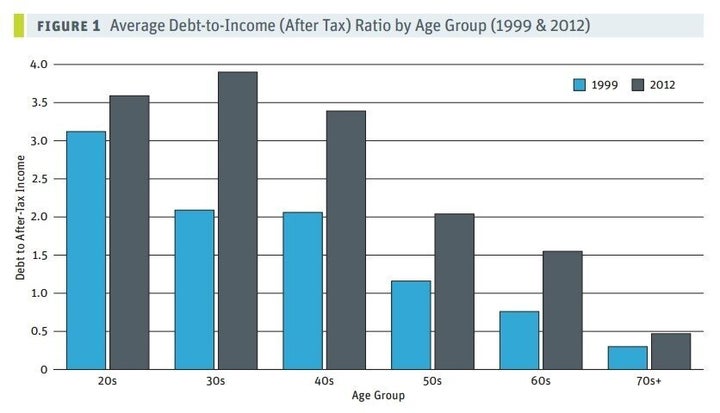 This chart from the CCPA shows people in their 20s have the highest debt loads, but people in their 30s and 40s experienced the largest increase in debt since the turn of the century.
The Canadian Centre for Policy Alternatives estimates 169,000 under-40 households in Canada would be underwater on their mortgage with a 20-per-cent decline in house prices. With a 30-per-cent price decline, 294,000 households would be underwater. Many economists say those debt burdens are only sustainable if interest rates stay super low. Which brings us to the next point….
Trap 3: Janet Yellen And The Fed's Itchy Trigger Finger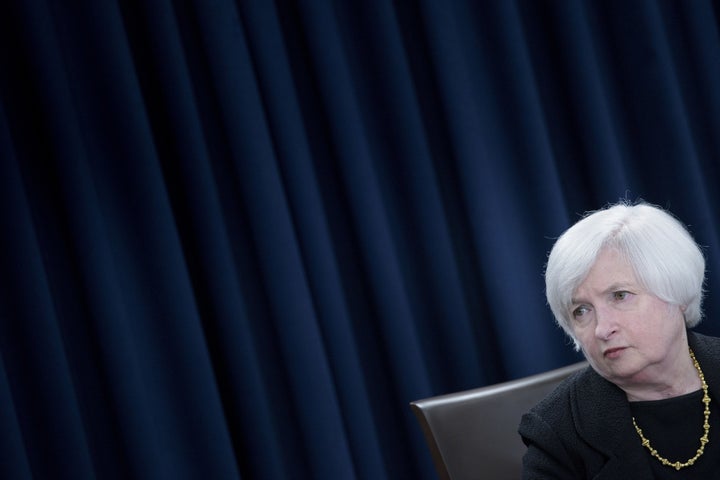 Federal Reserve Chair Janet Yellen pauses while speaking at the Federal Reserve's Wilson Conference Center, Sept. 17, 2015 in Washington, DC.
The Federal Reserve raised interest rates this month for the first time in nine-and-a-half years, signalling the end of an unprecedented period of cheap lending. So far, the rate has been hiked just 0.25 percentage points, but more hikes are expected. That could impact Canada's housing market, as fixed-rate mortgage rates in Canada are dependent on U.S. bond yields, which are now spiking.
This could mean bigger mortgage payments for Canadians, and worsening home affordability. And that, in turn, could send house prices tumbling. See above for why that's bad.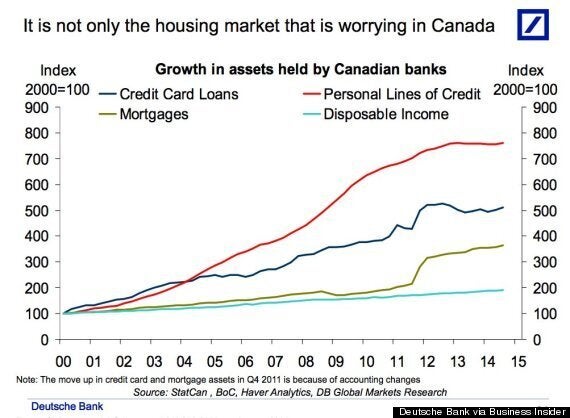 This chart from Deutsche Bank shows substantial increases in all types of consumer debt, not just mortgages, in Canada since the start of the century.
Trap 4: Mortgage Fraud And Other Housing-Boom Shenanigans
The biggest argument against a Canadian housing-bubble bust has been that Canadians are responsible lenders and borrowers. We just didn't go in for that easy-money nonsense that sank the U.S. housing market six or seven ago.
"It has come to light that institutions have been, I would say inadvertently, making mortgages to people whose income has been falsified," Jeremy Rudin, head of OSFI, Canada's banking regulator, said recently.
Trap 5: OPEC — Oil's Short-Term Problem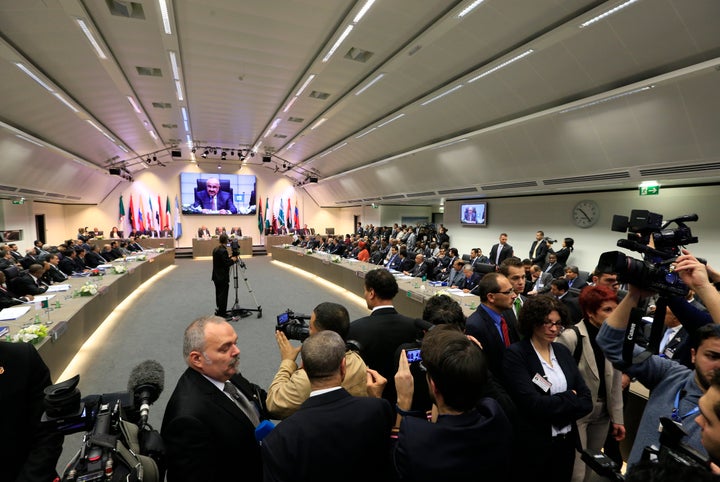 Members of the media cover the 164th OPEC (Organization of the Petroleum Exporting Countries) meeting in Vienna, on December 4, 2013. (Getty Images)
If you want to know why Alberta has gone from being the land of milk and honey to the land of rising unemployment, look no further than OPEC, the oil cartel unofficially headed by Saudi Arabia.
OPEC is trying to put the U.S.'s shale oil fields out of business. To that end, the cartel has been flooding the world with cheap oil — about 2 million barrels too much of it, daily — in the hopes it will put U.S. shale out of business.
But, as Bloomberg put it, OPEC took a swing at the U.S. and knocked down Canada. The oilsands require some of the highest oil prices in the world to justify new projects, and investment in Canadian oil has plummeted. The oilsands' recovery now depends on how long it takes for OPEC to get tired of (or bankrupted by) shrinking profit margins.
Trap 6: The Carbon Bubble — Oil's Long-Term Problem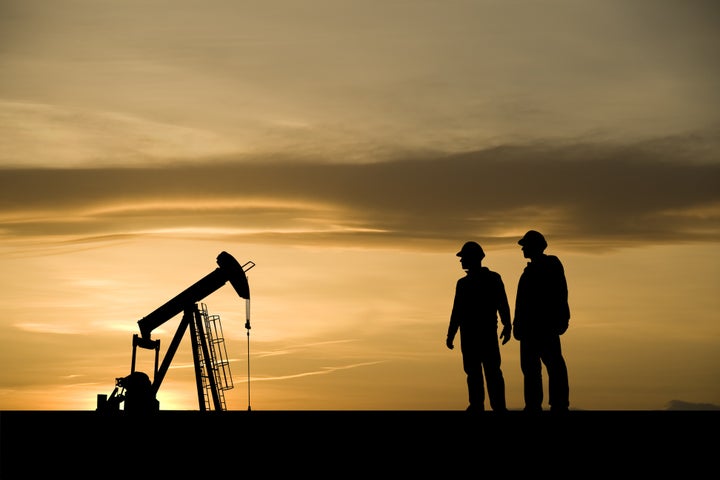 Even if oil prices recover in the coming years, it may not be for long. As the Paris climate deal shows, the world is slowly moving to a low-carbon economy. That's obviously bad news for high-carbon industries like Canada's oilsands.
Experts ranging from former Bank of Canada governor Mark Carney to ex-CIBC chief economist Jeff Rubin have been warning that Canadian oil could become a "stranded asset" if demand shrinks. And regulations on carbon emissions could mean a large part of Canada's oil reserves would have to stay in the ground.
The carbon-bubble crowd is urging Canada to start the shift away from oil today. Rubin and some others see a bright future for Canada as an agricultural superpower. Others see bright prospects for Canada's energy industry in the burgeoning, though often expensive, renewable-energy market.
Popular in the Community