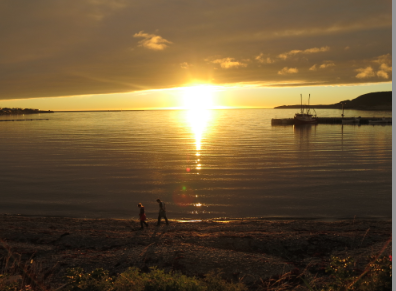 Sunset in Western Newfoundland (Photo by:Margie Goldsmith)
The western region of Newfoundland is 466-mile sliver of land filled with ancient mountains, fjords, icebergs, whales, and two UNESCO World Heritage Sites. Fall is an ideal time to come when the brilliant colors of the leaves are popping out everywhere. Bring your family, friends, or enjoy endless romantic sunsets with a loved one. Here are seven must-do's for fall and any time of year:
1. Insectarium & Butterfly Pavilion
When it comes to the birds and bees, the birds probably enjoy mating more than the bees. Male bees can't sting, can't feed themselves, and the mating process kills them. The female leaf cutter ant, on the other hand, keeps busy mating with multiple males to collect the 300 million sperm she needs to set up her colony. You'll learn this and much more in western Newfoundland's Insectarium & Butterfly Pavilion, http:/www.nfinsectarium.com/, one of the best in the world. Peak into the glass beehive with 15,000 live honeybees or watch hundreds of cutter ants at work. Among the Insectarium's fascinating live insects are poisonous spiders, hissing cockroaches, and a butterfly pavilion with hundreds of specimens including the Blue Morpho.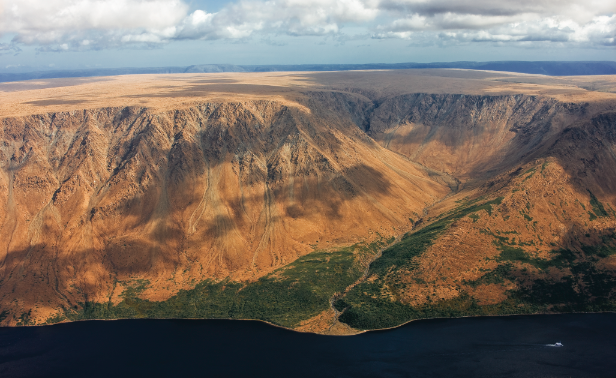 The Tablelands, Gros Morne National Park (Courtesy of Newfoundland Labrador Tourism)
2. The Tablelands in Gros Morne National Park
Fall is one of the best times to visit Western Newfoundland, the only place in North America where you can walk on the earth's mantle at The Tablelands in Gros Morne National Park. A UNESCO World Heritage Site. At 10am every morning, you can take a complimentary tour www.pc.gc.ca/eng/pn-np/nl/grosmorne/index.aspx with an interpretive park guide such as Cedric Davignon, who has been conducting tours here for 11 years and knows visitors can be easily bored. Davignon keeps it entertaining as he walks his visitors through the Tablelands; to help explain the structure of planet Earth, he uses a mini-planet the size of a Spaldeen ball cut in half to show how the continents on the planet are in continual movement: drifting away, colliding, subducting or uplifting. He then plays the Jew's harp, because it's the oldest instrument he knows, and it's his way of explaining how the mountains landed here after a massive continental collision 500 million years ago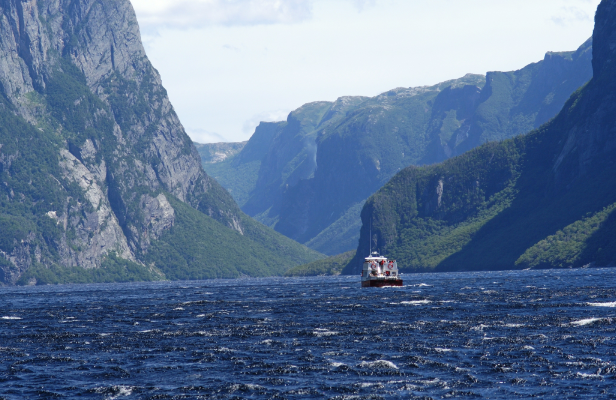 Western Brook Pond Fjord (Courtesy of Newfoundland Labrador Tourism)
3. Boat Ride to Western Brook Pond Fjord
There's much more to Gros Morne National Park than the bottom of the earth. Everywhere are towering cliffs, dramatic fjord valleys, glacial lakes, and sandy beaches. One perfect way to see them is to hop aboard a boat for a guided tour of Western Brook Pond, a land-locked fjord. The tour begins with a 40-minute stroll on a wooden boardwalk over the bog to the boat dock. Join BonTours http://www.bontours.ca/tour/western-brook-pond-boat-tour/ BonTours for a guided trip along the 10-mile lake where waterfalls cascade down from 2000 feet, so high that often they turn to mist before reaching the bottom.
4. Hike the eastern rim of Western Brook Pond Fjord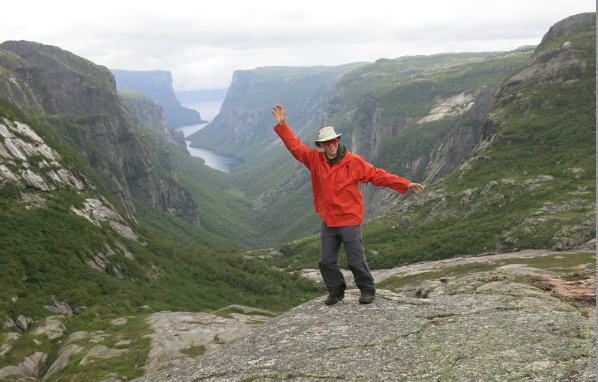 Adventure Guide Clem Reid at the Summit of Western Brook Gorge (courtesy of: Margie Goldsmith)
Clem Reid, an experienced backcountry guide will take you on a day hike (or an overnight wilderness camping experience if you prefer) for the experience of a lifetime. Clem is a great photographer (who also offers photographic adventures), and a great storyteller with enough stories to keep you entertained the whole way. He has a great eye for wildlife and within the first hour of our hike, spotted an owl, a moose with a calf, and a weasel.
Don't miss the two-hour guided boat tour to Bonne Bay http://www.bontours.ca/tour/bonne-bay-boat-tour/, that cruises the two connected scenic Bonne Bay fjords. Learn about the geology, cultural history and diversity of this fascinating bay. If you're lucky, you'll spot Minke whales, eagles, seabirds and moose. While on board, can partake in the age-old "screech in." Down a glass of Screech rum, kiss a codfish, dance the jig, and earn a certificate declaring you an "honorary Newfoundlander."
6. Scuba Dive at Norris Point If you're Scuba certified, don't miss the once-a-year diving trip with Ocean Quest Adventures http://www.oceanquestadventures.com/training/learn-to-dive to Gadd's Wall. This precipitous dive site, considered one of the top dives in Newfoundland, offers divers the chance to see undulating yellow coral, golden elephant ear sponges, anemones and more. Not familiar with dry suit diving? Ocean Quest Adventures will dry suit certify you in their St. John's headquarters before the challenging dive in Norris Point.
Music is very much part of Newfoundland's culture and has been for hundreds of years, when residents in small isolated areas hosted impromptu gatherings in someone's kitchen to sing, dance, and drink. You too, can attend a rollicking "kitchen party" at Anchor's Pub in Rocky Harbour http://www.bontours.ca/anchors-aweigh/. During the two-hour Anchors Aweigh show, local musicians play every kind of music from Newfie ballads and sea shanties to rock 'n roll and audience sing-alongs.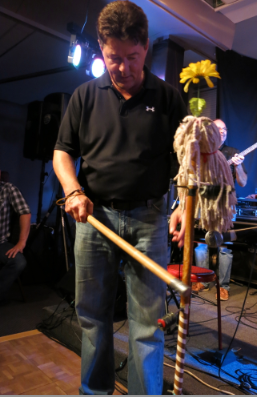 The Ugly Stick being Played at Anchors Aweigh Kitchen Party (Courtesy of Margie Goldsmith)
To truly make it a kitchen party, one musician plays "the ugly stick," a percussion instrument improvised from an upside-down mop head with a painted face and other recycled materials such as beer bottle caps, which can shake rattle and roll the entire stage - an ideal way to hang with the local Newfies and the most fun evening you'll have in Newfoundland, especially now that you're an honorary Newfie.