 I've had a wee bit of a media boner for George Stroumboulopoulos since his early days on MuchMusic, schooling young Canadians on all the kickass alternatives to pop and mainstream music. How refreshing to watch someone talk about bands like the Ramones and The Flaming Lips while MTV was awash with manufactured guy groups and one-hit wonders. George, or Strombo as most Canadians affectionately call him, was the real deal.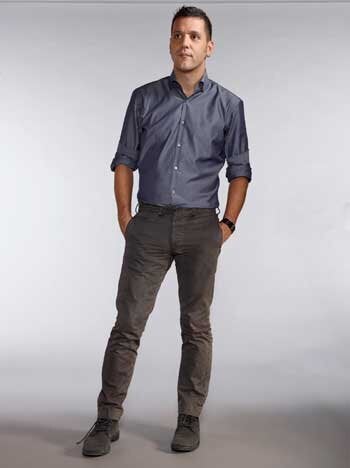 I first met George during a trip to Toronto in 2001. I decided to loiter outside MuchMusic studios to see if I could get a glimpse of my alt-rock loving hero. Sure enough, George stepped outside to an adoring crowd of — mostly female — fans, so I squeezed my way to the front to introduce myself and snag a pic. Somewhere in the bowels of my storage locker lies a pre-digital photograph of Strombo and me surrounded by a gaggle of screaming girls.
I've chatted with him briefly at events over the years and he's always obliging and engaging, no matter how busy he is or how many other admirers are waiting in the wings to talk to him. Which is why I thought I'd publish a list of reasons to love Strombo:
Music chops. When George loves a band, he really loves a band. I remember when I used to buy CDs of my favorite bands, I'd study the sleeve, memorize all the lyrics and obsess over the artwork. You get the impression that George does the same for every single artist he interviews. He not only knows his shit, he sincerely loves music and appreciates artists from all genres.
Personal style. He'll rock a studded belt with a button up and skinny tie. He's often seen sporting a rock T and jeans, although he seems more than comfortable in a tailored suit. I'd label his personal style as edgy refinement, although George doesn't seem like the label type.
Easy on the eyes. Stating the obvious here, folks. He's a fox.
He's a philanthropist. He gets involved and supports some really important causes, like the One Million Acts of Green campaign, which challenged Canadians to register each of their own environmental acts. The campaign registered over 1.6 million acts on the website in Canada alone and continues today worldwide.
Reppin' for Canadian late night. Canada hasn't really had anything to rival American late night programming, until now. Move over Letterman, there's a Canadian kid giving viewers north of the border a late night alternative.