NOTE: This article first appeared in 2014. In 2017, Chinese New Year will be celebrated on Jan. 28. It will be the year of the Fire Rooster
For those with Chinese families, one of the most delicious times of the year is coming up – are you ready?
Chinese New Year 2014 starts Jan. 31 and traditionally, families will gather on the night before to celebrate with a traditional spread of savoury and sweet.
Almost all New Year dishes serve a symbolic purpose to usher in happiness and attract good fortune. Guests keen to bring something for the host can't fail with food: think oranges, Chinese BBQ meat, or anything edible and red.
For the chefs, it's important to take a moment to acknowledge that one or two bamboo steamer baskets with slatted bases are handy to have before work begins in the kitchen. Steaming is a major cooking technique in Chinese cuisine, widely regarded to be a healthier alternative to stir-frying and deep-frying.
To aid your culinary quest, we've rounded up eight recipes – bundled with a short explanation of their symbolic importance – to help you make your feast a delicious one.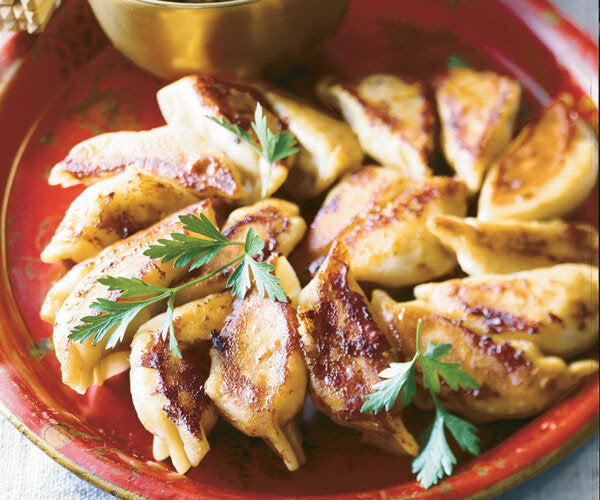 8 Delicious Chinese New Year Recipes
Pan-Fried Pork And Cabbage Pot Stickers: Having pork at the meal is symbolic of welcoming wealth and abundance to the year. So what better excuse do you need to share a plate of pot stickers with family and friends?
Cantonese-Style Steamed Sea Bass: Serving fish is symbolic of prosperity and having it at the dinner table is regarded as an auspicious way to start the New Year. Fresh fish will achieve the most delicious results for this easy restaurant-style recipe.
Bean Curd Sticks & Pork Ribs Soup: If you grew up in a Cantonese household, soup is an unfailing presence at the dinner table. This recipe includes dried bean curd, which is symbolic of happiness. Note: fresh tofu is not eaten during New Year celebrations because white is associated with death and mourning in Chinese culture.
Vegetable Fried Noodles: Long glass noodles portend a long life. This veggie-friendly recipe is super easy, but it only serves two, so multiply accordingly.
Chinese-Style Roast Chicken: Having poultry at the table is symbolic of happiness, good marriages, and family reunions. The key to this recipe is to marinade overnight and let the chicken air dry completely prior to roasting to maximize the crispiness of the skin.
Steamed Chinese New Year Cake (Nian Gao): When translated literally, nian gao means "higher year." So to eat this sweet, chewy cake is an auspicious way to invite prosperity and promotions your way, year after year.
Stale cake after a few days? No problem. Just cover slices (as thick as your thumb) in egg wash and pan fry on both sides until brown and crispy.
Learn how to create this at Chow.
Sesame Balls With Red Bean Filling: For the brave and adventurous, these fried sesame balls are worth the effort. Crispy on the outside and chewy on the inside, these treats are prefect snacks to send your family and friends home with.
Prosperity Cakes (Fa Gao): Fa is a lucky Chinese pun: it means prosperity and literally, leavened. Sweet, light, and fluffy, these blossoming cakes are also easy to make.