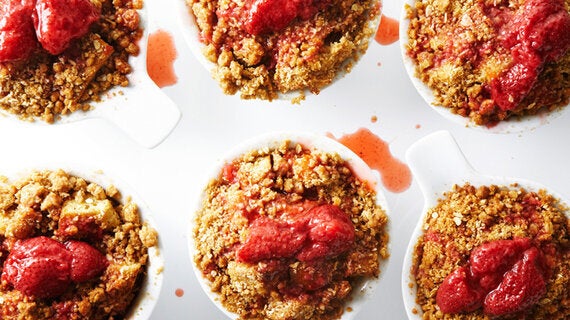 Is French toast the reason you get out of bed in the morning? Can you just not get enough of the sweet and satisfying goodness of moist pieces of egg-soaked bread drizzled with sweet maple syrup? (We knew we liked you)! Our love of French toast knows no bounds. And to prove it to you, we've come up with eight supremely satisfying French toast recipes that will make it hard for you to decide which one to make first.
Take your favourite comfort food to new heights with this Banana-Stuffed French Toast Soufflé Stuffed with caramelized bananas and topped with brown sugar streusel, this French toast bake hits all the right notes. Perfect for company because it's prepared in advance, this crowd-pleaser has a golden crisp crust and a sweet, soft banana centre. French toast never tasted so délicieux.
If you love French toast but are too bleary-eyed to make it from scratch first thing in the morning, this easy overnight Strawberry French Toast Soufflé is the answer. Now don't be put off by the word "soufflé." There's nothing complicated or intimidating about this amazingly delicious and impressive dish -- all you have to do is sleep on it. Yes, sleep on it. This easy overnight French toast does all the work for you, as the sweet egg bread, mounded with cream cheese and strawberry jam, is left to soak up a buttery mixture. When you wake, you bake this soufflé and ta-dah, a sweeter dream was never had!
What happens when a cinnamon bun collides with French toast? This recipe for scrumptious Cinnamon French Toast Sticks! Bread that is rolled up around a sweet cinnamon and brown sugar mixture is sautéed until golden and sprinkled with, you guessed it, more cinnamon sugar. Talk about a breakfast bonanza!
If you're a s'mores lover, you'd better sit down for this one. We've taken two of your favourites and combined them into one deliciously decadent dish. With graham cracker crumbs, oooey-gooey melted chocolate and marshmallows, this recipe is going to be a family favourite! For a tutorial on how to make this dish, watch our video here:
And be sure to check out seven more of our French toast recipes below.
Follow HuffPost Canada Blogs on Facebook