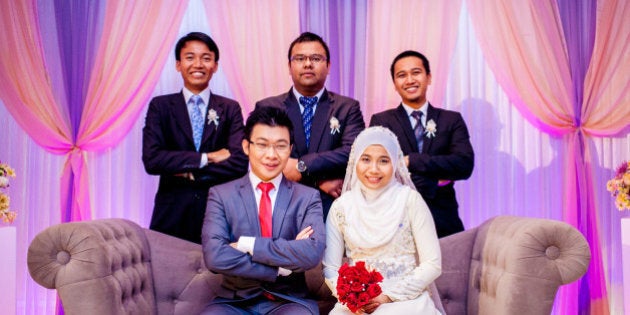 Thanks to our multicultural society, you may find yourself at a wedding this summer that celebrates in ways you aren't familiar with — and we're here to help. Each week, the HuffPost Canada Living team will take a look at a different culture's wedding and tell you about the customs, traditions and rules that go along with celebrating your friends' big days.
While Muslim weddings vary depending on the bride and groom's cultural background (Arab Muslim or South Asian Muslim, for example), there are key elements that tie all of these weddings together.
"Marriage is viewed as a lifelong commitment to each other with the blessings of Allah," says Devya R. Pillai, wedding coordinator of Breathtaking Moments: Wedding And Events in Toronto. In light of that, the wedding ceremony or the nikkah, is highly valued by practicing Muslims.
During the wedding, Pillai says the bride and groom say qubool (yes), three times for the marriage to be valid. This is done during the nikkah portion of the ceremony. "The nikkah is a very intimate ceremony and is very short in nature," she says.
Some people also have events leading up to the wedding ceremony and reception, including a henna or mendhi party, where the bride and her family and friends decorate their hands with henna. While traditions can be different for families and cultures, some weddings include men and women sitting separately during the ceremony or reception and at others, the priest may also read the first chapter of the Qu'ran to all guests after the ceremony is complete, according to etiquette site Emily Post.
Here are eight things that are common during Muslim weddings:
Popular in the Community