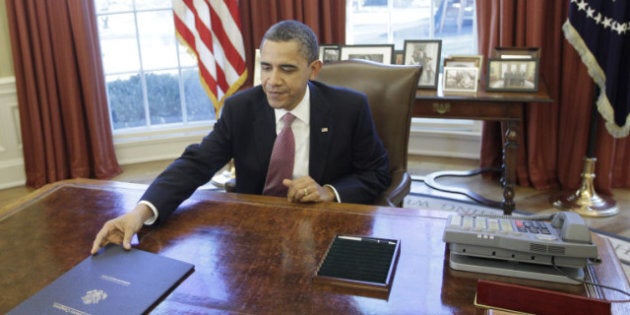 U.S. President Barack Obama delivered a letter to Prime Minister Stephen Harper on Thursday to thank Canada for its help on 9/11. The letter has been distributed to the public.
In the letter Obama thanked Canada for hosting thousands of stranded Americans and the "solidarity you continue to show in our shared fight against terrorism."
The full text of letter, courtesy of The Canadian Press, can be found below, as well as an image of the document.
Dear Mr. Prime Minister:

It has often been said that the United States and Canada are great neighbors, trading partners and the best of friends. Friendship gives us comfort and it gives us strength, but can be tested in difficult times. In one of the darkest moments in our history, Canada stood by our side and showed itself to be a true friend.

On the 10th anniversary of September 11, 2001, we remember with gratitude and affection how the people of Canada offered us the comfort of friendship and extraordinary assistance that day and in the following days by opening their airports, homes and hearts to us. As airspace over our two countries was shut down, hundreds of flights en route to the United States were landed safely by Canadian air traffic control in seventeen Canadian airports from coast to coast. The small city of Gander, Newfoundland, population 9,600, received 6,600 diverted passengers, while Vancouver received 8,500 people. For the next 3 days — before our air space was reopened — those displaced passengers were treated like family in Canadian homes, receiving food, shelter, medical attention and comfort.

Ten years later, we continue to be grateful for Canada's friendship, and for the solidarity you continue to show us in our shared fight against terrorism. The United States is fortunate to share a border with a country that understands, in your words, "There is no such thing as a threat to the national security of the United States which does not represent a direct threat to this country."

On this anniversary, we recognize all the gestures of friendship and solidarity shown to us by Canada and its people, and give thanks for our continuing special relationship.

Sincerely

Signed Barack Obama