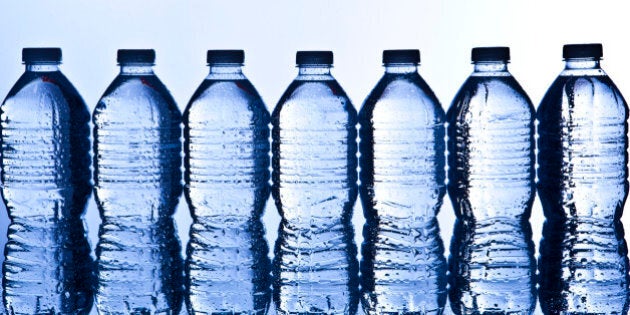 I go to the gym 5 days a week. My necessities: my gym attire (usually something in black) accented by my trusty gold S'well water bottle I received as a Christmas present a few years ago.
Two weeks ago, I forgot my water bottle at home and resorted to purchasing bottled water from a nearby convenience store. We all know that water is so important for hydration and health (drink your 8+ glasses a day, everyone!) I had such a busy week ahead that I just kept refilling the plastic water bottle, throwing it into my bag for an entire week. Finally, I recycled it at a depository on the sidewalk on my way home. No big deal, right?
The short story of recycling my plastic water bottle highlights the progression of the 3R's in North America: reduce, reuse, recycle. From composting to repurposing to recycling, many of our perceived barriers are because of our own comprehension. I'll admit, I'm confused sometimes of what can be broken down in the earth, which numbers can be processed at the recycling plant, or what organization will accept items for resale. Phew.
Over the years, recycling has taken a front seat and become a way of life on the West Coast. I recently purchased a pair of Seattle's Girlfriend Collective silky smooth work out tights made from recycled plastic bottles. Even as a child growing up in small town Alberta, I remember taking bottles to the depot with my dad - and this was over 20 years ago. I'm delighted to see that the act of recycling has expanded beyond Earth Day and into the every day.
My last few overseas trips have been to Asia and the discrepancy between how recycling is handled here in North America versus other continents is silently alarming. I see the eco-friendly initiatives that hotels offer, from the baseline reuse of towels and linens to recycling bins and paper cups. But is this enough? Am I being a conscious traveller and doing what I can to combat the negative effects of tourism? Soon, I'll be making my way to Cambodia and in my research of Siem Reap, I stumbled upon a great recycling program that addresses some of my concerns.
Will you join me in contributing to a sustainable culture, both at home and on a global scale?
I suspect that many of us don't adopt some of our regular habits that we engage in at home. For example, how many of you frequently bring your favourite reusable water bottle? I can't say that I consistently pack my water bottle. It's just easier to purchase a bottle of water, after you pass through security. I've thrown away many a bottle when I didn't feel like carrying it around anymore (of course, this was because there was no recycling receptacle around.)
But consider this: if the 4.7 million annual visitors that travel to Cambodia stay an average of a week consume approximately two litres of water a day, this would generate about 130 million plastic half-litre bottles every year. Can you imagine what that would look like without a recycling plan? How about 26 Olympic-sized swimming pools, filled to the brim? That's a lot of bottles with no where to go, except for in landfills or along waterways, creating flooding and other environmental havoc.
Enter Refill Not Landfill. This hospitality and tourism campaign in Siem Reap, Cambodia is aimed at changing the way water is consumed by tourists. Participating hotels, restaurants, and attractions offer branded aluminum water bottles to guests, complete with a list of free-of-charge water refill locations across the city to help visitors find them with ease. The success of this program has grown to other areas in Cambodia like Phnom Penh and Sihanoukville. I can't wait to experience this!
I've had my aluminum bottle for over two years now, and it's still going strong. True, it's got some battle scars (with some great stories to go along with them), but I trust that it's going to last me at least a few more years. There are many brands to choose from out there: materials, construction, tall, skinny, colours (or not) -- something to reflect your personal style.
So consider toting along your faithful reusable water bottle on your next (long-haul) trip or even outing: not only do you keep your skin and body hydrated but you save on the over-priced individual bottles of water. Will you join me in contributing to a sustainable culture, both at home and on a global scale?
For more information on the Refill NOT Landfill program visit here.
Follow HuffPost Canada Blogs on Facebook