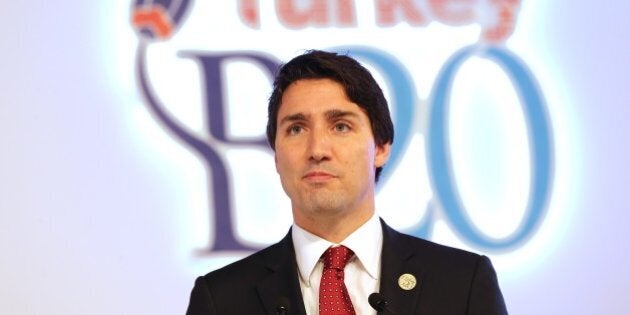 It is what you would expect of a meeting of 300 business leaders and politicians; intense security, multiple languages all at once, firm handshakes and jockeying for the best seat in the house -- I think we call this organized chaos.
Just 30 minutes earlier and thankfully in a quiet setting, I had the opportunity to meet one on one with Prime Minister Trudeau. I presented him with the G(irls)20 Summit 2015 Communique which has 13 concrete ideas on how to boost economies by investing in measures that will economically engage girls and women. To be honest, I did not have to say much -- he gets it, after all, he has done what no other G20 Leader has ever done -- he made his cabinet 50% female.
We go downstairs to the main hall and as soon as he walks in, everyone, and I mean everyone including CEOs, politicians and senior level bureaucrats from around the world move in his direction. They want to shake the hand of, and take a selfie with, the newly elected Prime Minister of Canada. He is gracious and engaging and it is only when the emcee asks people to take their seat for the 3rd time that the crowd begins to thin.
After giving his remarks, he does what we don't often see leaders do -- he takes 2 questions from the audience. It is not the questions that get the attention of the audience because they are predictable; the first is about youth employment and the second is about the refugee crisis.
It is the answers that draw attention. In both circumstances he speaks in plain language about the need to be creative when it comes to youth employment and he tells this audience that he himself is the Minister for Youth -- not out of a sense of nostalgia, but rather, because of necessity. Then he talks about the impact of refugees in Canada and points to Uganda Canadians who fled to the country in the 70s -- ironically at the time, his father was Prime Minister. I was lucky to be among that group.
As he walks off the stage I am struck with the thought that while other G20 Leaders have been at this for a while, in one 15-minute speech, Prime Minister Justin Trudeau has made his mark.
Farah Mohamed is the Founder & CEO of G(irls)20. G(irls)20 was among the first global social profit organizations to advocate that G20 Leaders prioritize female labour force participation as a key to economic growth.