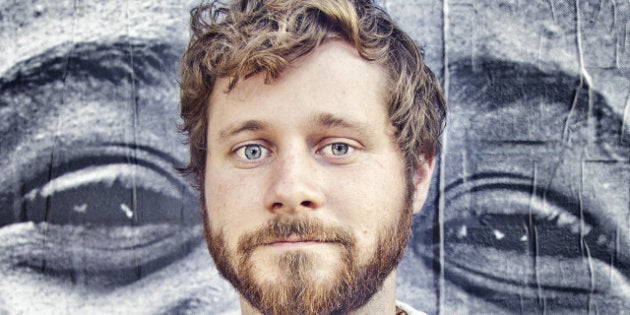 I have been watching the 2012 London Summer Olympics on television. On some level, it feels like entering a new relationship when the intensity of the previous break-up hasn't worn off yet. Here's why:
I have lived in Vancouver for most of my life. Two years ago, my own hometown was thrown into the quagmire of the international eye for a similar -- if not smaller -- version of the same event.
When the royal "we" of the city got behind the bid, the movement adopted a slogan. Something along the lines of: "Let's invite the world in." I wasn't so sure that that was a good idea. Vancouver was, to me at least, a nice little secret.
The city started changing really quickly. I was only in my early twenties at the time; hardly old enough to wield a staunch sense of jaded nostalgia, but I still felt like somebody had stolen my dog. They'd stolen my dog and were incrementally replacing him with a similar looking dog that smelled more modern, commercialized and enticing to foreign investment.
There was a lot of chatter in the media about "getting ready for the Olympics." We upgraded highways, installed a sky-train that went from downtown to the airport (that was a good call), and generally undertook to make the city "world class." Though the construction zones were arduous, the modernizing of the city wasn't all bad. Much of the infrastructural development was needed, but it got me thinking about how cities change and evolve -- for whose means and by what cost.
The bus shelters were among the first big obvious changes. Replacing a city's bus stops is like changing the colour of thread in the seams of a garment. The change is minimal in theory, but the alteration is made crucially affecting by virtue of its grand continuity.
Vancouver used to have large, bulky, dark brown bus shelters. They were made of wood and epitomized the Pacific North-West. Waiting for a bus was like being hugged by a Christmas tree. Everything here had this earthy, wooden vibe. Unlike cities out east fashioned with brick and manicured grassy parks like they have in Europe, Vancouver always felt like it was developed inside of a big huge forest, rather than on top of it.
I spent much of my childhood hiding from the rain under those bus stops. We all noticed when they began to disappear. It was like members of Fight Club were taking them in the night.
When we finally did start getting new bus shelters, they were futuristic and wiry and metal and ugly and cheap looking. Instead of big pine benches inside that could fit six or seven people, there were small uncomfortable slats with "handles" every 12 inches to make sure that homeless people couldn't sleep on them. They felt (and still feel) cold.
It was all too fitting, in a sense, considering that "Getting ready for the Olympics" also meant "polishing up the less desirable parts of the city (or at least sweeping them under the rug for the time being)."
Vancouver's Downtown East-side is teeming with homelessness and boasts the highest HIV rate in North America thanks to rampant needle drug-use. It's also just blocks away from Gastown, the oldest part of the city, which is a serious tourist hub.
The coldness and unaccommodating nature of the new bus stops seemed right in line with the desired optics for international television. Among the plethora of bizarre conspiracy rumours floating around was one that a lot of the city's homeless were being rounded up and given several weeks of temporary labour jobs in the suburbs, just out of sight, for the two weeks that we "invited the world in."
The Olympics' detractors were given a "free speech zone" where they were free to speak their views well away from the international eye. Any protesting outside of the "free speech zone" was to be policed.
I don't mean to suggest that it was all horrible and Orwellian. I'm just saying that it was a truly complicated and chaotic time.
There were some aspects of the Olympics that were rather enjoyable. There were a lot of cultural events going on. I saw Lou Reed, Elvis Costello, Feist and Wilco in the same week (mostly for free), and (after promising not to say anything negative about the games publicly) my band and I got to play several great shows -- including one inside the athlete's village.
The city was full of visual art exhibitions. There were huge and interactive theatre events. Yes, there were also some sporting events, and the energy downtown after Canada won the gold in men's hockey in overtime was unbelievable.
Contrary to the Vancouver's "no fun city" nickname, for the two weeks that we hosted the Olympics, the city was accommodating, vibrant, friendly and alive. So that was refreshing. The vibe of the party seemed to distract us from all the "behind-the-scenes" shenanigans.
But my political spidy-sense is still unsettled about the whole thing. It's unbelievable how much money was spent on frivolous aesthetics during that period that could easily have helped a lot of suffering people here if put toward social infrastructure.
It's disheartening that we put such little faith in our societal intuition to be compassionate. We're trained to think that spending money on social programs is a frivolous act for times of great surplus, yet a tiny fraction of the money spent on the Olympics could have had an incredible effect on Vancouver or British Columbia as a whole (which has the highest child poverty rate in Canada).
The artistic community was in fervent debate before and during about whether or not to boycott the whole thing (i.e.: not performing). A lot of militant anti-corporate folks just left town. Most of us took the gigs and rationalized it that at least we could put our own creativity in the midst of the chaos (not to mention that finally, some artists were getting paid, despite how corporate the money may or may not have been).
It was a complicated situation, and it seemed to be over before it began. The intensity of having such an influx of people and attention was so palpable. I cannot even begin to imagine what it must be like in London right now. I mean, when Vancouver had the Olympics, it kind of felt like the equivalent amount of hustle that London has every day of the year. Adding Olympic insanity to London's already tempestuous density issues could only have lead to some controversial decision-making.
But there are some huge differences between Vancouver and London.
Vancouver is a young city. It is like a tween; old enough to have its own identity, but young enough to not have a clue what that identity is. Vancouver changed a lot in order to accommodate the games and display its "best" self to onlookers from around the globe.
To us, the Olympics was like prom -- dressing up fancy like an adult for the first time, hoping to get lucky. Brimming with anticipation and unsure about how to deal with the impending popularity contest.
To London, the Olympics is like a 10-year high school reunion -- most sensible people are too busy or jaded to go, and all the hoopla is likely unworthy of the sore feet and hangover.
It seems to me that London is already London -- whittled, chiseled and battered over the centuries; wars, plagues, the industrial revolution. Infinitely built and rebuilt. It is an old city, shaped by millions upon millions of instances and consequences. There's just simply more sweat in the walls.
My gut feeling is that maybe Londoners will be a little less precious about the situation than I was about Vancouver. More ambivalent to how the games consume the city. Maybe some parts of London will hardly notice that they're happening.
Then again, the Brits don't need much inspiration to drum up diverse and ardent viewpoints, and it's entirely possible that I'm just unaware of the political fodder (or that it hasn't been as obvious from across the pond).
In any event, they'll probably be fine so long as nobody messes with those classic double-decker busses.
Check out this trailer for the CBC documentary about Dan Mangan, "What Happens Next?"
Popular in the Community