Legalization of cannabis in Canada has sparked the eager attention of medicinal and recreational users nationwide. For those opposing this evolution, their losing battle is confirmed daily as additional scientific evidence is released showcasing the positive health benefits of cannabis.
Those who are less aware of the benefits will also be surprised to find that their beloved Shopper's Drug Mart has publicly expressed great interest in selling the pungent herb. Canadian patients are slowly being awakened to the downfall of chemical prescription medications that have left them with serious side effects, sometimes in a state of ailment worse than ever before.
The recent Allard ruling declared the Marihuana for Medical Purposes Regulations ("MMPR") "unconstitutional" and therefore invalid; however this invalidity has been suspended for six months to allow the government time to create new regulations for patients. In the meantime, the MMPR remains in effect until amended, with the deadline of August 24, 2016. Patients under the MMPR are to obtain their medicine only from government-regulated Licensed Producers (LPs) until further notice.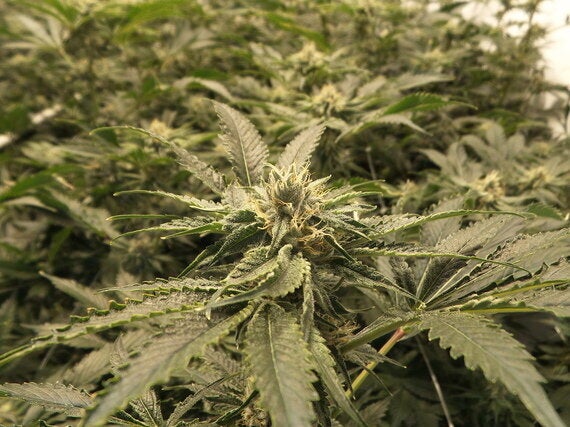 On the bright side, the MMPR has provided solace for patients dealing with accessibility issues by providing mail-order cannabis from LPs. These producers follow very strict rules in all aspects of growing, harvesting, packaging and shipping medical-grade cannabis. The realism of these stringent guidelines extends beyond the hundreds of grey-area dispensaries that are populating Canadian corners faster than you can find a double-double at Tim's.
Does anyone know where their cannabis comes from? Considering this is a major issue to become more evident as time progresses, Canadians need to be more proactive in assessing the sources of their medicines, especially if they care about potency, consistency and safety.
Since Canadians are so obsessed with this new wave of medicinal understanding, I decided it was due time to present an exposé on what goes on behind the closed doors of an LP. Being the most popular LP supplier amongst my colleagues (yes, real professionals can be legal patients!), I organized a meeting with the brains behind Mettrum, who invited me to an exclusive tour of their state-of-the-art facilities.
To start off the adventure, we drove out to Bowmanville, to tour the company's brand new facility and future headquarters. It's definitely non-descript and hard to find -- and they sure like it that way. There I met Mettrum's president George Scorsis and marketing director Amy Wasserman, who were very kind in spending their entire day for the sake of giving a thorough tour, and answering all of my questions.
Mettrum's licensed production facilities span over 80,000 square feet of capacity, located on a total of over 80 acres of land. The Bowmanville location (one of two) is massive, and houses their client service team and part of the grow operations. We passed through a number of security checkpoints -- something they take very seriously (maybe even more so than the Canadian government requires).
After signing paperwork and giving my ID to security, we changed into scrubs and headed into the grow. For cannabis enthusiasts, let's just say you would probably be extremely overwhelmed at the sheer size of the grow rooms, and that thick, aromatic scent of uniquely sensational terpenes. Here, grew the "Blue No.1" (CBD Godbud 3) and Black No.1 (Ontario Blue Crinkle) strains.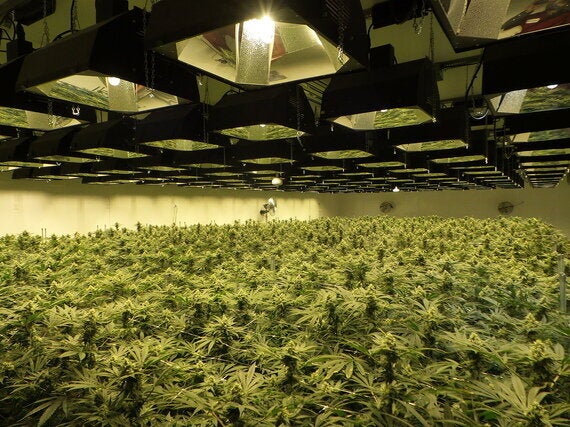 While in these grow rooms, I had both Mettrum's master grower and their senior QA and research manager describe everything about the process from medical and agricultural standpoints, and many other amazing tidbits that would deem this article a novel.
A good fact to note: I was informed that the entire process takes about three months from clone to harvest. It was fascinating to see the complexity of the operation -- almost otherworldly -- where each plant has a dedicated lamp and computer-automated filtration system in their grow pod for consistency and potency of supplemental nutrients.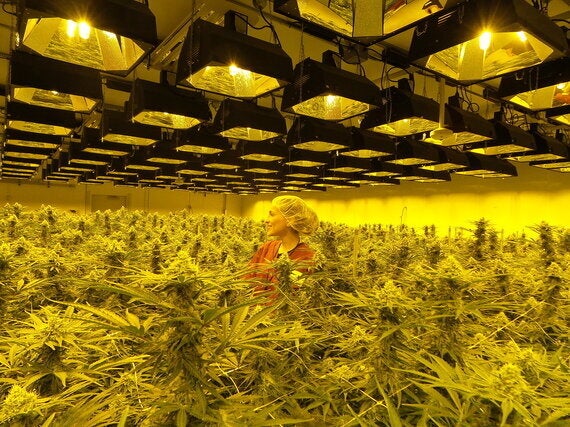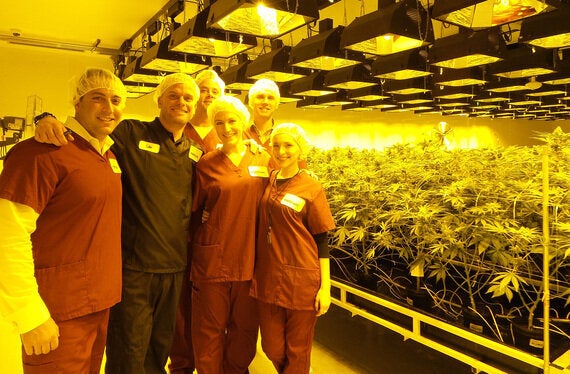 After an extended photo op in the biggest room of cannabis I have ever seen, we took the elevator down into "The Vault." While it was originally built in the 1960's as a water reservoir to store an absurd amount of water in case of emergency fires, Mettrum has since redesigned this impenetrable vault for an area where the product is dried, trimmed, packaged, and stored. I'm pretty sure government officials have been floored by this level of security and protection of the product. Apart from this I couldn't stop thinking that I was inside Vault 111 in Fallout 4.
After returning back up to ground level, we had an early preview of the warehouse-sized spaces that will grow all future strains -- a huge asset to have in the case that things go recreational, which by the way, Mettrum is noticeably very ready for.
We hopped back into our vehicles and headed to Mettrum's second location in the quaint town of Creemore -- where the company's dried cannabis and cannabis oil production takes place. From the outside, the Creemore facility has an Area 51 feeling to it -- barbed-wire fences, automated gates, and security cameras surrounding the location in an effort to keep the stockpile safe. As prior, we went through numerous security clearances and into a new set of scrubs for the latter half of the tour. A smaller facility with a lot happening. Here we were invited to see two storeys of retrofitted pods, each housing different cannabis strains such as Red #2 (Super Lemon Haze) and Red #3 (Raw Diesel).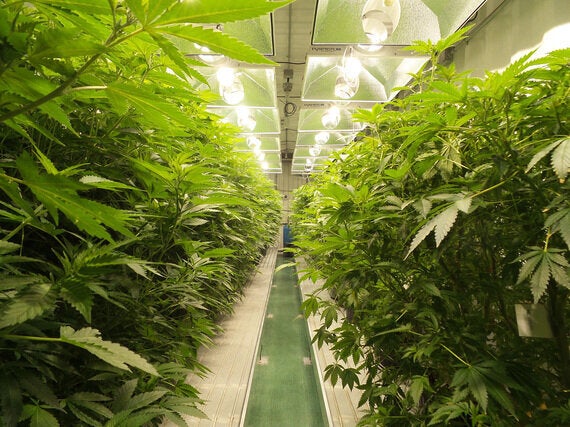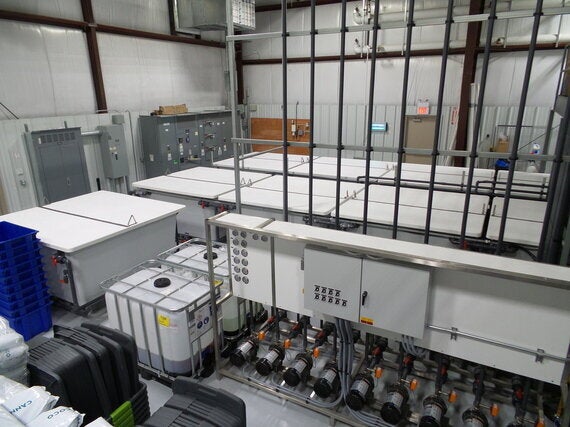 The very high consistency of production, technology and interior could make one feel as if they are in a NASA space station. Extremely clean with not a leaf in the wrong place: all white everywhere, with plants evenly aligned inside long, narrow rooms with huge steel doors that require biometric scanning.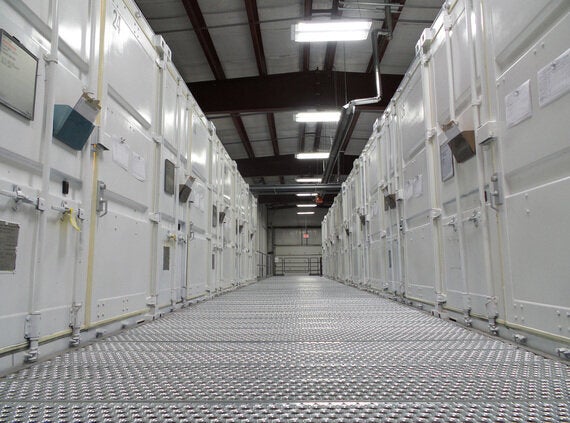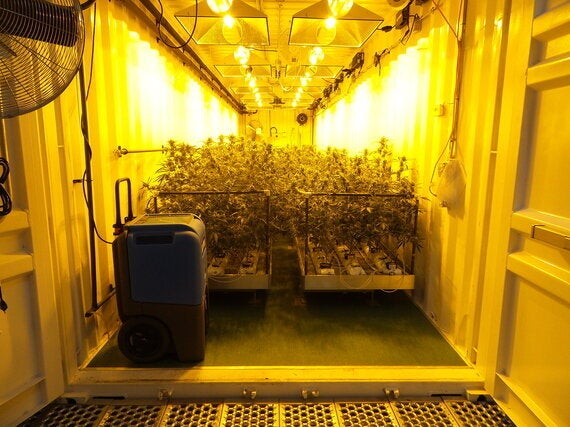 Afterwards, we toured Mettrum's extraction lab where their concentrated oils are produced. Mettrum's cannabis oils were designed to address the demand from patients and health care professionals alike for alternative consumption methods of medical cannabis to exist. Since launching their oils in January of this year, Mettrum has witnessed firsthand the tremendous appetite for extracted products.
Touring these facilities made it obvious that medical-grade cannabis is way more than just a "medical marijuana" sign on a storefront. It would be very difficult to replicate what goes on inside these facilities without having the experience, real estate and capital to uphold such an impressive growing practice. I don't care what anyone says, the proof is in the cannabis-infused pudding; patients who are looking to obtain safe medicine should highly consider doing so from a top-tier government regulated source that shows accountability to their product.
Follow HuffPost Canada Blogs on Facebook