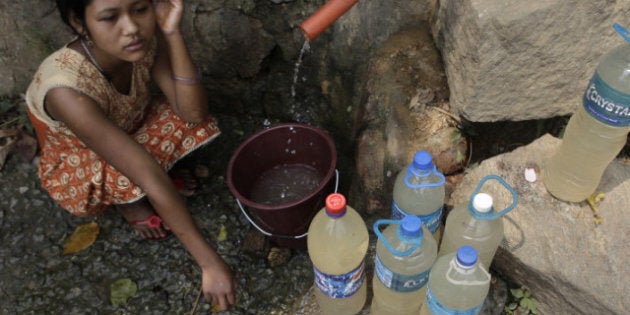 In July 2010, the United Nations noted that "safe and clean drinking water and sanitation is a human right essential to the full enjoyment of life and all other human rights." In 2012, it is estimated that 884 million of the world population still lacks access to drinking water while 2.6 billion miss basic sanitation as a result.
Ethiopian-born model Gelila Bekele wants to help change that reality in her native country. The very patriotic social activist, who finds her modelling profession as a "wonderful gate through which to see the world as it has provided me with so many opportunities" wants to use her powerful role to advocate the right to water for her fellow Ethiopians. "Modeling is not something you excel because you are clever but is based on physical appearance," she recently reflected, "but then you have to be a businesswoman like to keep your longevity".
Four years ago, she teamed up with a 36 year old American photographer, Scott Harrison, by joining his charity -- charity: water -- as a supporter. The charity was founded when Harrison discovered that 80 per cent of all diseases were as a direct result of unsafe water and poor sanitation. For the last almost five years, she has assisted in the building of water wells in Ethiopia. She credits him in opening her to the possibilities of empowerment and nation building in Africa.
"Life is a perspective and for me, if a human being has access to school, clean water, food, proper health care, that is the basis of human rights," the soft spoken model explains. Since the charity's founding in 2006, charity: water has helped build about 4000 projects in 19 counties providing clean water for roughly two million people.
Through her involvement with Charity: Water, on a visit with Scott Harrison to Ethiopia, she discovered another organization called Glimmer of Hope. For just over a decade, the Houston based group has been involved in great ground breaking nation building based on the most basic necessities of life. She became an instant supporter. Although she was impressed and exposed to great strides that were being made, it empowered her enough to want to do more.
Why Glimmer of Hope? In an endorsement video, she looked at the tragic Ethiopian famine crises of three decades ago, and what ought to be done to prevent history from repeating itself again. "As an Ethiopian, I have visited their work in Ethiopia, and it's important to be behind an organization that does amazing work" she explained.
She left Ethiopia at the age of eight and moved to Europe before eventually moving to New York via California. Like many East African models, such as Somali born Iman, she was instantly discovered randomly by an advertising art director and quickly signed up to the prestigious Ford Modeling Agency. She was eventually on the covers of many magazines as well as flourished with contracts with Pentene Pro-V and L'Oreal.
The model turned social activist extraordinaire recently explained where she is in her life. "At this time in my life I'm a real sponge. I'm learning simplicity and how to wear my body. I'm enjoying life and trying to be the best me. This is all just the beginning of something big."
"I envision me getting married, having kids, living in Ethiopia, and I would have missed if I was not Ethiopian" she explained in an emotional farewell interview in Ethiopia in her imperfect Amharic last year. In Addis Ababa, she often broke down as she expressed her affection for a country she left as a minor, and the vision she held.
Gelila Bekele is indeed a great international Ethiopian, by birth and choice, to watch as she pursues an ambitious patriotic journey in life.
Popular in the Community